eChimes for Tuesday, August 15 - August 21, 2017
​Sayville Congregational United Church of Christ
131 Middle Road, Sayville, NY 11782-3158
631-589-1519; www.sayvilleucc.org
​Ray Bagnuolo, Pastor; 631-827-8611; ray@sayvilleucc.org 
Email Heather Corcoran, Editor
Office Hours through Thursday, September 10
Monday - Thursday for 9:00 AM - 1:00 PM
Heather will be on vacation next week - August 21-25th.
Please contact Ray for anything you might need or emergencies, at any time:​
631-827-8611
​
Bible Talk on Mondays and Tuesdays - All are welcome!
Mondays at 11:45 AM and Tuesdays at 7:00 PM
August Elders & Trustees Meetings
  Monday, August 14 at 7:00 PM - Elders Meeting
  Monday, August 21 at 7:00 PM - Trustees Meeting
From Ray
Hello Everyone,
It is wonderful to be back, and I enjoyed seeing many of you on Sunday. I want to thank Damon Govena for delivering a powerful message on Sunday. Thank you, Damon, for also closing worship and leading those who gathered in a talkback. We look forward to seeing you soon.
It has been a few days since the ugliness and deadly violence of hatred and bigotry showed itself in Charlottesville, Virginia; Seattle, Washington and elsewhere.
All of us felt our hearts sink when we first saw or heard the unfolding protests, sinking further when news of Heather Heyer's death was reported. Our prayers and love flow unendingly toward Heather's family and friends, woven with gratitude for the courage of her convictions that brought her to be among those standing against the hate groups and mongers of violence.
Heather Heyer's life gave witness, as well, to the truth that there is no moral equivalency between hatred and love. Hatred and the acts that embrace the use of its venom are wrong. It was that hatred, that "wrong-ness" that took an innocent life, Heather's. We are called to continue to pray and work toward that never happening again, even if it does, even as we remember Heather in our prayers.
We are also called to be "higher angels" - and, friends, we are a congregation of "kinder and higher angels"; we bring the light that needs to shine in all our marvelous hues. We can never let anyone try to dim our radiance and the joy that is more powerful than anything that attempts to stand against it! We dwarf the hatred when we finally realize and believe that we do!
To be clear, I believe there is no moral equivalency between self-espoused groups of hatred and those who rise to protest against it. I know there are differences in political opinions in this country and into our county and community and pews. However, moral leadership requires leadership in a way that rises to the moment, uplifting the heart and courage and goodness of our communities and nation. It is how we move forward; how we begin to heal.
Effective moral leadership leaves behind any "caution" that may tempt us to speak out less in our own areas of influence. Moral leadership calls us to calm - not to foment or affirm the unrest we are trying to extinguish. Moral leadership will always be resisted by those whose see their supremacy as the goal. So, what....?
And, moral leadership is still about Love...
When asked what was the most important of commandments, Jesus replied, "The most important Commandment in the Law is to 'Love God with all your heart and soul and with all your mind. This is the first and greatest commandment. And the second is like it: 'Love your neighbor as yourself.'" Matthew 22:37-38
There's a reason the aforementioned is the greatest of commandments. If you wonder what that might be, consider a world in love with God and one another. We can never be persuaded that that is something to fear by those who will fight to never relinquish power.
With all this said, nether can we accept what has been happening or allow it to become part of "the new normal." This is not "normal..." It is wrong. Deadly and wrong and needs to be stopped.
Yes, we are called to love those who commit the most heinous of crimes; we can even forgive such individuals over time, perhaps -- but they are always accountable for their actions. Forgiveness, love and accountability undergird our morality as part of God's kindom on earth, as well making it possible for us to live together in hospitality and inclusiveness in our nation and world.
These reasons and more are why each of us must speak with clarity and with a pastoral heart, especially when others are hurting or fearful. It is why we are together.
Friends, we will continue seek ways to be the voice of love, standing agains hatred and violence; I welcome all your ideas and suggestions for us to amplify our voices - and, as always, ask for your prayers.
Now, it's time for me to make one of those calls to someone that just came to mind. I always want to remember that even in the midst of turmoil this is still about loving one another in our personal care and contact with each other. From there the work of justice and love continues and thrives...because it must.
631-827-8611
---
Opportunities:
From Jane Macgowan and the Food Pantry:
Thanks to everyone for the donations that are brought to church each Sunday. As a reminder, the pantry does not accept pet food or people food that has an expired date! Otherwise we are good! Woof!
PS: Please "Like" us on Facebook, if you do! www.facebook.com/sayvilleucc and be sure to visit us on our website at www.sayvilleucc.org
​
---
  
Calendars
Upcoming Calendar Dates
​Tuesday       
Aug 15         9:00 AM        
Senior Exercise in the Vestry
Tuesday        
Aug 15
        7:00 PM          Bible Talk in Vestry
Thursday       Aug 17       10:00 AM         Prayer Shawl Ministry in the Vestry
Thursday       Aug 17        12:15 PM        Senior Exercise in the  Vestry
Monday        
Aug
21       11:45 AM         Bible Talk in Vestry
Monday         Aug 21         7:00 PM         Trustees Meeting in Vestry

​Tuesday       
Aug 22         9:00 AM        
Senior Exercise in the Vestry
Tuesday        
Aug 22
        7:00 PM          Bible Talk in Vestry
Thursday      Aug 24       10:00 AM        Prayer Shawl Ministry in the Vestry
Thursday      Aug 24     12:15 PM          
Senior Exercise in the Vestry - CANCELLED
Monday        
Aug 28
      11:45 AM        Bible Talk in Vestry
Monday - Thursday       
5:30 PM       Sharing a Meal (Formerly Having Friends INN)
---
Birthdays
August 15th ~ Joe Cunningham
August 17th ~ Liz Moore and Jim Batura

Happy Anniversay!
39 years ago this Saturday,
Kathy and Peter Leis were married here at Sayville UCC!

---

Weekly Support Meetings:
Mondays         7:30 PM      Courage to Change (NA), Fellowship Hall
Wednesdays  
7:30 PM      SCA Meeting, Fellowship Hall
Thursdays
       6:45
PM      Nar-Anon Recovery Group, Fellowship Hall
Saturdays       11:00 AM     Serenity in Sayville (NA), Fellowship Hall
---
---
Prayer Requests... Let us pray...
Prayers for Carol Braun undergoing cancer treatment.

Prayers for Courtney who is dealing with drug problems.

Prayers for our country and our leaders.
Prayers for peace in our world.
Prayers for Helen Maloney's family on her passing.
Prayers for Donald Ketcham who is recuperating at Good Samaritan Nursing Home after a serious fall.
I pray for the safe return of those in uniform serving in Southwest Asia.
Words of Thanks...Thank you for all your thoughts and prayers during my daughter's recent surgery.
Healing prayers for Susan McCarthy and Art Metzler who are dealing with major health issues.
Prayers for Nanette Mallol who is recovering from surgery.
Prayers for Brenda Jayne Young
Prayers for Susan Ryan's sister-in-law, Celia Muller, receiving chemotherapy for several cancer outbreaks
Prayers for Carole Bennett, friend of Bob and Gail Acker, in that space where she and God converse, awaiting an outcome from the coma that currently keeps her from family and friends.
Prayers for the continued recovery of Roberta and Patsy's daughter Wendy.
Prayers for Jack Nix who recently underwent thyroid surgery.
Prayers for Elaine Mimbs, daughter of Walter and Linda David, who had out-patient surgery which will require several months of healing.
Prayers for Joe Mallal and his family.
Prayers for Karl Hasselriis as he recovers from an injury to his feet.
Prayers for Karen Maust's sister, Marilyn, as she undergoes her 4th chemotherapy treatment.
We are excited and grateful to find a loving and accepting church! 
---
Sunday, August 23rd  Stewards
Liturgist
~
Karen Maust
Music Director ~
Sean Cameron
Greeters & Ushers ~
Gini McLaughlin and Gerry Avolio
Projectionist ~ Projection Slides ~ 
Kimberley Reiser
Building Close ~ 
Karen Maust
Hospitality ~ 
Leftovers                           
Help Wanted
Sunday Stewards Needed!
Check the Sign-up Sheets in The Vestry Hallway!
Many hands make light work!
---
Update:
Calling All Heat Gun Operators
Our church is in the process of refinishing and restoring our historic front doors and this involves the careful removal of 130 years of old paint!  Hank Maust has started the process and with help from Kathy Leis  the work is continuing.  All that is needed is a heat gun and putty knife (see progress on the westernmost door), but we need your help to move the project along.  If you are an experienced heat gun operator or need lessons, contact Hank directly at 631-286-0143or rmaust@optonline.net to arrange a time for an orientation to the project.  Karen Maust is coordinating a schedule for working and she can be reached at kmaust@optonline.net or 631-286-0129.  We hope to have the project complete before the end of September!
---
SAVE-THE-DATE!! Emmanuel is coming!




If you are like me, that makes your heart go pitty-pat!!Our church will produce EMMANUEL, Dorothy LeeDavidson Hausske's "Christmas Musical for All Seasons"this December, on the 15th, 16th and 17th, details to follow.

We are beginning to line up the players, and that will includeYOU, so please put it on your calendar and get your Christmas

shopping done now. Rehearsals will not begin until October,after our new and wonderful pastor's installation.

And, yes, Ray is excited too! Stay tuned.

Love, Connie
---
---
One Community: Many Voices
A Musical Workshop on Diviersity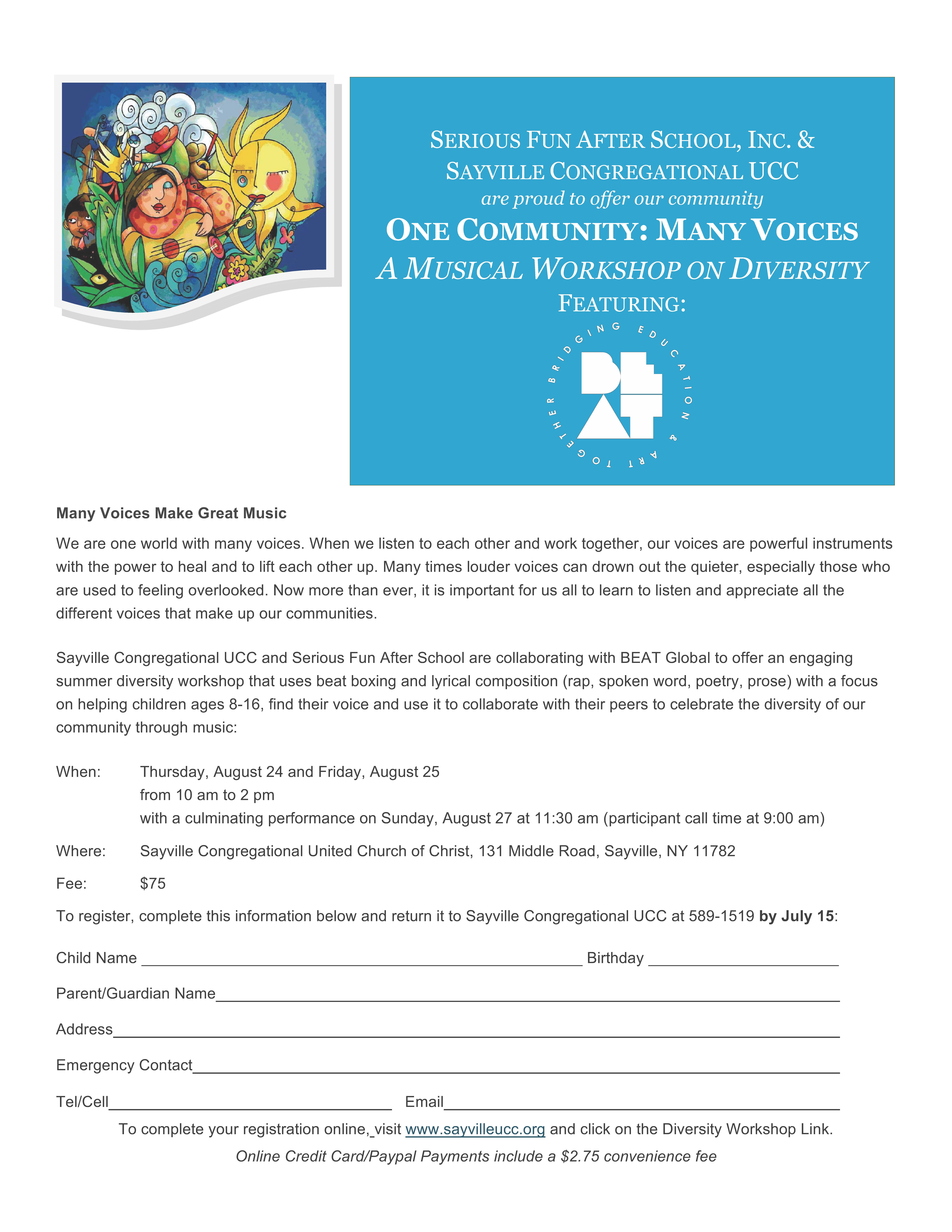 ---
Sharing a Meal Fundraiser



Please join us for a performance of the musical "Dream Girls" at the CM Performing Arts Center on Saturday, September 16, 2017.  

Tickets are $30 and include a pre-show wine and cheese reception (7:00-7:45), basket raffle and the 8:00 pm performance. A portion of each ticket will benefit our soup kitchen - Sharing a Meal (formerly Having Friends INN).

To order tickets please call Al at 631-563-8203.  If you have any questions please see or contact (631-363-6696) Jerry Avolio or Gini McLaughlin.

---
Justice Chimes Announcements
​
Jen's Activation Checklist  
Click Here
Ready to Resist
Videos from www.moveon.org can be viewed on
demand here.
Show Up Long Island's
Facebook Page
---
Accompaniment Ministry Opportunities
Members and friends of our congregation continue to accompany individuals appearing before immigration courts, both on Long Island and in New York City. Accompaniment is a powerful way to witness – just by your presence – that folks facing immigration hearings have community among us. If you would like to learn more about accompaniment or be placed on the email list to learn of upcoming accompaniment opportunities, please contact 
​Ray at 631-827-8611 or ray@sayvilleucc.org
---

Many Thanks

We are so grateful to all of the generous contributions from every member of our church family!
Your generosity allows us to accomplish what we strive to do for each other and our community!!

With Summer upon us and so many enjoying time away, please take this gentle reminder to keep your pledges current.
---
---
---

Stop & Shop Cards are available at coffee hour each week.
They make great gifts and are great way to purchase your groceries
while supporting Sayville Congregational United Church of Christ.
---
---
Weekly Events:
Check calendar above for any weekly changes.
Bible
Talks!
 in the Vestry - Mondays at 11:45 AM & Tuesdays at 7:00 PM
Please join us! Visit our website at
www.sayvilleucc.org
for upcoming readings. 
Sharing a Meal (Formerly Having Friends In
 in Fellowship Hall - Mondays through Thursdays at 5:30 PM 
NA
Meetings
in Fellowship Hall – Mon at 7:30 PM; Sat. at 11:00 AM
SCA
Meetings
in Fellowship Hall – Wed. at 7:30 PM
Naranon
Meetings
in Fellowship Hall – Thurs. at 6:45 PM 
Prayer
Shawl
Ministry
in the Vestry - Thursdays at 10:00 AM 
Senior
Exercise
in the Vestry - Tuesdays at 9:00 AM & Thursdays at 12:15 PM
Note: Choir Practice will resume in September as the Choir takes a summer haitus!
Giving:
United Church of Christ congregations pays its own bills, hires its own staff, and maintains its own facilities from the voluntary gifts of members and friends. Donations are accepted in the basket on Sundays, as well as through our online giving program or through direct payments. Please call Heather in the office to answer any questions you may have about how we can best to accommodate your gifts.  And, please consider buying Stop & Shop Gift Cards to support the church. Available at coffee hour each week, a portion of their cost goes to Sayville Congregational United Church of Christ.
Newsletters
:
Are you receiving our weekly newsletters: 
eChimes
and
Justice Chimes
Newsletters? Let us know:
ray@sayvilleucc.org
. Visit our website for more information. at
www.sayvilleucc.org
. Do you need these in print? 
Please let us know if anything is incorrect or needs to be edited. Thanks!
---
Sayville Congregational United Church of Christ
131 Middle Road, Sayville, NY 11782-3101
631-589-1519
; churchadmin@sayvilleucc.org
www.sayvilleucc.org
;
www.facebook.com/sayvilleucc
         Heather Corcoran, Church Administrator; eChimes Editor
Ray Bagnuolo, Pastor, 631-827-8611; r
ay@sayvilleucc.org 
---