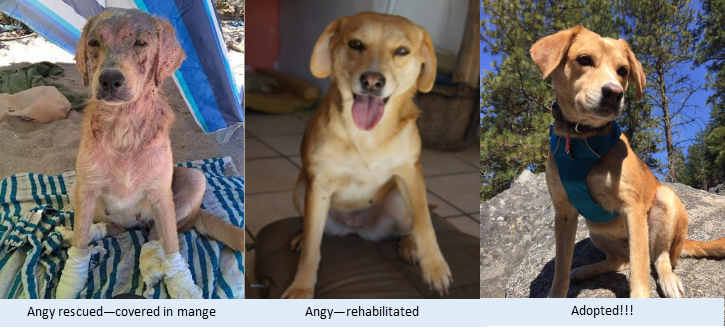 2017 is off to a strong first half.  We have been extremely busy rescuing, rehabilitating, and placing dogs. Here are some key advancements we have made:
We automated and formalized our processes to track critical information about each dog from the point of intake through placement and even ongoing tracking long after adoption.  With increased dogs rescued and adopted, it is absolutely critical that we are efficient and well organized.  We continue to focus on deploying and managing a robust tool called Animal Shelter Manager into the organization.  With this, we are able us to grow our operations and this translates to more saved lives. 
Recruited, trained, and expanded our volunteer base: we have added key volunteers and assigned areas of accountability. This includes intake, assessment, adoption coordination, follow-up, food distribution, veterinary consult, and more.
This investment in our operations and in recruiting has translated into significant increases in dogs rescued, adopted, food distributed – already this year we have adopted out almost as many dogs as in all of last year. That means our rescuers have room to take another dog off the streets!
 
Beginning this month, look for our monthly updates to keep you abreast of our activities!
In 2016, Baja Dogs La Paz transitioned from supporting shelters here in La Paz to a Foster-based organization. All indicators prove that we made the right move! Volunteers and especially our Rescatistas (a term used to describe those who rescue, rehabilitate, and then foster until the dog is adopted) deserve a huge ovation for all the hard work and dedication they display daily.  
Here are some highlights of 2016:
Over 100 dogs rescued, rehabilitated, and adopted

Average time in foster care is 53 days

Over 3400 pounds of dog food distributed

Average of 60 dogs in our system at any one time

Average 25 La Paz rescuers/fosterers in our system at any one time
​

​New people are joining our program and many have never rescued or fostered before. This means more dogs are coming off the streets and the word is spreading about the importance of sterilization, vaccination, and proper animal care. 
Read the entire message from our board here . . .
Baja Dogs La Paz Inc., a 501(c)(3),  BDLP is a California based non-profit that funds organizations and individuals who rescue, rehabilitate and re-home dogs in the Baja Sur area of Mexico. Donations are raised online through various appeals, fundraising campaigns and events in the La Paz area where the charity has its roots.

As a donor, you have several options to direct your donations to a specific project or initiative that is dear to your heart (for example, spay and neuter clinics) just by making the notation when you 
donate
.
For transparency our 2016 Financials are available on our website. Much of the donations come via employer matching programs. If your company matches your donation we benefit two-fold. Please consider adding us to your annual giving program and help us take more dogs off the street and get them into homes where they are loved.

With your continued support, we hope to grow our programs so Baja Dogs La Paz can support our Rescatistas (rescuers/fosterers) with vaccinations and sterilizations. This will  reduce the overpopulation problem of dogs and get more off the streets, rehabilitated, and into loving homes. See 2016 Financials here . . .