Published by the Twin Cities Chapter of the Society for Technical Communication
                                                                                                               February 2017, Volume 3, Issue 2
Our February Meeting

User-Centered Design Principles for Organizing Documentation​
with Tom Johnson


When organizing your documentation, such as arranging navigation titles, workflows, or other wayfinding features, you can apply universal design principles to make your content more user centered.
 
Some of these principles include:  
Modularity

Hierarchy

Five hat racks

Progressive disclosure
These design principles, based on solid user research from design gurus, will help users better find and navigate your help content.
Tuesday


February 14, 2017
5:30 pm - 7:30 pm
​Webinar Format
Wilder Foundation
451 Lexington Pkwy N
St. Paul, MN 55104
> Free Parking in Ramp



Directions





Register Online




​
Tom Johnson, based in the San Francisco Bay area of California, publishes regularly on I'd Rather Be Writing (http://idratherbewriting.com), a blog focused on tech comm.

Tom works at Amazon Lab126, which builds the devices for many of Amazon's products (such as the Kindle, Echo, Fire TV, and more). Tom also enjoys building documentation websites using Jekyll, a static site.
---
The University of Minnesota
Technical Writing Program
Part II of III





This article is the second in my series about technical communication education.

To read about the technical communication program at the University of Minnesota, Twin Cities, see the January 2017 STC Twin Cities newsletter.

Today, I am covering the narrative of those who have studied technical communication in the past. Enjoy!
Once thought as gadgets purely for programmers and engineers, computers have succeeded partly through contributions of technical communicators who have made computers more usable.
The growth of the internet has led to a profound change in how computers are used, which in turn has affected a shift in educational standards for technical communicators.
​
For this article, I interviewed four technical communicators to understand:

How technical communication was viewed when they were students

How they joined the field

How educational standards for technical communication have evolved.
The table below lists some facts about the technical communicators I interviewed.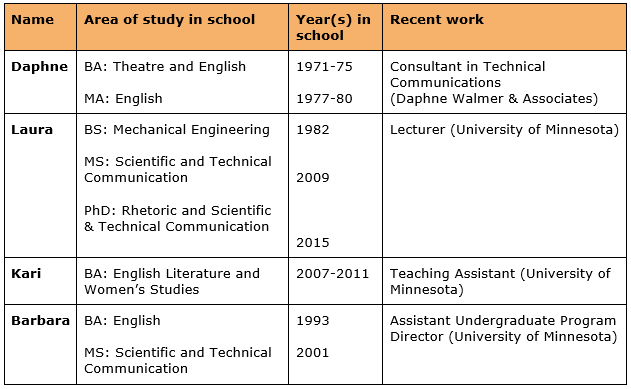 *********************************************
​
​STC Certification: Twin Cities CPTC™ Class is Upon Us!



Training for the Certified Professional Technical Communicator - Foundation Level is fast approaching. The class will run on February 9th and 10th!

Nine core areas of technical communication will be covered. These will prepare you for the certification exam. An APMG-accredited CPTC trainer, Chris Hester

,

will lead the class. The textbook is available

online

.

If you need further information about attending the upcoming CPTC class in February or if you'd like to schedule a private class for your organization, please contact Chris Hester at cptc@reddeskstudio.com.


​Chris Hester, Certification Instructor



What's intriguing to note is that none of the interviewees majored in technical communication for their bachelor's degree, but most of them majored in English. They thought that technical communication was not a relevant educational program and could carried a professional stigma. Daphne stated: "As an undergraduate, I was not aware of the field, and there were few schools with degree programs at the time." Kari viewed it as "a purely practical course, a skills course, unrelated to what I valued in texts and textual research."

Although these women pursued similar majors in college, they all started in different specializations of technical communication, but still shared common experiences. They performed technical communication work within their professions, and because they enjoyed the work, they decided to formally venture into the field.

Laura began her career as an engineer and wrote technical documentation. She later decided to become a technical communicator because of a genuine interest in the work. Barbara began by writing and delivering training to "franchise groups in various areas of the country." When the corporation for which she worked offered to help pay for her graduate studies, she studied scientific and technical communication because it connected to her profession's emphasis on technical training.

Kari ventured into the field because of her research on vaccines, her community involvement, and the degree to which the relationship between physician and patient relied on communication.  It wasn't until months into her research that she realized how important  a role technical documentation played in medicine: the field involved an engagement with "real people, real decisions, and real life," which proved to be drastically different than her original impression.
​D
aphne's experiences with technical communication flourished when she began teaching technical writing in graduate school, and later moved on to work for a corporation dedicated to computers and software for non-technical users, as opposed to engineers and programmers. When a colleague convinced the company's founder to improve their computer documentation, Daphne was positioned to succeed because she possessed very strong innate communication skills, had earned an English degree, and had developed typesetting skills (in college), as well as abilities in: 
Analyzing audience(s) and rhetorical purpose

Presenting information orally

Persuading people

Using linguistics and transformational grammar (i.e., writing in structures and words that are most easily understood)

Using critical thinking and problem solving
She never earned a technical communication degree, but built a career by "teaching it, and later by doing it."
Laura and Barbara both attended graduate school in technical communication, and expressed similar opinions on the development of the field. For example, they recognized the dramatic way in which technical communication has changed and been influenced by varying technological standards related to the internet. Laura identified trends that have become prominent, including:
Writing in XML publishing systems

Adapting to new technologies

Writing for translation

Working in a global virtual team

Working with content management
Kari completed her degree most recently, but she has accrued notable research and teaching experience in technical communication. When asked about the most fundamental principle that technical writing students should learn today, she replied: "What kind of ideologies are embedded in and perpetuated by this technical document?" This ability to maintain a capacity for critical engagement in her work highlights the rising moral complexity in technical documentation, as technology becomes more intertwined in our day-to-day lives.
As technical communication grows to support advances in technology, new technical communicators build the profession on the achievements of skilled professionals like Kari, Daphne, Barbara, and Laura.
In the March issue, I will discuss student and recent graduate viewpoints on the technical education landscape. Stay tuned!
If you have any questions for me, please contact Ayanfe at

 

adewo008@umn.edu

.
Thank you,
Ayanfe
---
March 14th Joint Event!
Coming to 
Metropolitan State University:
STC TC and TC3!



Back by popular demand, Fred Beecher, Director of User Experience Design at The Nerdery, will discuss the shared goal of UX and Technical Communication: effective communication.

Mr. Beecher will talk about how we can leverage our existing tech comm skills if we incorporate UX design into our daily processes.



Look for the registration link in next month's newsletter. Registration is required for dinner, but walk-ins are welcome. Or find information about this event and our website link for registration on Facebook: 

Society for Technical Communications - Twin Cities or @stctwincities
---
STC TC has created a Facebook group. It's basically a chat room where members who are on Facebook can join a private discussion of all things tech comm!

Join us

here

. Your requests will be approved as they come in.
---
Copyright © 2017 by STC TC. All rights reserved.