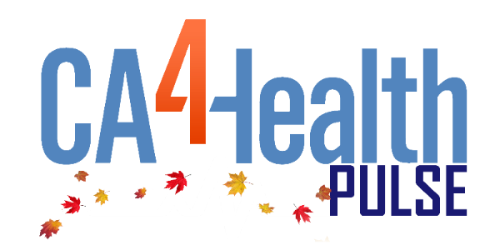 ---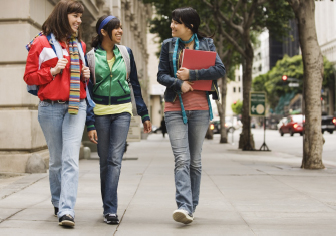 CA4HEALTH FEATURED PARTNER SERIES - 
Merced Youth Help Plan a Tobacco-Free Path to School​


To protect children from exposure to tobacco advertisements and promote health equity across all neighborhoods, the Merced City Council took action to change the city's zoning ordinance. A buffer zone safe from new tobacco retailers now surrounds schools, parks, recreation centers, and other places meant for the city's children. The City Council learned about how much tobacco marketing children see on their way to school from a team of youth leaders from the Boys & Girls Club of Merced County. The team walked the streets around many of the city's schools to document the tobacco advertisements children see on their way to class. Working with the City of Merced Planning Division and the Merced County Department of Public Health, the youth team provided compelling data to educate the council on the importance of protecting youth from tobacco advertisements.
Click
HERE
to read the full story! 
---
| | |
| --- | --- |
| | The implications of the 2016 election are still being felt across the country. Among the members of our diverse staff and across our CA4Health community, there are questions around what the next phase of leadership will look like and mean for our communities and neighbors. CA4Health is committed, as always, to ensuring our Community of Practice remains a safe and inclusive space to support all Californians in the movement for equity.  |
This November, Californians voted on a broad range of state and local contests and ballot measures. Here is what you need to know about key statewide election results:
Kamala Harris was elected as California's first new U.S. senator in 24 years, following the retirement of Sen. Barbara Boxer. She makes history as the first senator of Indian decent and second African-American female senator in history. Of her win, Harris stated, "I intend to fight for our ideals. I intend to fight for our civil rights. And I intend to fight to make our communities stronger."
Voters APPROVED $9 billion in general obligation bonds for K-12 school facilities. Some questions remain regarding how these funds will benefit schools in low-income neighborhoods and if they will diminish or widen the gaps between high and lower performing California schools.
Voters APPROVED an extension on increases to personal tax incomes exceeding $250,000 an additional 12 years to fund education and healthcare. $4-$9 billion in revenue are projected.
An increased cigarette tax was APPROVED to fund healthcare, tobacco use prevention, research, and law enforcement. $1-$1.4 billion in revenue are projected in 2017-18.
In a step toward criminal justice reform, voters APPROVED increasing parole and good behavior opportunities for felons convicted of nonviolent crimes and allowing judges (not prosecutors) to decide whether to try certain juveniles as adults in court.
By a large margin, voters APPROVED multilingual education, allowing non-English languages to be used in public educational instruction.
A public health measure widely rejected by members of the adult film industry was DEFEATED which would have mandated the use of condoms in adult films.
Voters elected to strengthen the use of the death penalty in California – voters DEFEATED a proposal to repeal the practice, and APPROVED procedures to limit appeals and petitions to those convicted. It is likely that the measure to repeal the death penalty will be reintroduced for voter appeal in the future. 
Voters APPROVED gun control measures that will prohibit the possession of large-capacity ammunition magazines and require certain individuals to pass a background check in order to purchase ammunition.
Joining a number of states in support of decriminalizing use/possession of marijuana, voters APPROVED legalizing recreational marijuana adults 21 years or older and establishing certain sales and cultivation taxes. Many cities introduced complimentary measures to further tax marijuana sales for local projects. As of November 9, 2016, it is legal for individuals to use and grow marijuana for personal use. However, the sale and subsequent taxation of recreational marijuana will not go into effect until January 1, 2018.
Cities in California were also successful at passing measures to tax sugary beverages, and increase the minimum wage.
The 2016 general election has provided ample opportunities for reflection of the great progress being made, and stark reminders of where progress has been slower to come. We look forward to continuing to build alongside the CA4Health community to champion the changes we strive to see in our communities and beyond. 
---
Engaging Communities for Change:  Stories from California 

If you missed our webinar on November 3rd that featured highlights from the VOTA! Campaign in the Eastern Coachella Valley and efforts to transform an anchor institution in Richmond, the recording is

HERE. 
---
Safe Routes to Healthy Food: Where Food Access and Active Travel Intersect

Thu, Dec 1, 2016 11:00 AM - 12:00 PM

This webinar introduces the concept of Safe Routes to Healthy Food, that is, the work of overcoming the transportation barriers to accessing nutritious foods. This webinar will make the case for why active transportation advocates and food access advocates can and should collaborate and provide examples of how communities across the country are working to make it easier, safer, and more convenient for people to walk, bike, or take transit to access healthy foods. Join Marisa Jones, Nutrition and Physical Activity Project Manager at the Safe Routes to School National Partnership and Caroline Harries, Associate Director at The Food Trust. Click HERE to register. 
---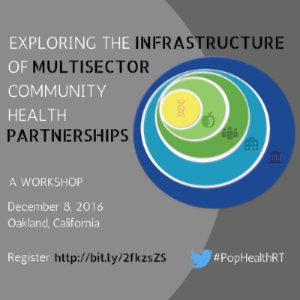 The Roundtable on Population Health Improvement will hold a 1-day public workshop on December 8, 2016 titled, Exploring the Infrastructure of Multisector Community Health Partnerships. At this workshop, participants will discuss a range of partnerships that genuinely and equitably engage community residents and other stakeholders in improving community health and well-being. Speakers from rural and urban areas of the U.S. will share their stories and expertise as participants work in collaboration to identify through interactive sessions the factors needed to build successful and sustainable multisector partnerships that have a lasting influence on the conditions that contribute to community well-being. Workshop participants will include representatives of multisector partnerships in California; Louisville, Kentucky; North Saint Louis, Missouri; the Columbia Gorge Region of Oregon and Washington; and Algoma, Wisconsin. The event will begin with a presentation by Dr Tony Iton E.V.P. of California Endowment and several community representatives from the Building Healthy Communities initiative. 
Visit the Roundtable website
 for more information, including in-person and webcast registration.
---
​Connecting Public Health and Food Sector Collaborators: Reducing Sodium through Meal and Menu Modifications

Thursday, December 8, 2016 11:00 am 
​This Web Forum will focus on tools, strategies, and promising practices for implementing meal and/or menu modifications to reduce sodium in food service settings. Meal and menu modifications include revising recipes, substituting or replacing ingredients or products, changing cooking techniques, addressing the use of condiments, changing serving sizes, cooking from scratch, and more. Click HERE for more information. 

CA4Health, a Public Health Institute Program, made possible
with funding from The California Endowment