Direct Parent to Parent support for families with deaf and hard of hearing children.
"What Works for your Child is What Makes the Choice Right."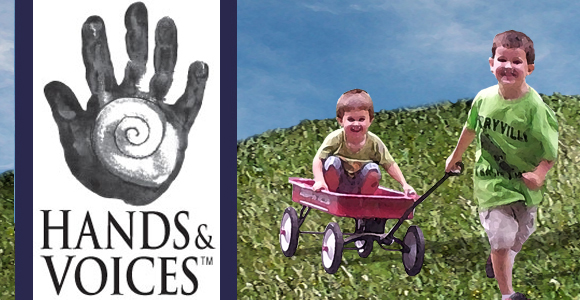 EHDI Re-authorization Bill Support Needed

Was your child's hearing loss identified through a newborn hearing screen? If it was, then you probably already know how important that program is to families with children with hearing loss. Getting an early start on intervention can make a tremendous difference in the lives of deaf and hard of hearing babies, whatever path that intervention follows. 

If Early Hearing Detection and Intervention has been an important program for your family, please get in touch with your senator, and tell him about it. More information about the bill is available on the

ASHA website

, and the complete bill is available at

Congress.gov

.
---
A More Inclusive Halloween

While Hands & Voices is typically concerned with accessibility for deaf and hard of hearing children, we should also be making sure we are looking out for kids with other kinds of accessibility issues. At Halloween, food allergies can be a huge hurdle for many kids.

The Teal Pumpkin Project

aims to make Halloween accessible for children with food allergies. To participate, all you have to do is have some non-food items on hand for trick-or-treaters this year. You can display the Teal Pumpkin logo, or actually paint a pumpkin teal, to let your neighbors know that their children can find safe treats at your door. For more information, check out the

Food Allergy Research and Education website

. 

For more ideas on making Halloween accessible to all children, there is a great article at

Ability Tools Weekly.
---
COMMUNITY EVENTS

Chapter meeting today, September 27, 6PM at TLK in Peoples Plaza in Glasgow.  If you can't make it in person, you can join us on

Google Hangouts

. 

Nemours 5th Annual Audiology Conference: Maximizing Learning and Cognition in Children with Hearing Loss, September 29, 8:00AM, Alfred I. duPont Hospital for Children. Register at PedsUniversity.org



Chapter meeting October 29, 6PM at TLK in Peoples Plaza in Glasgow.  If you can't make it in person, you can join us on Google Hangouts

. 
---
WHAT IS HANDS & VOICES?

​We are a nationwide non-profit organization dedicated to supporting families and their children who are deaf or hard of hearing, as well as the professionals who serve them. We are a parent-driven, parent/professional collaborative group that is unbiased towards communication modes and methods. Our diverse membership includes those who are deaf or hard of hearing and their families who communicate orally, with signs, cue, and/or combined methods. We exist to help our children reach their highest potential.