It's the beginning of a new school year and CA4Health partners across California are taking the lead in promoting school wellness – from pre-K to college.

The California State University (CSU) system recently became the first public university system to conduct extensive research on student homelessness, displacement and food insecurity.
After a year-long study, the results revealed that as many as 24% of CSU's 460,000 students are food insecure. Earlier this year, the CSU Chancellor Tim White released a written statement committing to ensuring students "reach their full potential without worrying about where their next meal is coming from or where they will be sleeping". 
Jenny Breed, the CalFresh Outreach (CFO) Program Director at CSU Chico-Center for Healthy Communities, agrees. For Jenny and many of her colleagues at the university, programs that provide services like CFO are important, because "if we want to support academic success we need to provide the support students need beyond just the academics". The services on CSU Chico's campus are growing to meet diverse student needs, including their longstanding efforts to provide CFO. For many students, financial aid checks arrive after they return to campus or to their off-campus housing; applying for CalFresh can help bridge this gap. On average, students receive an additional $150/month which can make a big difference throughout the school year. "We've been really messaging that financial aid is to cover academic and living expenses and the CalFresh benefit is really a food-aid," says Jenny. This distinction "gives them a lot more independence and choices that help develop life skills". 
On Chico's campus last year alone, 1200 students were enrolled in CalFresh. But the program isn't always for everyone and not all students are accepted. That's why additional campus services and partnerships are critical. Among the services under the Food Security Project that has grown in recent years is an on-site food pantry, founded by Kathleen Moroney. After being contacted about students needing additional food, "Kathleen started collecting food to store so when faculty called with a student in need, they had something." The campus also offers Veggie Bucks, founded by Joe Picard, that can be used to access fresh produce on campus from the university farm, vouchers to use at nearby churches that provide weekly free meals to the community, and a new phone app that is being coordinated with dining services to blast announcements of catering or dining left-overs that students can take home for free, additionally curbing food waste on campus. 
In response to the study's findings from CSU Chico, expanding these successes is about to begin. In addition to exploring how to get CalFresh EBT accepted through campus dining services, support for CFO and other services will be going to 8 other CSU campuses in October to educate faculty and staff on CalFresh and how to use outreach to support students. Getting students and other stakeholders involved has also been key. For Jenny engaging students in the process has been a great evolution "because it's not just us that's driving – it's student leadership saying 'yes, we need this, our students ARE hungry'". 
To Jenny, it's all a great step toward a reduction in students who struggle with food access. She adds, "we have all this research now that tells us that brains are still developing until the age of 25". So when you look at it that way, "it's a pretty good investment I think!" We couldn't agree more!
---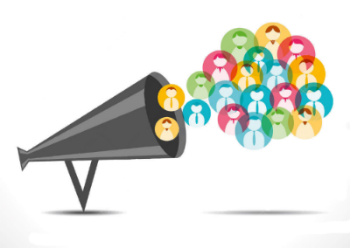 Web Forum Series:  Communicating for Change
Thank you to those of you who were able to join us for 
Part 2
of the Web Forum Series: 
Communicating Effectively with Policymakers.
In this interactive web forum,  which was hosted by Dialogue4Health, CA4Health, and the California Leadership Academy for the Public's Health (CaLAPH, a project of the Center for Health Leadership and Practice), participants learned how to deploy messages to create change. The forum covered discussing your issues effectively with policymakers without jeopardizing restricted funding, and what types of messages resonate with them.
If you missed the web forum, you can watch the recording
here.

Part 3 of the Web Forum Series:
 Using All of Your Tools:  How to work with the press and others who can make news with your story
Specific date in September and registration information coming soon!
---

The November election is just around the corner – it's time to Get Out The Vote!!
 
This is a critical time to get ready for the general election. No matter your age or background, you can ensure your voice is heard!
Register to Vote:
There are three ways you can get registered to vote! You can
register online
,
by mail
(Call your
county elections office
or
1-800-345-VOTE (8683)
to have a form sent to you), or
in person
(pick up the form at your county elections office, any Department of Motor Vehicles office, and many post offices, public libraries, and other government offices). Can't remember if you're registered? Check
here
. Whichever option you chose, the
DEADLINE TO REGISTER IS OCTOBER 24TH.
Unable to register? Already registered and want to do more? Here are a few ways you can make a difference: 
Register and educate new voters:
in some California districts, voter registration rates are so low, a relative few decide for the entire community. This election will have many local and federal implications encourage classmates, members of your religious community, your peers and family to consider getting registered if they are not already! 
Volunteer to work the polls on Election Day:
a great option for youth 16 or older – check out what goes on behind the scenes of an election! Find out how
here
. 
Share and translate materials for family and neighbors
: Our communities are big and increasingly diverse. Translating existing materials or making them more culturally appropriate can go a long way in diversifying the electorate. 
Connect through social media:
Social media can be a pipeline to candidates and your community. Share your opinions, find or promote local events and lift up your voice! Leverage existing campaigns like The California Endowment's "Vota!" and use key hashtags to lend your voice to movements you care about. 
Learn more about Vota here
Read about what this election means to new voters here
See how MidCity CAN is taking action to increase voter registration in their community

Public Health and Planning
Join CCLHO-CHEAC Chronic Disease Prevention Project at their upcoming convening of public health and planning professionals from Central California on September 14-15 in Monterey, California. They are encouraging cross-sector jurisdictional teams, including Public Health Directors, Health Officers, Planning Directors, Public Work Directors, Environmental Health Directors and others to attend.
See flyer
for registration and additional information.
---
the Public Health Institute and the Center for Climate Change and Health have released a new infographic,

6 Ways Climate Change Harms Health in California

, with stats on food security, natural disasters, vector-borne diseases, heat-related illness, water shortages and air quality, along with call-out boxes highlighting the increased risks to our most vulnerable communities.
Please post, retweet and forward to friends and colleagues today so they can act before Thursday.
Visit our action center
for more ways to make your voice heard.
---

Monday, September 12, 2016 from 10:30 AM to 2:00 PM
California Endowment, Redwood Room -
1000 North Alameda Street, Los Angeles, CA 90012
Join
Investing in Place
on September 12th to discuss defining transportation equity in Los Angeles County, covering 3 Los Angeles County ballot measures that tackle quality of life issues including transportation, parks, and homelessness. For more information, click
here
.
---

Join colleagues in the parks, public health, and nonprofit sectors for the
Health Outdoors! Forum.
This free, day-long forum brings together these different sectors to address our common goals of promoting health equity throughout the Bay Area.
Click here for more information.
---



CPEHN's Voices for Change: Seizing the Momentum for Health Equity

October 18, 2016
Westin Bonaventure
404 S. Figueroa Street
Los Angeles, CA 90071
Voices for Change
 brings together a unique community of advocates, health providers, policy experts and public health professionals to build a unified vision for improving the health of all Californians. Our agenda will feature speakers on advancing new quality improvement and health integration efforts, scaling up community safety, linking housing and transportation, and building income equity. 
For more info, 
click here
.
---

Conference on state transportation policy and funding
November 16-17, 2016 in Sacramento, California

REGISTER HERE
The second Capital Ideas conference, coming to Sacramento, CA this November,

 offers a detailed, interactive curriculum of best practices, campaign tactics, innovative policies, and peer-to-peer collaboration to help your initiative succeed — whether you are just beginning a funding campaign,

fighting to advance smart policy changes

, or defending a key legislative win.
---

The RWJF Culture of Health Prize honors communities that are making great strides in their journey toward better health by creating powerful partnerships and deep commitments to make change—change that will enable all in our diverse society to lead healthier lives now and for generations to come.
Up to 10 winning communities will each receive a $25,000 cash prize and have their success stories celebrated and shared broadly to inspire locally-driven change across the nation.
Apply for the 2017 Culture of Health Prize

CA4Health, a Public Health Institute Program, made possible
with funding from The California Endowment