CDC Awardee Highlights:
Promoting Smokefree Apartment Living in Los Angeles



UCLA-Smokefree Air for Everyone (UCLA-SAFE)

is a CDC REACH grantee engaging in a three-year project aimed at increasing access to smokefree apartments for Latinos and African-Americans in low-income Los Angeles neighborhoods.
Led by the UCLA Center for Health Policy Research, UCLA-SAFE is partnering with community organizations to reduce residents' exposure to harmful secondhand smoke drifting into their homes from outdoor common areas or adjacent units. 
Check out their success stories
promoting a smokefree environment
and partnering with key
community organizations
such as
FAME.
Also, see the
Op-ed
 in the Los Angeles Times featuring their work in May 2016!
---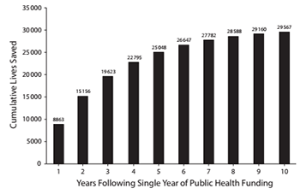 article
by Timothy T. Brown, PhD at UC Berkeley that estimates the average return on investment for the overall activities of county departments of public health in California. He finds that the estimated return on investment from $1 invested in county departments of public health in California ranges from $67.07 to $88.21, which makes public health a wise investment.
---
Web Forum Series:  Communicating for Change
Part 2 of the Web Forum Series:
Communicating Effectively with Policymakers
Tuesday, July 26th, 2016
10:30 am to 12:00 pm
Registration information coming soon!
If you missed
Part 1: Framing the Message:  Talking about an issue in a way that your potential supporters and allies can understand
Thank you to those of you who were able to join us for this interactive web forum, hosted by Dialogue4Health, CA4Health, and the Center for Health Leadership and Practice on June 15th. Participants learned about the importance of framing and had an opportunity to work on their own messages and receive feedback and guidance from CA4Health and CALAPH staff, using the 
Framing the Message
 Tool from
Berkeley Media Studies Group
(BMSG) as a guide. Materials and a recording of this web forum appear below.
To work on framing your own message:
1.
Read
 the 
Framing Brief: What Surrounds Us, Shapes Us
, from BMSG and think about an issue you want to work on.
2.
Complete
 the 
Framing the Message Tool
.
3.
Watch:
  Click to 
watch the recording
 of the 
Framing the Message
 web forum. Presentation slides are also available 
here
.
---

Summer Recess:
Making your issues local

For many, the start of summer is synonymous with the end of school and the beginning of a coveted summer break! What we sometimes forget is that our legislators are also "out of school" for the summer during a period referred to as "Summer Recess".

Each summer for roughly one month our representatives in the state and federal legislatures leave the capital and return home to their districts. While this time is not necessarily full of family road trips or trips to camp, it's still an exciting opportunity for our fellow advocates who want more convenient opportunities to meet with their representatives.
We know that meeting with our representatives is an important advocacy strategy, but we don't always have the time and resources to visit them in Sacramento or Washington D.C. Summer Recess is a key opportunity to schedule meetings with our representatives at their District Offices and form relationships with their local staff. This summer, State representatives will adjourn July 1st, heading back to their home districts and returning to Sacramento on August 1st. Federal representatives will adjourn July 16th, returning to Washington D.C. on September 6th. 
CA4Health is committed to supporting you and your community partners in holding meetings with your representatives to share your stories, solicit support for your priority issues, and build capacity for new advocates. 
Getting started:
CA4Health has developed some materials to get you ready for Summer Recess. Find an Overview and "How to" guide
here
and a Tips and Troubleshooting guide
here
. 
Whether you need assistance with navigating the process, or you are well on your way to setting up a meeting on your own – CA4Health wants to capture our movement across California! Let us know what you are planning for Summer Recess @ca4health on twitter or connect with our policy staff, Kristania De Leon, at
krdeleon@phi.org
.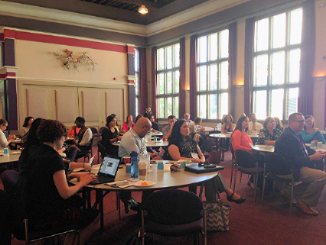 CA4Health Convening of CA CDC Awardees
In 2014, the Centers for Disease Control and Prevention granted 28 new awards to California, the most for any state in the country. This continues an investment across California to address healthy communities, chronic disease prevention, and health inequities. On June 23rd, CA4Health brought together program representatives from California's current group of CDC awards, including PICH, REACH, 1422 (Lifetime of Wellness), and 1305 (Prevention First) grants. This was a great opportunity for the 43 participants to share, learn, and elevate their work towards a healthier California! To learn more about the awardees in California, go
here
.
---
California Transportation Plan and Regional Transportation Plan GuidelinesKick-Off Meeting Thursday, June 30, 20161:00 PM to 5:00 PMLincoln Plaza*400 P Street, Sacramento, CAWebcast: here

(*Seats are limited based on a first-come, first-served basis.)
Opportunity for Health and Equity Input to California Regional Transportation Plan Guidelines
All interested stakeholders are invited to attend a kick-off meeting to initiate a stakeholder-driven process to concurrently update the RTP Guidelines and develop the CTP Guidelines for Commission consideration at the end of the calendar year.  The meeting will feature panel discussions including representatives from state and regional agencies, tribal governments, and organizations representing environmental, equity, land-use and business perspectives.  Panel discussions will identify important issues for consideration in the development of both regional and statewide transportation planning guidance. 
For more info, 
click here
.
---

Making the Connection: Climate Changes Health Series
APHA and ecoAmerica are proud to co-sponsor a four-part webinar series investigating the health impacts of climate change. The series explores the connection between climate change and key areas of our health: allergies and asthma; health risks in children; mental health; and transportation and healthy community design as a mitigation approach. 
Part IV – Making the Connection: Climate Changes Mental HealthWednesday, June 29, 1:30 – 2:30 p.m. EDT
In the fourth and final webinar of the Climate Changes Health series, participants will gain insights on how the conditions of climate change can impact mental health and how this presents itself in our communities. This is a webinar not to miss! 
Register today!
Recording for the previous three parts are now available!
---

CA4Health, a Public Health Institute Program, made possible
with funding from The California Endowment