Direct Parent to Parent support for families with deaf and hard of hearing children.
"What Works for your Child is What Makes the Choice Right."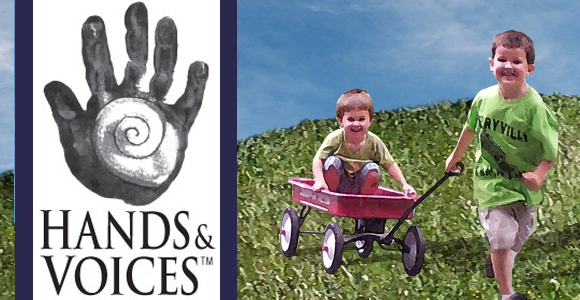 Summer Ear Tech Worries

After dropping Sam (age 7) off at day camp this morning, I was sitting in traffic on my way to work. My mind was wandering, freely scrolling through all the horrors moms always imagine befalling their children after dropping them off with strangers in the woods. We don't have any truly terrifying wildlife here in Delaware, so I mostly fret over peanuts, poison ivy, scraped knees, and mean kids. Today, my mental slide show snuck in an old favorite, "Hearing Aids in the Creek," truly a summer classic. 
As the flag guy turned to my lane and traffic started to edge forward again, I calculated the time it would take to run home and grab the forgotten EarGear from the kitchen counter, and decided, late enough for work already, to just say a little prayer instead while promising myself never, ever to forget the clip again (HA!!!).

Sam's Phonaks are Water Resistant, and I am truly, hugely grateful for that. Unfortunately, they are not Loss Resistant, and muddy creeks are not the best venue for hearing aid search and rescue. When, for the love of all things electronic, are we going to get RFID chips and locators, GPS tracking, or some similar tech standard with hearing aids? As my Grandmother says "We can put a man on the moon, but we still can't do anything about..." 

Frustratingly, Summer Hearing Tech Instrument Care Tips always seem limited to 2 lists:
1. When not to wear your aids/CI
2. What not to do with your aids/CI while you are not wearing them.
Some also helpfully mention moisture guards (EarGear is a good one), but for the most part, summer is just not a very friendly season for hearing aids.

Do you have a good "You will not believe what happened to my kid's hearing aid or cochlear implant" story? We would love to read it! Send them in by replying to this email, and we will publish the best right here next month.
---
COMMUNITY EVENTS

Chapter meeting today, June 28, 6PM at TLK in Peoples Plaza in Glasgow.  If you can't make it in person, you can join us on

Google Hangouts

. Text or email Angie for telephone access. 

Chapter meeting July 26, 6PM at TLK in Peoples Plaza in Glasgow.  If you can't make it in person, you can join us on 

Google Hangouts

. Text or email Angie for telephone access. 

There will be no chapter meeting in August.
---
WHAT IS HANDS & VOICES?

​We are a nationwide non-profit organization dedicated to supporting families and their children who are deaf or hard of hearing, as well as the professionals who serve them. We are a parent-driven, parent/professional collaborative group that is unbiased towards communication modes and methods. Our diverse membership includes those who are deaf or hard of hearing and their families who communicate orally, with signs, cue, and/or combined methods. We exist to help our children reach their highest potential.