In this issue, you will find:

KJ's Summertime Tips
Pictures from our Open House
 2016 Volunteer Awards
A story and video about reducing anti-psychotic medications in skilled nursing
Info about our new Music & Memory certification
Henrietta Harris' 100th birthday announcement


Summertime Tips
by KJ Page, Administrator RN-BC, LNHA
Welcome to summer at Chaparral House! We have lots of funny hats to keep the sun off the faces and tender skin of our elders. We also have plenty of sun screen to lather on arms, neck, face, and legs before going out to enjoy even a brief amount of warm weather. The Activities Office is the place to go for hats and sun screen. High blood pressure plagues many elders and the medication used to control high blood pressure makes everyone sensitive to heat. When it is hot outside, many of our elders get even hotter!

​Visitors may also get hot and over-exposed to the sun. We want to remind you that sun exposure is best in small doses with a good sun screen and hat to shade your eyes and face.  Help yourself as you help your loved one!

​Stay cool! Drink plenty of cool water and juice. Frozen popsicles and juice are great ways to cool down with a delightful treat. Even drinking hot tea may cool you down!

In general people need about 1 ounce of water for every 2 pounds of body weight.

  Drinking 8 ounces of water 8 times a day gives enough water for most folks, especially when you add juice, coffee, tea or milk and other fluids during the day. Iced tea is great, but if the tea is caffeinated (or made from regular black or green tea) the body works to 'process' the caffeine and you don't get the same benefit as you do from water. Same for juice and other fluids.
Join us this Summer for BBQs and other fun events!
---
Celebration & Appreciation
This year's Open House was a great success. According to one long term resident, it was "the best open house in 7 years." The weather was perfect and roving circus performers entertained guests with their talents which included juggling and acrobatics. The Chaparral House staff were appropriately adorned in circus attire while hosting circus games and wheelchair dancing.


As is our tradition, our annual volunteer awards were presented to the dedicated individuals and groups who help make Chaparral House such a special place. Awards were presented as follows:


The Longevity Award went to Carina Tuen who has been volunteering at Chaparral House for about 4 years.  Carina leads one of Chaparral House's daily Mind/Body programs which are designed to provide sensory stimulation and socialization for residents with midlevel to severe dementia.


The Compassion Award was presented to Mary Jo Jirik, who has been part of the Friendly Visiting program for 3 years.


​Marla Holmes received the Over and Above Award in honor of her exceptional commitment and contributions. On top of running the weekly nail salon providing manicures for residents, Marla also is the caller for the weekly Bingo game and has been known to help out at special events and tea parties.


The Consistency Award went to Smrithi Sukumar who has been volunteering with the Mind/Body program up to twice each week for the past two years. Smrithi also created  the Journal Club, a small discussion group for residents.

​


The Group Award went to the Threshold Choir who visit Chaparral House in groups of 2 to 4, to sing a capella to residents who are at the end of life. The Choir's calm presence, gentle voices, and sincere kindness is a great comfort to the residents, families, and caregivers who are invited to join them in song.  Songs are selected based on the resident's musical taste, spiritual direction, and current receptivity; many of the songs are original compositions by choir members.​

Finally, the Polaris Generosity Award was presented to Mechanics Bank who have been consistent and generous funders of Chaparral House for many years.

Marla Holmes accepts her Consistency Award

Laura Hansen accepts Polaris Award for Mechanics Bank
---
Chaparral House Community Advocacy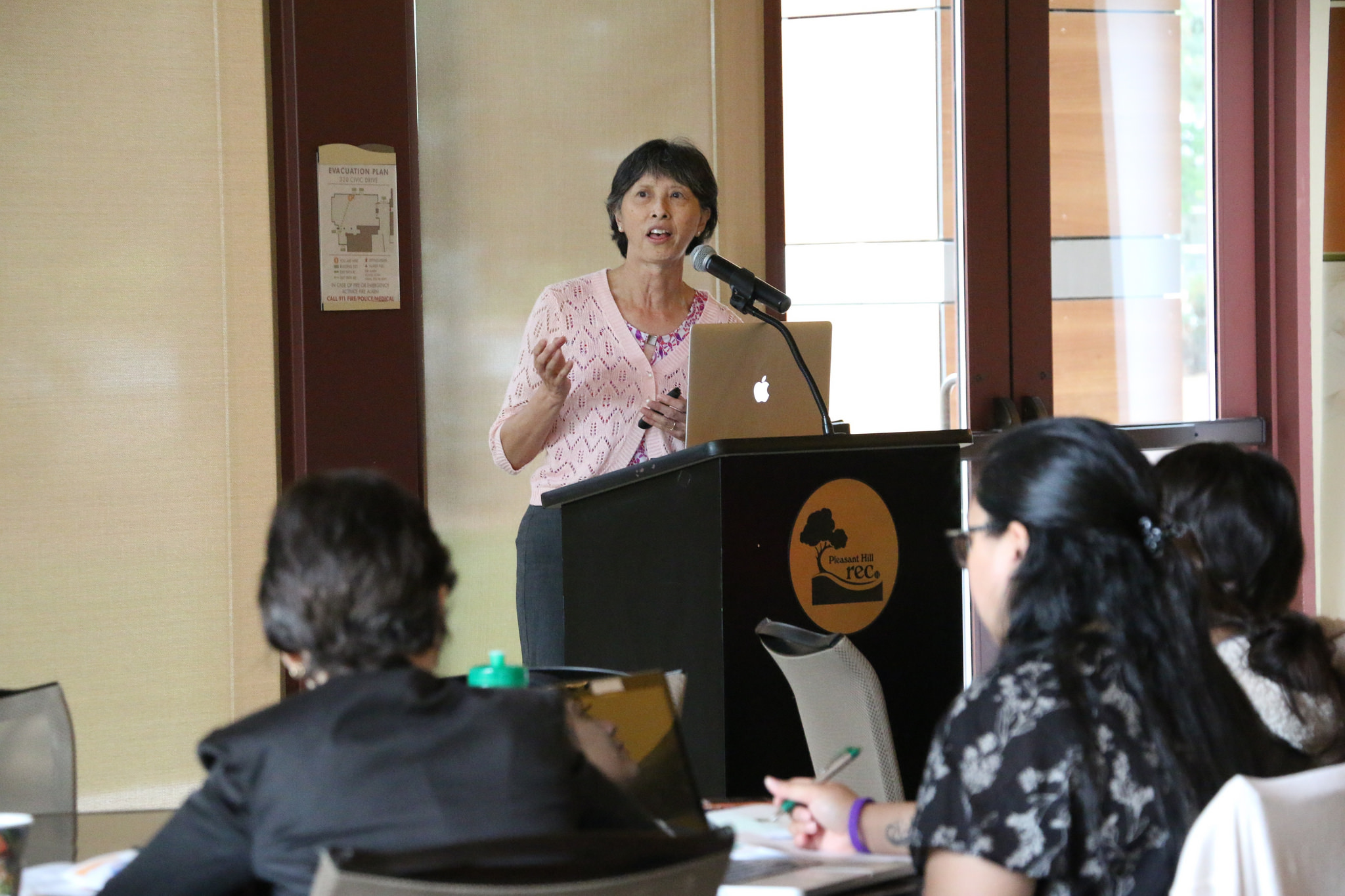 Sue Garces RN captivates the audience in Pleasant Hill


Chaparral House was invited to speak at a conference hosted by the Alzheimer's Association and the Ombudsman of Contra Costa County in Pleasant Hill in April. The event included presentations and booths hosted by local senior advocacy and service groups. The intention was to share information and form connections between health professionals. Chaparral House's presentation was called "Reducing Anti-Psychotics in Real Life." 

The presentation focused on how we adapt our environment, integrate soothing and life-affirming activities, and train our staff to accommodate the needs of residents with Alzheimer's and dementia without depending upon anti-psychotic medications. Sue Garces (Director of Nursing) and Kathy Smedley (Director of Staff Development) discussed the importance of training our Certified Nursing Assistants (CNAs) to be compassionate caregivers and having the whole staff work as a team. Erika Shaver-Nelson (Activities Director) elaborated on how the Activities Department staff supports the well-being and daily quality of life for residents. Leavel Nelson (Social Services) discussed the role of Social Services in evaluating and reducing the use of anti-psychotics and the value of interdisciplinary care meetings for keeping the team on the same page. The presentation itself was a good example of teamwork, where each department communicates and shares their expertise in order to best serve our residents with integrity. 

​The conference was well attended and presentations were made by other organizations on a variety of subjects relevant to Alzheimer's and skilled nursing, from pain management, to gender and sexuality in long term care. Participation in these types of educational events is an important part of the advocacy and public awareness work Chaparral House does. By sharing stories and wisdom, we can help change how eldercare is done in our community. 
---
Everyone has their own taste in music. In fact, as our lives progress, we seem to develop a sort of soundtrack of songs that speak to us and connect us to our memories. Each person's soundtrack is different, reflecting their individuality and unique life path. Music connects us to life and evokes a desire to express emotions and connect with others. When people with dementia listen to familiar music, it can actually help awaken long lost memories. Activities Director, Erika Shaver-Nelson, has seen many residents transform over the years as a result of the one-on-one music listening program that is offered at Chaparral House. She has witnessed increased levels of engagement from people who were once withdrawn, improved moods and behavior, and even the return of verbal communication for some residents. As a result, Chaparral House has invested in expanding this program by training and encouraging staff to use personalized music with more residents in new ways. 
Chaparral House is now a Music & Memory Certified Care Facility, after receiving official training through the Music & Memory non-profit organization. You may be familiar with the documentary called "Alive Inside" which is about Music & Memory and its mission to bring personalized music into the lives of the elderly and infirm in order to improve their quality of life. Chaparral House will be using the Music & Memory program with residents who have dementia. Each resident and their family members will be interviewed about their favorite music in order to help create a customized playlist to evoke positive memories and emotions. The playlist will be uploaded to an ipod shuffle which the resident can listen to with headphones or through a Bluetooth speaker while sitting with a staff member or skilled volunteer. Visiting family members will also be able to enjoy their loved one's playlist with them so that memories can be shared. Erika Shaver-Nelson imagines the ipods being available at all times, which would allow the night nursing staff to offer residents their own playlist of music for soothing and relaxation. She also sees great potential for involving young people in the process, as part of the intergenerational programming. Chaparral House has 10 ipod shuffles to use, but we are in need of more devices in order to offer this program to more residents. If you have a gently used ipod shuffle to donate to Chaparral House, please contact esnelson@chaparralhouse.org.  
Happy 100th Birthday to Henrietta
Chaparral House is pleased to announce that our resident, Henrietta Harris, turned 100 years old on June 15th.

Henrietta is a formally trained classical singer and performer who received her Master's degree from Stanford. She went on to perform in musical and theatrical productions across Europe and the United States before settling in Berkeley. Henrietta taught at UC Berkeley in the Drama Department from 1954-1969 where she was devoted to and loved by her students. Henrietta founded a pioneering black theater ensemble called the Aldridge Players West in 1964, touring the South and performing at historically black colleges. Henrietta still enjoys singing, dancing, and meeting new people. She is an active member of our community at Chaparral House. Henrietta celebrated her birthday here with a delightful outdoor lunch with friends, followed by a festive party.  The Berkeley community shared our enthusiasm: Henrietta was featured in the Berkeley Daily Planet and on KPFA's Talkies program.  You can listen to the birthday shout out on KPFA by following the link below. Henrietta's feature begins around 1:52 and lasts for about 2 minutes.  At 100 years old, Henrietta continues to entertain and inspire her community.  We are thankful to have her here at Chaparral House.