CITY OF TREES premieres on AMERICA REFRAMED
A film by Brandon Kramer and Lance Kramer
Tuesday, April 19, 2016 at 8 p.m.
on Public Television's WORLD Channel 
"I was moved by the way the film personalizes the intersection of the recovery with urban communities, the day-to-day experience of participating in a job training program, and the story of disenfranchised minority participation in the emerging green economy."                    – Van Jones, CNN political contributor and associate producer, CITY OF TREES
​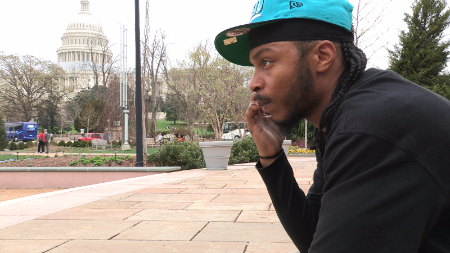 Brandon Kramer and Lance Kramer's documentary CITY OF TREES will have its U.S. television premiere Tuesday, April 19, 2016, at 8 p.m. on WORLD Channel (check local listings), as part of the fourth season of AMERICA REFRAMED, public media's newest documentary series hosted by Natasha Del Toro. The film will be available for free streaming on www.worldchannel.org starting April 20, 2016.
 
"WORLD Channel is excited to present CITY OF TREES as part of AMERICA REFRAMED's fourth season. At WORLD, we continue to curate stories that document how green economies can transform America's urban centers. CITY OF TREES is such a timely story, we felt compelled to bring it to audiences watching WORLD on-air and online," says Chris Hastings, Executive Producer WORLD Channel.
 
A personal story about the struggle to achieve social, economic and environmental change during the worst recession in a generation, CITY OF TREES captures the tension-filled last six months of a two-year grant cycle, and the close-out of a $2.7 million stimulus grant.
Since 1990, the nonprofit Washington Parks & People has tried to reduce poverty and violence in Washington, D.C. neighborhoods by improving parks. At the height of the recession, the organization received a stimulus grant to create a "green" job-training program in communities hardest hit and had two years to help unemployed people find jobs and improve parks in their neighborhoods.

In the life of a nonprofit, a grant this size can signal a mixed-blessing. The organization launches an ambitious scaling-up of its program; yet the size of the award and the perception of success render the organization vulnerable to losing other philanthropic gifts and individual donations.

CITY OF TREES raises serious questions about collaboration and communication, but more importantly about the role of nonprofit organizations and its leaders as members of a community and its ecosystem. For Steve Coleman, the president of Washington Parks & People, the grant offers the opportunity to elevate the impact of his organization's work in a community with an entrenched distrust of outsiders.

For the primarily lower-income trainees whose lives and livelihoods hang in the balance, the program represents a path to new beginnings. The film introduces us to charismatic men like Michael Samuels for whom the job training is a first step towards re-entry and to James Magruder, a Ward 8 native in his late 50s, who emerges in his new role as a community liaison.

CITY OF TREES offers a critical new perspective on the challenges of retraining America's workforce and rebuilding natural environments in its cities. What sounds like a simple goal—putting people back to work by planting trees in a blighted neighborhood—opens up a complex web of personal and community challenges.


Film Credits

Director:      Brandon Kramer
Producer:    Lance Kramer, Meridian Hill Pictures in association with Kartemquin Films   and Magic Labs Media
Editor:         Edwin Martinez
Camera:      Ellie Walton 

About AMERICA REFRAMED
AMERICA REFRAMED is a co-production of the WORLD Channel and American Documentary, Inc. and is hosted by journalist Natasha Del Toro.

Season 4 of AMERICA REFRAMED curates a diverse selection of films highlighting innovative and artistic approaches to storytelling from emerging and veteran filmmakers alike. Viewers will be immersed in personal stories from the streets of towns big and small to the exurbs and country roads that span the spectrum of American life. The documentaries invite audiences to reflect on topics as varied as culture, healthcare, politics, gun violence, religion and more. Several episodes feature a roundtable discussion moderated by host Natasha Del Toro with special guest commentators and filmmakers.

In 2015, AMERICA REFRAMED won a GRACIE Outstanding Series award, and was nominated for an EMMY award as well as an Independent Documentary Association award for best curated series. In its first season, AMERICA REFRAMED received five 2013 CINE Golden Eagle Awards, and one Imagen Awards nomination.