AMERICA REFRAMED Communications
Neyda Martinez:
neyda@amdoc.org,
 917-656-7846
Season 4 of AMERICA REFRAMED with Host Natasha Del Toro debuts with premiere of OLD SOUTH 
​
Tuesday, February 2, 2016 on WORLD at 8 p.m.

      "… [I]ssues of race and class…sadly, have become even more relevant due to the                        Charleston, SC, shootings and renewed debate over the Confederate flag."                         – Blake Aued, FLAGPOLE
​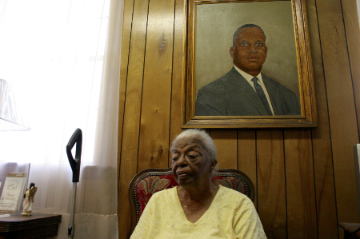 Danielle Beverly's documentary OLD SOUTH has its national broadcast television premiere on Tuesday, February 2, 2016 at 8 p.m. on the WORLD Channel (check local listings) as part of the fourth season of AMERICA REFRAMED, public media's newest documentary series. The film will be simulcast online with a live chat featuring filmmakers and subject Hope Iglehart. OLD SOUTH will be available for free streaming on www.worldchannel.org starting February 3, 2016.
 
In the aftermath of Ferguson, Baltimore, and Charleston, local and national conversations about race are taking place. But, is it ever easy to speak openly and honestly? How is change made real? How does a community build trust? In a classic tale of two cities, OLD SOUTH delivers a quiet yet emotionally charged portrait of two communities living on one block. Steeped in history – one black, one white – each strives to keep their respective legacies relevant in a changing American South. 
 
Justine Nagan, Executive Director/Executive Producer of American Documentary, explains, "OLD SOUTH sheds light on the dynamics of race relations at the community level and offers an example on how to work together as part of the same team.  Ultimately, it is a story of hope, reconciliation and healing amidst great odds."
 
Chris Hastings, Executive Producer of WORLD Channel, adds, "OLD SOUTH exemplifies the powerful stories that AMERICA REFRAMED offers audiences; and is a relevant companion to WORLD's February presentation of Eyes on the Prize."

The film, by Danielle Beverly, takes place in one of the oldest, predominantly black neighborhoods in Georgia. A group of young men, representative of Southern traditions and members of the Kappa Alpha Order fraternity (KA), are known to fly a Confederate flag and hold an annual antebellum parade. The fraternity was founded in 1865, and its lineage is anchored in the Confederate values and ideals of Robert E. Lee. The film introduces a young member of the Fraternity who struggles to convey his historical take on the Civil War, the institution of slavery, and the symbolism behind the Confederate Flag. 
 
Forced to move and with a desire to live in close proximity to their university, the fraternity chooses a large antebellum Confederate style mansion in the historically black neighborhood and demolishes two previously black-owned century-old properties. While intergenerational congregants of the community's Hill First Baptist Church wrestle with a painful historical memory, they hope for a different day. KA fraternity members are surprised that the black community would take issue with them moving into the neighborhood, and describe their upbringing, good manners and commitment to community service.     
 
Against this backdrop, a young fifth generation funeral director, Hope Iglehart is fighting to preserve what's left of her African-American neighborhood and her mother's home. In an effort to save it from further encroachment, Hope organizes community members to obtain official historical designation for her neighborhood, and community gardener Karen Witten plants seeds and cultivates a safe space for community interaction.
 
By the close of the film, we see KA members working in the garden alongside African American community elders, and tutoring black children in math and English in the Baptist church.  As Iglehart explains in the film, "...[A]nywhere you live, you have to become a stakeholder; if not, then you are not part of the community." 

Read the full press release here.
Film Credits
Producer, Director:                              Danielle Beverly
Executive Producer:                            Marco Williams                                      
About AMERICA REFRAMED
AMERICA REFRAMED is a co-production of the WORLD Channel and American Documentary, Inc. and is hosted by journalist Natasha Del Toro.

Season four of AMERICA REFRAMED curates a diverse selection of films highlighting innovative and artistic approaches to storytelling from emerging to veteran filmmakers alike. Viewers will be immersed in personal stories from the streets of towns big and small to the exurbs and country roads that span the spectrum of American life. The documentaries invite audiences to reflect on topics as varied as culture, healthcare, politics, gun violence, religion and more. Several episodes feature a roundtable discussion moderated by host Natasha Del Toro with special guest commentators and filmmakers.

In 2015, AMERICA REFRAMED won a GRACIE Outstanding Series award, and was nominated for an EMMY award as well as an Independent Documentary Association award for best curated series. In its first season, AMERICA REFRAMED received five 2013 CINE Golden Eagle Awards, and one Imagen Awards nomination.