Published by the Twin Cities Chapter of the Society for Technical Communication

---
by Lily Keire

The 1st Annual STC TC Community Survey takers spoke loud and clear:

We (88%) want a newsletter!

We want STC TC news in a variety of channels.

We want STC TC to help us stay current.

                                  (To read more, scroll down...)

STC TC Introduces Gayle Werner: Technical Writer at Medtronic and Board Member of STC TC

by Johanna Schels

Gayle Werner and I meet at Hennepin County Library in Minnetonka. It is Thursday evening. Despite a long work day and a challenging commute in Twin Cities traffic, Gayle exudes a good measure of positive energy: she appears open and is attentive and generous with her time. I am already impressed.
 
Gayle started to explore the field of technical communication when the Great Recession hit in 2008. After several informational interviews, she attended a technical communication class at Metropolitan State University. After this class, Gayle was sure she had found her passion and made the leap. Only two months into graduate studies, Gayle was the new publications intern at Parametric Technology Corporation, where she wrote online Help topics for modules of the Windchill 10.0 release and edited pre-release errata documents and Wiki pages. Gayle worked part-time while carrying a full-time academic load. When Gayle graduated with the Masters in Technical Communication from Metropolitan State University in April 2011, she was one of the best students and recognized by her peers.
 
Gayle is an excellent planner and this is why she started to explore industries while still in graduate studies. She desired to make a difference in peoples' lives and was leaning toward the medical device industry. To understand the real need of medical device companies, she also attended an introductory course at a community college to learn more about the regulatory environment. Every week Gayle gave a presentation to her classmates about exciting, new medical devices and the progress of medical research and development.

Naturally, Gayle was well prepared when she interviewed with Boston Scientific in February 2011. As a new writer in the Literature and Labeling group at Boston Scientific, Gayle developed and updated labeling and manuals for implantable pulse generators, leads, and external accessories, including instructions for use, technical manuals, forms, warranties, and product labels.
 
Since December 2013, Gayle has been a technical writer at Medtronic. In Gayle's own words, "it is possible to have a dream job." The key is preparation and some planning. Gayle suggests to any newcomer to the field of technical communication: "Find your passion. Do the research and find out what really interests you and where you'd like to make your significant contribution."    




---

Continued from the top...


In August and September, we asked STC TC members to take part in a community survey. We gained valuable insight into what our community wants, thank you!

Top items members want in a newsletter are event notices and learning opportunities. A close second is career development.

The Survey Takers
Generally speaking, STC TC members who responded to the survey are writers and producers who create the type of content shown in the chart below. Specifically, 10 of the 17 respondents shared the job title of Technical Writer, though they work in a variety of industries including Engineering, Finance, IT/Software, Manufacturing, Medical, and in Business--including marketing and professional sound production. The rest of our survey takers were editors (2), consultant, developers (2), information lead, and professor.

Our technical writers most frequently produced online learning, user guides, manuals, and help topics.How STC TC Can Support You in Your Role
We asked members what they are looking for in a community-based organization such as STC TC, and this is what they said:

Provide opportunities to network

Hold monthly meetings

Keep me up-to-date with current technology

Bring employers to STC TC meetings

Help me in my career path--learning skills or getting a job

Survey Outcomes

Actionable outcomes from this survey include making efforts to connect our LinkedIn STC TC Group members with the STC TC Chapter members, moving forward on putting in place a new, user-friendly website, and dedicating a volunteer to manage our social media and communications. Announcements to follow!

If you have not done so already, join our LinkedIn group!

Here's how:

Sign in to LinkedIn with your username and password.

On the top navigation bar, hover on Interests, then select Groups.
Click on Find a Group.
Enter Society for Technical Communication, Twin Cities.

Request to join the group.

Barbara Beresford will contact you!

               

Peggie Sanchez

October's STC TC MeetingTuesday, October 13th, 2015


Meal and networking

5:30 - 6:30 PM




Speaker's Presentation

6:30 - 7:30 PM


at Joule Microbusiness Network

To learn more about Joule:

http://joulemn.com/

.




For directions:

http://joulemn.com/joule-directions/What to Do after PDFs – Stalling in DITA with Peggy Sanchez



If you have implemented a Component Content Management System (CCMS) and are still delivering PDFs, this presentation is for you. Many DITA shops are not using DITA past the PDF stage. This presentation is a case study of Cray, Inc. moving from static PDF content to dynamic web content leveraging our CCMS and DITA.




T

he Cray Technical Publication department went from multiple tools, styles, and output to a new infrastructure using DITA and a CCMS which can now produce dynamic content to the web. If you are still producing PDFs after your implementation, you are not alone. This is the stalling point for many companies. How do you make the leap to publishing dynamic content? What are the next steps? Who can help? Find out at our Tuesday meeting on October 13th!





Register:

https://bookwhen.com/stctc




More information:

http://stctc.org

---

            

Dodie Davis

November's STC TC MeetingTuesday, November 10, 2015


Meal and networking

5:30 - 6:30 PM




Speaker's Presentation

6:30 - 7:30 PM


at Joule Microbusiness NetworkThe Power of Story in Business with Speaker, Storyteller Dodie Davis

Have you had a great idea or success story to share but when you list the "bullet points" or facts to the listener, you see his eyes glazing over and his mind clearly thinking of other things? I can teach you how to wrap those "bullet points" or facts in a story that will immediately engage your listener and captivate his interest.



Storytelling is a gift we all have. I don't have to teach you to be a storyteller but I can help you develop a skill in storytelling that will give you an edge in your work. I will give you some simple steps for creating what I like to call an "unforgettable" story, meaning the story will stay in the mind of the listener as well as the facts wrapped in the story.

Dodie will talk about:

the importance of your first and last sentence

paring down your ideas or facts to the one central truth you want to impact the listener

the use of a memory hook

putting an emphasis on description vs. unimportant details

tools for an effective presentation for any audience, including:

Use of imagination

facial expressions

voice inflection

the pause

Dodie is a speaker, professional storyteller, and published author. Her passion is telling stories to audiences of all ages in a way that makes them "unforgettable". Dodie has been teaching "The Power of Story" workshops for 15 years in corporations, schools, colleges, and churches. She recently completed four workshops at Medtronic Corporation.





Dodie's Blog:

dodiedavis.me

---

September's STC TC Meeting

Recap

The September 8th meeting went really well! The topic was Usability Testing for Print Documentation with Joe Welinske, WritersUA. You can find out more about our speaker and WritersUA by visiting Joe's website: http://www.welinske.com/about-joe-welinske/.


Gayle Werner hanging out with Johanna Schels.

Photo by Julie Holmquist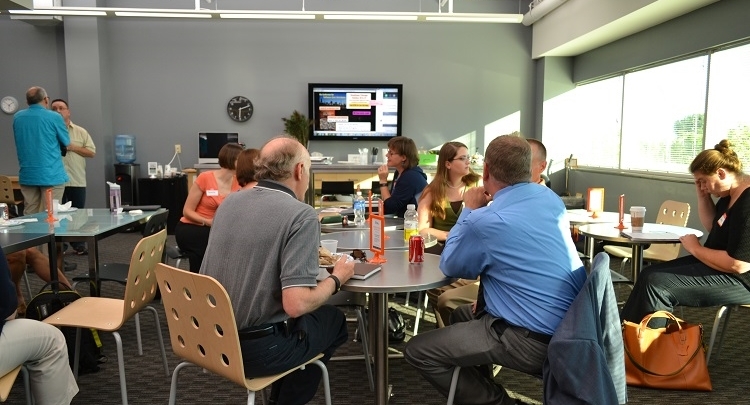 STC TC chapter meetings for 2015-16 have moved to a new location! We are now at Joule Microbusiness Network in Minneapolis. The first meeting at the new venue, which took place in September, is shown here.
Photo by Julie Holmquist
---
Out and About



WritersUA Central – October 20-21 – Chicago
Whether you are supporting consumer software, enterprise or government systems, or mobile apps, the WritersUA event is a great opportunity to learn and network with your peers. Two days of educational sessions, networking, and socializing. All the event details are on the conference web site. Registration is open:
http://central.writersua.com/
User Assistance Tools Survey is Still Live
The annual User Assistance Tools Survey is now in progress.


https://www.surveymonkey.com/r/ua_tools_survey




The survey is designed to give you information about what software technical communicators and others in the user assistance community are using and

to provide feedback on the relative popularity and satisfaction of these tools

. Please consider contributing your experiences. Results of this and past surveys are publicly available on the WritersUA site:

http://www.welinske.com/

.



ConveyUX – February 9-11, 2016 – Seattle
If you are interested in bridging technical communication with the field of user experience, ConveyUX is a great opportunity. This annual Seattle event features 3 days, 30 speakers, and over 40 great sessions about usability testing, interaction design, and content strategy.
http://conveyux.com/
Copyright © 2015 by STC TC. All rights reserved.