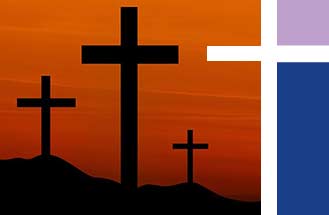 Collect for the First Sunday in Advent


Almighty God,
give us grace to cast away the works of darkness
and to put on the armour of light,
now in the time of this mortal life,
in which your Son Jesus Christ came to us in great humility;
that on the last day,
when he shall come again in his glorious majesty
to judge the living and the dead,
we may rise to the life immortal;
through him who is alive and reigns with you,
in the unity of the Holy Spirit,
one God, now and for ever.  Amen.
 
A prayer in this time of political uncertainty
God of reconciling hope,
as you guided your people in the past
guide us through the turmoil of the present time
and bring us to that place of flourishing
where our unity can be restored,
the common good served
and all shall be made well.
In the name of Jesus we pray. Amen.

The Very Revd Andrew Nunn, Dean of Southwark,
https://southwarklivinggod.wordpress.com/author/nunnap/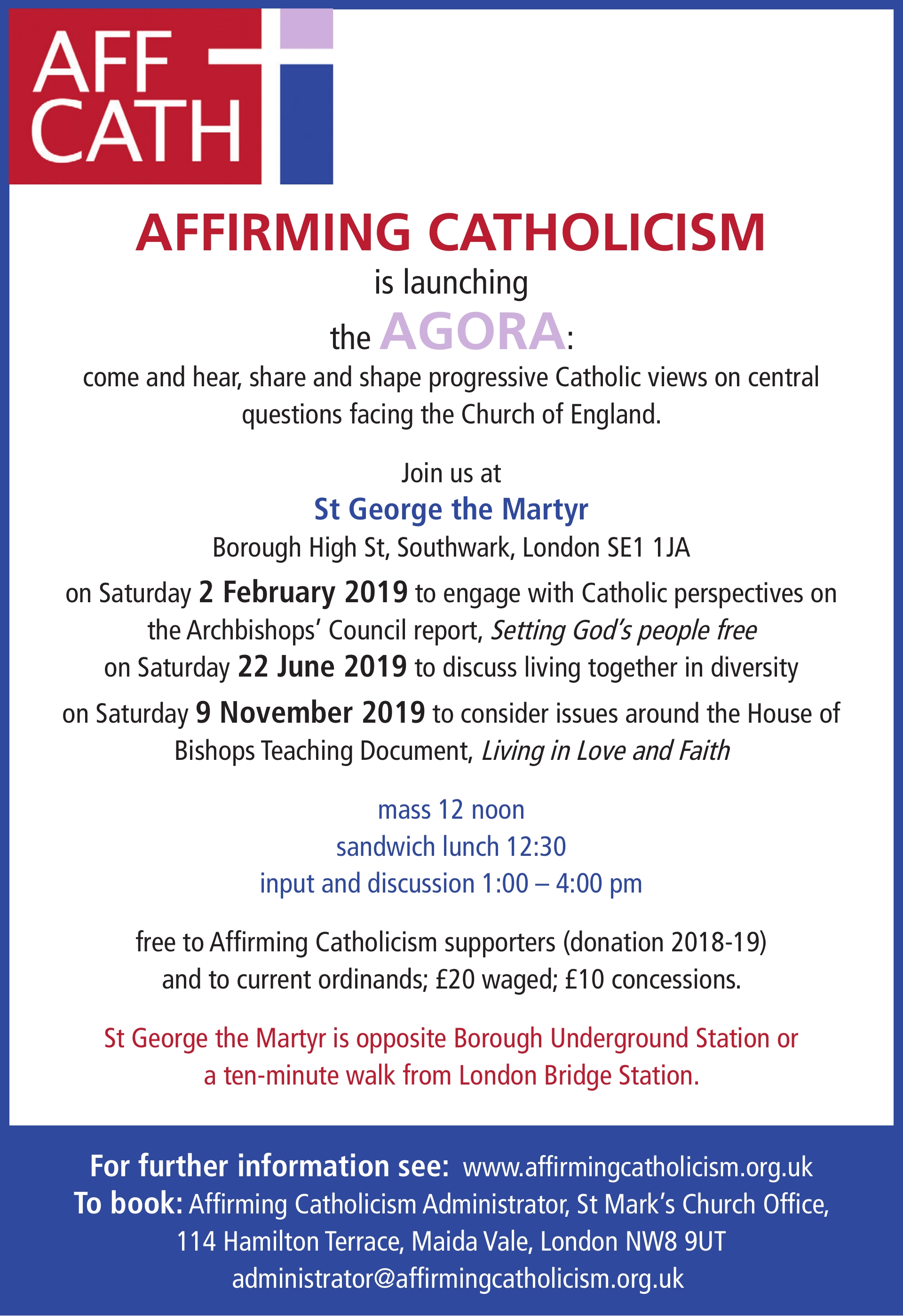 Watchword for December 2018


(from the Herrnhuter Losungen)
​
"When they saw that the star had stopped,
they were overwhelmed with joy."

The biblical "Watchwords" of  the Herrnhut Brethren (Moravian Church)
                                          have been published every year since 1731.
Gospel Imprint:  "Icons"
"I do not adore
the
creation
rather
than the
Creator
,
but I adore the One who became a creature ...
that He might
raise our nature
in glory
... ." (John of Damascus)
You can find the rest of the leaflet >>here<<.
Please do print it out and make it widely available!
Gospel Imprint is the fresh voice in Anglicanism sharing free resources with all Christians who are seeking to learn, worship and witness to the generosity of the Kingdom of God.  It is supported by Affirming Catholicism and the Society of Catholic Priests.  Gospel Imprint produces a renge of leaflets, liturgies and posters which you can find >>here<<.
---
---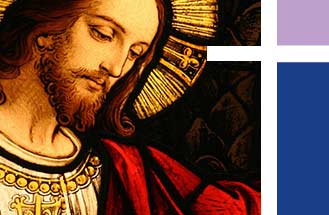 A letter from the Revd Dr Hannah Cleugh,
Chair of Affirming Catholicism


Dear Affirming Catholic Supporter,
First of all, we would like to apologise for the long pause in our contact with you.  During the past eighteen months, Affirming Catholicism has been undergoing a process designed to refine and re-articulate its objectives.  We recognise that many of the objectives for which we have worked over the past twenty-five years have now been completed, notably the admission of women to the episcopate.  We also recognise that some of the contributions originally being made by Affirming Catholicism are now being taken forward by other organisations, particularly Anglican Catholic Future and the St Mary Magdalen School of Theology.   The distinctive role of Affirming Catholicism in recent years has been its articulation of responses to current issues in the Church of England and the Anglican Communion.  Over the past ten years, Affirming Catholicism has consistently produced a briefing paper for General Synod, and these have been very well received.  In addition, through press releases – and from 2013-2016 through a monthly newsletter – Affirming Catholicism has commented on and offered input into theological discussions in the Church of England and the Anglican Communion more widely.

In reviewing the range of progressive Catholic organisations now established in the English context, and considering Affirming Catholicism's future role, the Board has taken the decision to focus Affirming Catholicism's resources on the work of articulating a Catholic voice in the debates of the Church of England.  We wish to do this on the basis of as wide a range of progressive Catholic voices possible.  In addition, we wish to offer those who have an interest in doing so a means by which they can contribute to current debates.  We are therefore setting up a series of regular consultation meetings, to be known as Affirming Catholicism Agora.  The Agora is the Greek marketplace, a locus of discussion and debate.  Paul proclaimed "the God who made the world and everything in it, he who is Lord of heaven and earth" in whom "we live and move and have our being" at the Areopagus in the Agora at Athens (Acts 17:16-34).

In 2019, the meetings of the Affirming Catholic Agora have been timed to take place before the meetings of General Synod but after the release of the Synod papers.  They will seek to secure a range of opinions from the Catholic wing of the Church of England, broadly defined.  The results of these discussions will be disseminated though briefing papers for General Synod (particularly for Affirming Catholics in Synod), contributions to the Church Press, and the resumption of our regular newsletter to supporters.  Each meeting will consider a particular current theme as well as discussing points arising from the General Synod agenda.

All are invited to take part in these meetings.  We hope that in a period in which the Church of England is undergoing considerable change and facing real challenges of mission, the opportunity to share your views and input ideas into debates in Synod and more widely will be welcomed.  Participation in the

Affirming Catholic Agora

will be open to all who are interested and will be free to Affirming Catholicism's supporters and to current ordinands.  Others will be asked to make a contribution of £20 waged or £10 concessions. We welcome expressions of interest, either for regular participation or for particular meetings.  

We thank you for your continuing support through this period of reconfiguration.  We hope very much that you will continue to support Affirming Catholicism by engaging with the Agora.
With all best wishes
Hannah Cleugh (Chair)
on behalf of the Affirming Catholicism Board
Report from the Affirming Catholicism Board and AGM



Due to a combination of adverse circumstances, including illness and bereavement, the 2017 AGM of Affirming Catholicism was held on 14 July 2018.  The 2017 AGM received the retirement of David Thunder as director and secretary.  The Revd Canon Professor Charlotte Methuen retired as director and was co-opted for 2017-18 to serve as secretary.  Canon Robert Hammond completed his second term as director and was appointed for a third term.

The 2018 Annual General Meeting, held on 28 November 2018, received the retirement of Mary Johnston and the Revd Emma Smith as directors.  Revd Canon Dr Rosemarie Mallett completed her second term as director and was appointed for a third term; she also resigned as Chair.  Revd Dr Hannah Cleugh was appointed Chair.  Charlotte Methuen was co-opted for 2018-19 to serve as secretary.
 
The serving board members for 2018-19 are: Hannah Cleugh (chair), Alan Davey (Treasurer), Perran Gay, Robert Hammond (ACiS), Rosemarie Mallett, Charlotte Methuen (Secretary, co-opted).  Of these, all except Hannah Cleugh are serving their third and final term of office. 
The Board would very much welcome expressions of interest or nominations from supporters of suitable candidates to serve on the board and take forward the work of Affirming Catholicism.

A note on Affirming Catholicism and GDPR

You will no doubt be aware of the changes in European data protection legislation relating to the retention of personal data on retrieval systems.
Affirming Catholicism holds the name, address, email address and (when provided) diocesan affiliation of those who are or who have been supporters.  Names and email addresses are shared with Vertical Response for the purpose of sending out newsletter and other information relating to the work of Affirming Catholicism.  Vertical Response is fully compliant with GDPR (https://www.verticalresponse.com/content/pm_policy.html).  All who are receiving this communication by email directly are doing so because they have given Affirming Catholicism their email address for the purposes of being kept informed about the work it is doing.  You can unsubscribe from these emails at any time.  Future emails will only be sent to current supporters, although the content is freely accessible via the website and the Affirming Catholicism Facebook page.
---
---
Support for diocesan events
Would you like to organise an event locally but can't afford to bring a speaker in?  Affirming Catholicism can offer grants of up to £150 to help fund your event. 
Expressions of interest to the Board via
administrator@affirmingcatholicism.org.uk
.
---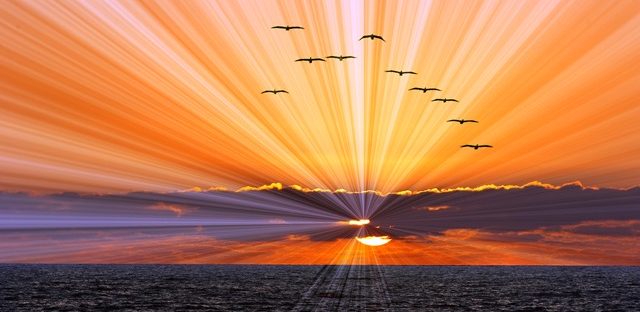 ---
Affirming Catholicism AGORA

hear, share and shape progressive Catholic views on central questions facing the Church of England.
 
Join us at
St George the Martyr
Borough High St, Southwark, London SE1 1JA
on Saturday 2 February 2019 to engage with Catholic perspectives on the Archbishops' Council report, Setting God's people free
on Saturday 22 June 2019 to discuss

living together in diversity


on Saturday 9 November 2019 to consider issues around the House of Bishops Teaching Document, Living in Love and Faith
 
mass 12 noon
sandwich lunch 12:30
input and discussion 1:00 – 4:00 pm
 
free to Affirming Catholicism supporters (donation 2018-19) and current ordinands
£20 waged; £10 concessions
Anglican Catholic Future Festival
from Saturday 28 September 2019
St James's Sussex Gardens (Paddington)
"Vocation"
Speakers include Fr Peter Allen CR, Br Stuart (Mucknell Abbey), Gemma Simmonds, Abi Thompson, Andrew Walker and Andrew Davison.


Further information will appear on the Anglican Catholic Future website soon.

Donations and Gift Aid
​
We welcome donations to support the work of Affirming Catholicism. 
 
You can send a cheque to:
Mark Perrett, Affirming Catholicism Administrator,
114 Hamilton Terrace
Maida Vale
London, NW8 9UT
or make an online donation here:
---
Have you renewed your Gift Aid declaration?  
Many of our supporters made gift aid declarations under the old rules and these declarations have now run out. 

If you have not renewed your Gift Aid donation, or are not sure,
please complete and return our Gift Aid Form
​by clicking on this link:
Affirming Catholicism
can reclaim 25p on every £1 donated increasing the value of your donation by a quarter at no extra cost to you by completing a Gift Aid Form.
​
Please notify Affirming Catholicism if you 
want to cancel your declaration, change your name or home address, or no longer pay sufficient tax on your income/capital gains.
If you pay income tax at the higher rate or additional rate and want to receive the additional tax relief due to you, you must include all your Gift Aid donations on
your Self-Assessment tax return or ask HM Revenue and Customs to adjust
your tax code.
We hope you enjoy Affirming Catholicism's newsletter.
Do tell us what you think, and let us know of forthcoming events that you would like publicised by writing to: 
newsletters@affirmingcatholicism.org.uk
.
If you are a diocesan coordinator, please pass the newsletter on to your members and supporters, or let us have their emails so that we can send it to them directly.
If you have received this because someone has forwarded it to you, please consider becoming a supporter yourself. It's easy to do this
on our website
.
 In doing this, you will receive regular news and updates, you may attend the Agora for free, your financial contribution will help us to do more and to do it even better; and you will be one more voice calling for a generous and open Catholic future for the Church of England and the Anglican Communion.