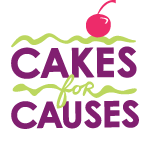 Cakes for Causes Newsletter
---
DECEMBER 2016                                         www.cakesforcauses.org
---
WHAT HAPPENED LAST MONTH!
Our bakers were busy last month providing sweet treats to non-profits in the Tucson and Phoenix communities.  Some of the non-profits served, and some of the sponsored teaching classes, included:  Tucson Morning Blend; Gospel Rescue Mission; AZ Historical Society; Barrow Cleft & Craniofacial Center; Military Affairs Committee-Davis-Monthan Air Force Base Turkey Lunch; Emerge! Center Against Domestic Abuse; El Tour de Tucson Cookies for Cyclists; Biker Baker Wars 2016 as part of Indoor El Tour de Tucson; and Kid's Club.
---
CATCH US ON THE MORNING BLEND!
On the first Monday of every month, we have the honor of being a guest on the Tucson Morning Blend show on KGUN 9 at 11:00 AM.  We will be on the 5th of December with our Isela Howlett and Jennifer Blair, Director of Membership for Alliance of Arizona Nonprofits.  If you didn't get to see last month's segment, please go to this link:  http://www.kgun9.com/morning-blend/cakes-for-causes-easy-pumpkin-pie

---
GINGERBREAD COOKIE BAKING CLASS!

NOTE:  Class registration closes at 5pm on Friday Dec. 2nd, 2016 so SIGN UP TODAY!

Come learn how to bake and decorate gingerbread cookies and  construct & assemble a gingerbread house.

Date:   Saturday, December 10, 2016
Time:  9:30 AM - 2:00 PM
Location:  Fountain of Life Lutheran Church Kitchen (710 S. Kolb Rd, Tucson, AZ)

Cost:  $35* (includes everything you need to make and decorate gingerbread cookies and lunch!)

Click HERE to register

*A minimum of 6 students must be registered for the class to run.  Maximum     capacity is 12 students.  Long periods of standing will be required.  Non-refundable registration fee unless the class is cancelled by Cakes for Causes.
---
IOTCC is for all levels of bakers, cakers and sugar artists, ages 13 and up!  We have some "Back to the Basics" classes along with some more intermediate classes.  IOTCC usually meets the third week of every month on Saturday afternoons from 2:00 PM - 4:00 PM!
Our next meeting will be Saturday, December 17, 2016 for our holiday party! 
Contact us for more information and details!


New members are always welcome!
---
CAKES FOR CAUSES KID'S CLUB!

It is great to get kids started young!  Classes are usually the last Sunday of every month.  We accept children from ages 3-12 years old.  There is a different activity every month.




Come on out for some sugar and art fun!  We will meet on the

4th of December

from 1:30 PM - 3:00 PM. The theme will be holiday treats!  We will meet at the Las Colinas Condominiums, 1600 N. Wilmot Road, Tucson, AZ 85712.
---
RECIPE BOX
OATMEAL CRAISIN COOKIES
Makes 3 dozen using a large cookie scoop or 4-5 dozen using a small cookie scoop. 
Ingredients:

1/2 cup butter (1 stick), softened
6 TBLS margarine, softened
3/4 cup packed dark brown sugar
1/2 cup plus 1/4 cup plus 1/8 cup confectioners'/powdered sugar
2 eggs
1 teaspoon vanilla extract
1 1/2 cups all-purpose flour
1 teaspoon baking soda
1 teaspoon ground cinnamon
1/2 teaspoon salt
3 cups quick or old fashioned oats, uncooked
1 cup raisins or cranberries
Directions:
Heat oven to 350 degrees F. 
In large bowl, beat butter, margarine, and sugars on medium speed of electric mixer until creamy. 
Add eggs, one at a time, then vanilla, and beat well. 
Add combined flour, baking soda, cinnamon and salt, mix well. 
Add oats and raisins, mix well. 
Drop by scoopfuls onto ungreased cookie sheets and push down to flatten a bit. 
Bake 8 to 10 to 13 minutes or until light golden brown. 
Cool 1 minute on cookie sheets; remove to wire rack. 
Cool completely.  Store tightly covered.
---
MEET ONE OF OUR NON-PROFITS!
ALLIANCE OF ARIZONA NONPROFITS
Our mission is to unite, strengthen and advance Arizona's nonprofit sector.
We envision an Arizona where all nonprofits are valued, empowered and thriving.
The Alliance of Arizona Nonprofits is a unifying association formed in 2004 to advance the common interests of more than 20,000 nonprofits in the Grand Canyon State. We are a statewide organization of, by, and for all of Arizona's nonprofits. 
The name "Alliance" is strategic. More than a mere "coalition" or an "association," an "alliance" involves collective action for a purpose: "an association to further the common interests of the members." The Alliance is an action-oriented group of partners across the state – both nonprofits and those in the community who support them – dedicated to furthering the common interests of Arizona's nonprofits.
The Alliance does this by serving, supporting, protecting, and promoting the nonprofit sector. We: 
Serve the Arizona Nonprofit sector by providing quality information, training, and networking opportunities;
Support the nonprofit sector by offering savings through group-buying discount programs;
Protect the nonprofit sector by representing the nonprofit sector at the Arizona Legislature, state agencies that regulate nonprofits, and many other local arenas of decision making across the state; and
Promote the nonprofit sector by projecting a collective voice to the public about the sector's essential contributions and significant challenges in our communities.

---
ASK A BAKER!
Q: Does it matter what measuring cups I use for dry or wet ingredients?A: 
Yes!  When measuring dry ingredients, you should use a individual measuring cups.  For Wet ingredients, you should use a glass or plastic measuring cup specifically for liquids that has a handle and spout.  Using the proper measuring cups will help to ensure your recipe turns our correctly.
Q: What are some of the basic utensils for baking and what are they used for?A: 
There are many utensils that are helpful when baking.  Here are few of the most commonly used:
Wooden Spoon:  These are great for stirring, especially for something like custard.  You can see how much the custard has thickened by removing the wooden spoon after mixing and streaking your finger across the back of the spoon.

Rubber Spatula:  These are great for scraping the contents of bowls or use to fold in ingredients such as egg whites.

Whisk:  The whisk helps to incorporate air into mixtures such as eggs and whipping cream.

---
PICTURE GALLERY!


*If you'd like to see more of our work, please visit our Facebook page.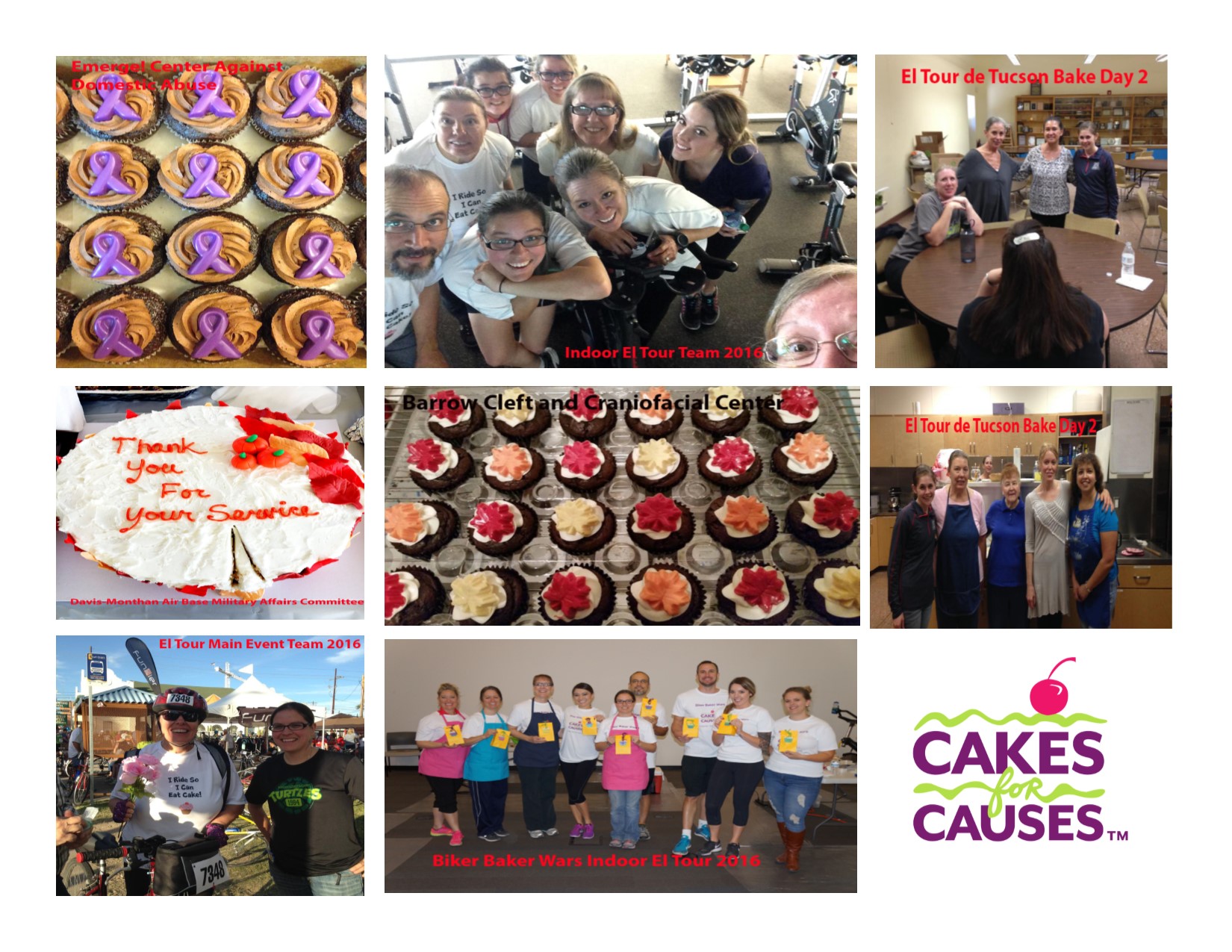 ---
A SPECIAL THANK YOU TO OUR SPONSORS!

A very special thank you for the support from the following organizations:
**American Home Shows, Inc.   
**Tucson Electric Power  **Tucson Morning Blend
**Tucson Masonic Lodge #4   **Robert M. with Valley Imaging Solutions
**Las Colinas Condominiums **LaMonte Hunley with Arizona Health Inc. 
​**Midtown Bar and Grill


Also a big "Thank you!" goes out to Marie Vincent Conarroe of Conarroe Farms in Willcox for their donation of pumpkins and
Natural Grocers
for their donation of bananas!!
Thank you to all of our individual donors as we could not do this without all of you and our sponsors!  YOU ROCK!!
---
Have a question or content you'd like for us to share?  Email us at:  newsletter@cakesforcauses.org
---