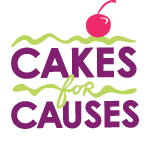 Cakes for Causes Newsletter
---
NOVEMBER 2016                                         www.cakesforcauses.org
---
WHAT HAPPENED LAST MONTH!
Our bakers were busy last month providing sweet treats to non-profits in the Tucson and Phoenix communities.  Some of the non-profits served, and some of the sponsored teaching classes, included:  Tucson Morning Blend; Make-a-Wish AZ; Bowl for a Cure AZ/Susan G. Komen; Dessert in the Desert/Cafe 54; Gospel Rescue Mission; Zooscon Reid Park; Taste for Nourish; Kahuna's Kids Leo A Longoria Jr Memorial Fishing Event; Quilt for a Cause; Code for Tucson; Step Out Walk-American Diabetes Association; Global Children's Fund; Children's Clinic Services-Tucson Halloween Event; Children's Rehabilitation Services-Phoenix Halloween Party; Birthday Cakes On Call Children's Hospital Program; Icing on the Cake Club Tucson; and Kid's Club.
---
CATCH US ON THE MORNING BLEND!
On the first Monday of every month, we have the honor of being a guest on the Tucson Morning Blend show on KGUN 9 at 11:00 AM.  We will be on the
7th of November
with our Isela Howlett and Nancy Boyle, Community Relations Coordinator from Splendido.  If you didn't get to see last month's segment, please go to this link: 
http://www.kgun9.com/morning-blend/cakes-for-causes-10216
---
IT'S HERE: "Biker Baker Wars"

November 17, 2016 6-8 pm.  Three baking teams competing for the best cupcake!  Did we mention there will be stationary bikes involved? Oh yes, there will be, there will be...... You need to be there to see this as it is part of our Indoor El Tour de Tucson fun!  Join us at Tucson Electric Power 88 E. Broadway Blvd.!  FREE admission!!  Cupcakes will be available for purchase at our Cupcake Bar. 

Come cheer for Sophia Wright of Cakes for Causes, Justin Orkney of Tucson Electric Power, and Alyssa Gallion of Celebrate for Good as Team Confectioners' Cyclists or Isela Howlett of Cakes for Causes, Jennifer Phelps of Jennifer Phelps.org, and Chris Shanor from the University of Arizona as Team Cinnamon Rollers or Jeanne Treder of Cakes for Causes, Tina Jennings of Tucson Morning Blend, and Vera Trigloff of Coldwell Banker Residential Brokerage as Team Cupcake Cuties.  Or cheer for them all!

Our Emcee for the evening is Mr. Ken Carr of What's Up Tucson an award winning Twitter account.  This is going to be hilarious!!!

Thank you to Tucson Electric Power Company for being our Space Sponsor!


---
GINGERBREAD COOKIE BAKING CLASS!

Come learn how to bake and decorate gingerbread cookies and  construct & assemble a gingerbread house.



Date:   Saturday, December 10, 2016
Time:  9:30 AM - 2:00 PM
Location:  Fountain of Life Lutheran Church Kitchen (710 S. Kolb Rd, Tucson, AZ)

Cost:  $35* (includes everything you need to make and decorate gingerbread cookies and lunch!)

Click HERE to register

*A minimum of 6 students must be registered for the class to run.  Maximum     capacity is 12 students.  Long periods of standing will be required.  Non-refundable registration fee unless the class is cancelled by Cakes for Causes.
---
IOTCC is for all levels of bakers, cakers and sugar artists, ages 13 and up!  We have some "Back to the Basics" classes along with some more intermediate classes.  IOTCC usually meets the third week of every month on Saturday afternoons from 2:00 PM - 4:00 PM!
Our next meeting will be Thursday, November 17, 2016 from 6:00 PM - 8:00 PM
Come Cheer the Teams on at Biker Baker Wars!


New members are always welcome!
---
CAKES FOR CAUSES KID'S CLUB!

It is great to get kids started young!  Classes are usually the last Sunday of every month.  We accept children from ages 3-12 years old.  There is a different activity every month.




Come on out for some sugar and art fun!  We will meet on the

4th of December

from 1:30 PM - 3:00 PM. The theme will be holiday treats!  We will meet at the Las Colinas Condominiums, 1600 N. Wilmot Road, Tucson, AZ 85712.
---
RECIPE BOX
HEALTHY APPLESAUCE OAT MUFFINS
Ingredients:

1 cup rolled/old-fashioned oats
1 cup unsweetened applesauce
1/2 cup milk
1 large egg
1 teaspoon vanilla
4 tablespoons butter or coconut oil, melted
1/3 cup sugar
3/4 cup whole wheat flour
1 teaspoon baking powder
1/2 teaspoon baking soda
1 teaspoon cinnamon
1/4 teaspoon salt
1/2 cup dried cranberries, raisins or blueberries, optional
Directions:
Preheat the oven to 375 degrees F. Line a 12-cup muffin tin with liners or grease the muffin cups. Set aside.
In a medium bowl, stir together the oatmeal, applesauce, milk, egg, vanilla, butter and sugar. Set aside.
In a large bowl, whisk together the flour, baking powder, baking soda, cinnamon and salt (and cranberries, raisins, or blueberries if using). Make a well in the center and pour in the applesauce mixture. Stir until just combined (don't overmix or the muffins will be dense and dry). The muffin batter texture might be a bit different (wetter?) than other muffin batters but no fear, carry on!
Distribute the batter evenly among the 12 muffin cups. Bake for 15-20 minutes until a toothpick inserted in the center comes out clean. Don't overbake or the muffins will be dry.
Remove the muffins to a rack to cool completely. Once cool, I place 6-9 muffins in a large freezer ziploc bag, suck all the air out (oh yes I do) and seal the bag, then freeze, pulling them out one by one to stick in my kids lunches or warm slightly for a snack.
Submitted by:  Augustine L.D. Thank you, Augustine!
http://www.melskitchencafe.com/healthy-oats-and-applesauce-muffins/
---
MEET ONE OF OUR NON-PROFITS!
JOE JACKSON FOUNDATION


The Joe Jackson Foundation is a 501(c)3 non-profit organization that strives to inspire, inform and enable children living with spinal cord injuries (SCI) to continue living actively; support opportunities for Joe's quest to walk again; and to help spinal cord injury survivors.  In addition, the foundation actively promotes the Joe's motto and attitude; "I can" to recent injured survivors, provides awareness in the community and provides an informative, reliable website which pools the wealth of available information on adaptive sports and SCI research and recovery.
---
ASK A BAKER!

Q: How do I keep nuts, berries, etc. from sinking to the bottom when baking?
A:  Mixing them with a little bit of flour will help keep nuts, berries, etc. from sinking when adding to cakes and muffins. 

Q: What is the best way to prepare my pan to make sure my cakes do not stick?
A:  It is important that you grease the pan and dust it with flour (or cocoa powder for chocolate cakes).  You can also grease the pan and place a piece of cut parchment paper in the pan.


---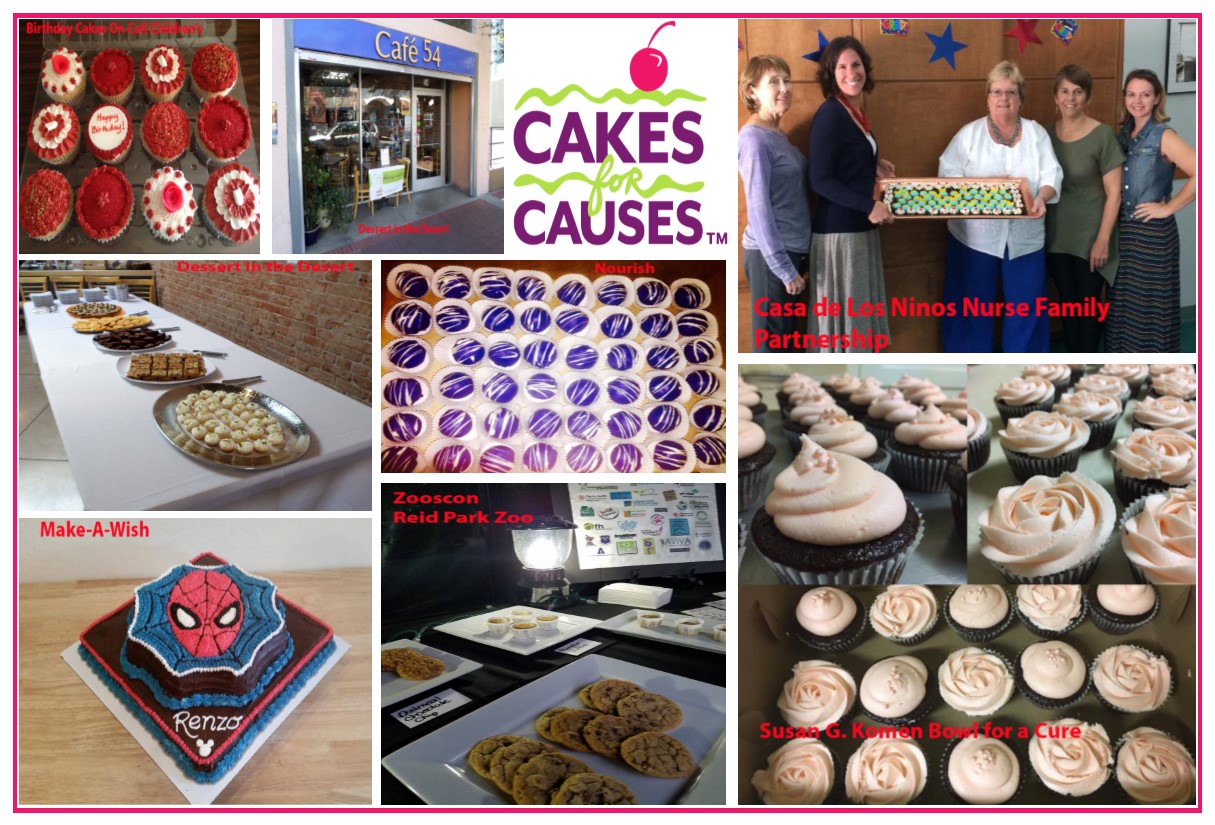 ---
A SPECIAL THANK YOU TO OUR SPONSORS!

A very special thank you for the support from the following organizations:
**American Home Shows, Inc.   
**Tucson Electric Power
**Tucson Masonic Lodge #4   **Tucson Symphony Orchestra 
**Las Colinas Condominiums


Also a big "Thank you!" goes out to Marie Vincent Conarroe of Conarroe Farms in Willcox for their donation of pumpkins and
Natural Grocers
for their donation of bananas!!
---
Have a question or content you'd like for us to share?  Email us at:  newsletter@cakesforcauses.org
---