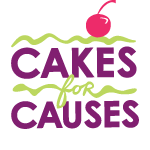 Cakes for Causes Newsletter
---
October 2016                                         www.cakesforcauses.org
---
WHAT HAPPENED LAST MONTH!
Our bakers were busy last month providing sweet treats to non-profits in the Tucson and Phoenix communities.  Some of the non-profits served, and some of the sponsored teaching classes, included:  Tucson Morning Blend; Gospel Rescue Mission Birthday Cupcakes; Hope Women's Center Class/3TV Morning News; Operation Proud to Serve Sweet Treats Serving Day; Family University-College Day for Highschoolers; Candlelighters; Beads of Courage Partnership; Banner University-Childhood Cancer Awareness; Birthday Cakes On Call Children's Hospital Program; Icing on the Cake Club Tucson; and Kid's Club.
---
CATCH US ON THE MORNING BLEND!
On the first Monday of every month, we have the honor of being a guest on the Tucson Morning Blend show on KGUN 9 at 11:00 AM.  We will be on the
3rd of October
with our Jess Bemiss and Dee Cardinale from Gospel Rescue Mission.  If you didn't get to see last month's segment, please go to this link: 
http://www.kgun9.com/morning-blend/cakes-for-causes-91216
---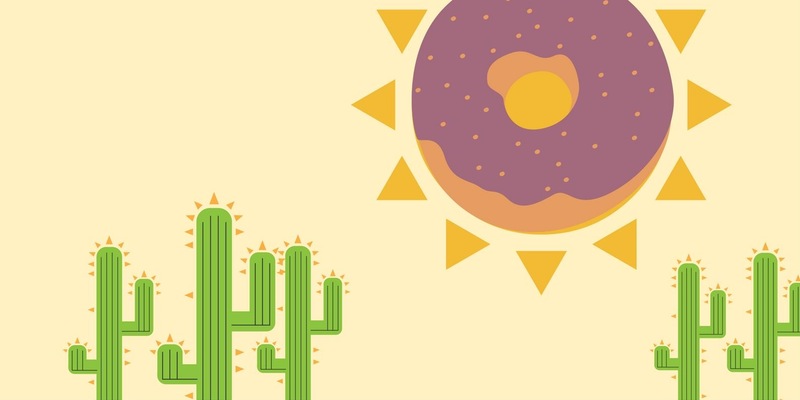 "Dessert in the Desert"
Presented by Cakes for Causes
and Cafe 54
 October 8, 2016 1-2:30 pm
Sample 5 infamous Cakes for Causes treats.  We're baking and Cafe 54 is hosting.  All proceeds benefit the missions of Cakes for Causes and Cafe 54.  Limited tickets available.  To purchase your ticket, please visit:  http://dessertinthedesert.eventbrite.com

---

Save The Date: "Biker Baker Wars"
November 17, 2016 6-8 pm.  Three baking teams competing for the best cupcake!  Did we mention there will be stationary bikes involved? Oh yes, there will be, there will be...... You need to be there to see this as it is part of our Indoor El Tour de Tucson fun!  Join us at Tucson Electric Power 88 E. Broadway Blvd. and cheer the teams on!  FREE admission!!  Cupcakes will be available for purchase at our Cupcake Bar.
---
IOTCC is for all levels of bakers, cakers and sugar artists, ages 13 and up!  We have some "Back to the Basics" classes along with some more intermediate classes.  IOTCC usually meets the third week of every month on Saturday afternoons from 2:00 PM - 4:00 PM!
Our next meeting will be Saturday, October 22, 2016, from 2:00 PM - 4:00 PM.
New members are always welcome!

---
CAKES FOR CAUSES KID'S CLUB!

It is great to get kids started young!  Classes are usually the last Sunday of every month.  We accept children from ages 3-12 years old.  There is a different activity every month.




Come on out for some sugar and art fun!  We will meet on the 23rd of October from 1:30 PM - 3:00 PM. We will be making 4 ingredient spooky treats. Including witches brooms, eyeballs, witches hats, & bats  We will meet at the Las Colinas Condominiums, 1600 N. Wilmot Road, Tucson, AZ 85712.

---
RECIPE BOX
CARROT CAKE CUPCAKES
Ingredients:

Cupcakes
1 cup flour
¾ cup sugar
1 teaspoon cinnamon
1 teaspoon baking soda
½ teaspoon baking powder
¼ teaspoon salt
1½ cups grated carrots (heaping)
⅔ cup oil
2 eggs, beaten

Frosting:
•   4 ounces cream cheese
•   4 tablespoons butter
•   2+ cups powdered sugar
•   1 teaspoon vanilla
Directions:
1  Preheat the oven to 350 degrees. Combine the flour, sugar, cinnamon, baking soda, baking powder, and salt in a large bowl. In a separate bowl, combine the grated carrots and the oil. Slowly add the flour mixture, stirring until just mixed. Add the beaten eggs and stir a few times (like 15 or less around the bowl - the fewer the better)!


2  Grease a muffin tin or use paper liners. Scoop the batter into a muffin tin, filling each muffin tin about ⅔ of the way up the side. Bake for 13 minutes, check how they're doing, and add a few minutes if necessary. I find that the baking time varies greatly with oven, so just check for the right golden brown color and springy tops. Allow the cupcakes to cool.


3  For the frosting, blend the cream cheese, butter, and vanilla until smooth. Slowly beat in the powdered sugar until smooth. Transfer to a plastic bag or similar tool for piping the frosting evenly on the cupcakes.
If you love cream cheese frosting A LOT, you need to double the frosting. 
---
MEET ONE OF OUR NON-PROFITS!
GOSPEL RESCUE MISSION

For over 60 years, Gospel Rescue Mission in Tucson has been a relief for those caught in the shackles of homelessness, addiction and financial hardship, helping to cut through the chains of their circumstances and reestablish them on the road to freedom and hope by helping to not only meet their physical needs, but also their spiritual, educational and job related needs as well.


Each day, Gospel Rescue Mission in Tucson shelters, feeds, and ministers to hundreds of men, women and children.

​ This is all made possible by God through the facilities He has provided and the generous donations of time, materials, and finances He has provide though His people, people just like you. ​
---
ASK A BAKER!

Q: Why is salt and important ingredient when baking something sweet?
A:  Salt doesn't add a salty taste to your baked goods.  It is intended to keep your baked items from tasting flat, one note and overly sweet.  It makes ingredients like lemon, sugar, vanilla, almond, etc. "pop".  It is best to use kosher salt.

Q: Is there really a fool-proof substitute for granulated sugar?
A:  No!  Sugar isn't only used in baking for its sweetness (which can be mimicked with other sweeteners such as agave, maple syrup, etc.), but it also contributes to the color, moisture, texture and aeration of the end product.  If it calls for sugar, there is a reason and a reason for the amount, based on how it interacts with other ingredients.  Use substitutes at your own risk and be prepared for the end product to have some differences than if you used granulated sugar.


---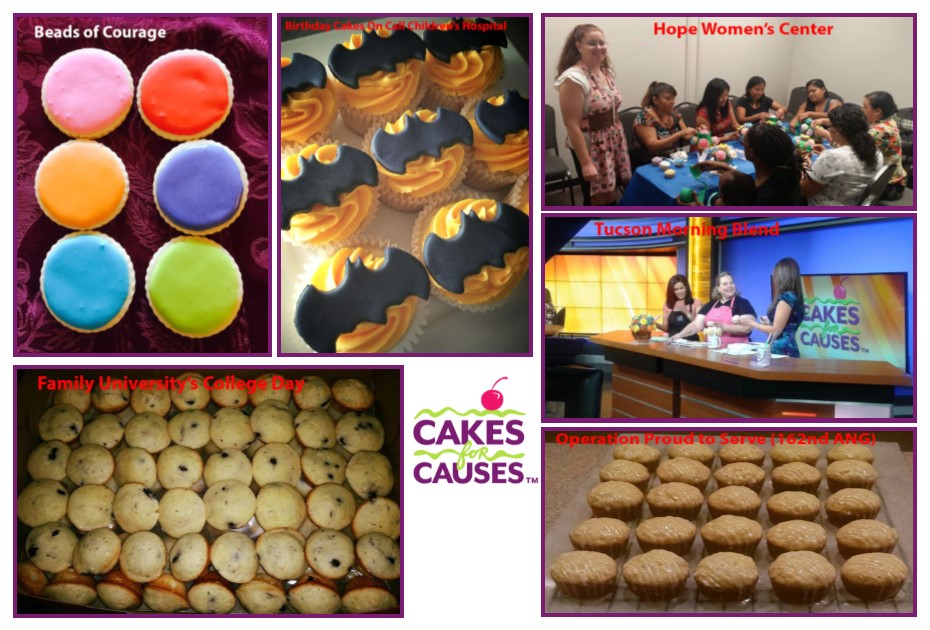 ---
A SPECIAL THANK YOU TO OUR SPONSORS!

A very special thank you for the support from the following organizations:
**American Home Shows, Inc.    **Disabled American Veterans Cactus Chapter
**Tucson Electric Power
**Tucson Masonic Lodge #4   **Tucson Symphony Orchestra 
**Las Colinas Condominiums


Also a big "Thank you!" goes out to Marie Vincent Conarroe of Conarroe Farms in Willcox for their donation of pumpkins and
Natural Grocers
for their donation of bananas!!
---
Have a question or content you'd like for us to share?  Email us at:  newsletter@cakesforcauses.org
---