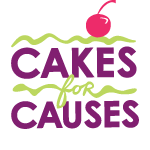 Cakes for Causes Newsletter
---
September 2016                                         www.cakesforcauses.org
---
WHAT HAPPENED LAST MONTH!
Our bakers were busy last month providing sweet treats to non-profits in the Tucson and Phoenix communities.  Some of the non-profits served, and some of the sponsored teaching classes, included:  Tucson Morning Blend; Seeds of the Heart Refugee Resource Center; Gospel Rescue Mission Birthday Cupcakes; Handi-Dogs; Do Happy Today/Cinema La Placita/Tucson's Birthday; Birthday Cakes On Call Children's Hospital Program; Icing on the Cake Club Tucson; and Kid's Club.
---
CATCH US ON THE MORNING BLEND!
Usually on the first Monday of every month, we have the honor of being a guest on the Tucson Morning Blend show on KGUN 9 at 11:00 AM.  Because of Labor Day, we will be on the
12 of September
with our Kristy Phillips and Marina Leyba, Angelman Syndrome Walk Coordinator.  If you didn't get to see last month's segment, please go to this link: 
http://www.kgun9.com/morning-blend/cakes-for-causes-8116
---
"Dessert in the Desert"
Presented by Cakes for Causes
and Cafe 54
 October 8, 2016 1-2:30 pm
Sample 5 infamous Cakes for Causes treats.  All proceeds benefit the missions of Cakes for Causes and Cafe 54.  Limited tickets available.  To purchase your ticket, please visit:  http://dessertinthedesert.eventbrite.com
Save The Date
"Biker Baker Wars"
November 17, 2016 6-8 pm.  Three baking teams competing for the best cupcake!  Did we mention there will be stationary bikes involved? Oh yes, there will be, there will be...... You need to be there to see this as it is part of our Indoor El Tour de Tucson fun! More details coming soon!

IOTCC is for all levels of bakers, cakers and sugar artists, ages 13 and up!  We have some "Back to the Basics" classes along with some more intermediate classes.  IOTCC usually meets the third week of every month on Saturday afternoons from 2:00 PM - 4:00 PM!

Our next meeting will be Saturday, September 24, 2016, from 2:00 PM - 4:00 PM.
New members are always welcome!
---
CAKES FOR CAUSES KID'S CLUB!

It is great to get kids started young!  Classes are usually the last Sunday of every month.  We accept children from ages 3-12 years old.  There is a different activity every month.




Come on out for some sugar and art fun!  We will meet on the 25th of September from 1:30 PM - 3:00 PM. It will be a Disney theme!  The projects this month will be learning how to make simple Mickey and Minnie cupcakes and a dragon theme craft.  We will meet at the Las Colinas Condominiums, 1600 N. Wilmot Road, Tucson, AZ 85712.
---
RECIPE BOX
SLOW COOKER HOT FUDGE PUDDING CAKE
Yield:
Serves 4-6
Prep Time:
10 minutes
Cook Time:
3 hours 30 minutes
Total Time:
3 hours 40 minutes 
Rich, decadent, and fudgy chocolate cake, right in your Crock Pot! It's totally doable (downright easy, actually) - and totally irresistible. 
Ingredients:
Batter layer:
1 cup all-purpose flour*
1/2 cup granulated sugar
1/4 cup cocoa powder
2 teaspoons baking powder
1/2 teaspoon kosher salt
1/2 cup milk
1/4 cup unsalted butter, melted
2 teaspoons vanilla extract
Dry layer:
1/2 cup granulated sugar
1/2 cup brown sugar
1/4 cup cocoa powder
Plus:
3/4 cup hot water (it doesn't need to be boiling; I just use the hottest water from the tap)
Vanilla ice cream for serving
Equipment:
2.5 - 3.5 quart slow cooker
Directions:
To a medium bowl, add all of the batter ingredients (flour, granulated sugar, cocoa powder, baking powder, salt, milk, butter, and vanilla extract). Whisk together until blended and smooth. Using a spatula, spread batter in the bottom of a Crock Pot.
In a medium bowl, whisk together the dry layer (granulated sugar, brown sugar, and cocoa powder). Sprinkle evenly over the top of the batter.
Slowly pour the hot water over the top.
Cook on high until cake has puffed up and it springs back when you poke it with your finger, 3 to 4 hours.
Use a spoon to scoop cake and sauce onto dessert plates along with a scoop of vanilla ice cream. Serve.
*I've also used white whole-wheat flour successfully.

This delicious recipe brought to you by Kitchen Treaty
---
VOLUNTEER SPOTLIGHT!
What's your name? Sophia Wright
What is your position with CfC and how long have you been volunteering? Marketing and Communications Director and a certified baker. I have been volunteering for years but stumbled upon Cakes for Causes a little over a year ago and have been volunteering for them since then.
What is your favorite vacation spot? Anywhere near an ocean!
What is your favorite CfC event so far? Other than everything I have baked for, I had a lot of fun at the last Kid's Club I helped with. I am really excited for some of the upcoming events...!
What would you say is your greatest accomplishment? Going to College and becoming the professional I have become to be. But, I still have so much more I want to accomplish!
And finally, what are 3 words you would use to describe Cakes for Causes? Sweet, Creative, Passionate 

---
MEET ONE OF OUR NON-PROFITS!
ANGELMAN SYNDROME FOUNDATION
The Angelman Syndrome Foundation works to advance the awareness and treatment of Angelman Syndrome through education and information, research, and support for individuals with Angelman Syndrome, their families and other concerned parties
.
---
ASK A BAKER!
Q: What is the best way to cool a cake?A: 
Never remove a cake from the pan while it is hot.  Wait about 15 minutes after cooling, then turn the cake out onto a wire rack to cool completely.
Q: Are there any good vegan substitutions for eggs? A: 
Yes!  Try any of the following: 
1/2 mashed banana
1/4 cup blended silken tofu
1/4 cup plain vegan yogurt
1/3 cup applesauce
1 Tablespoon Ground Flax + 3 Tablespoons Water, mixed
(
https://s-media-cache-ak0.pinimg.com/originals/9e/b4/6d/9eb46d7292d2705d7307c6baa709f6fa.jpg
https://www.dominosugar.com/blog/post/2014/07/02/cooling-a-cake-baking-tips-from-domino-sugar.aspx
)
---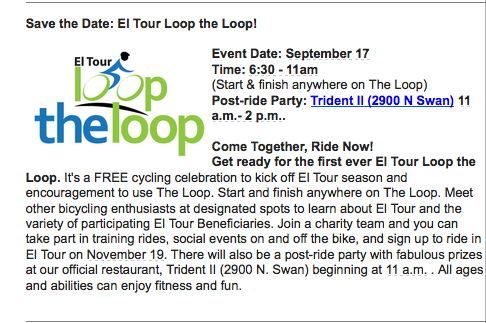 We will be located on the Loop at Craycroft and River.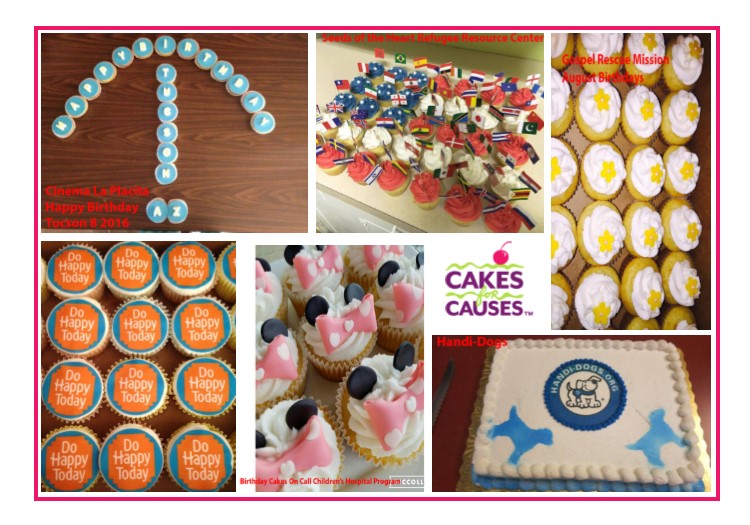 ---
A SPECIAL THANK YOU TO ALL OUR SPONSORS!
A very special thank you for the support from the following organizations:
**American Home Shows, Inc.    **Disabled American Veterans Cactus Chapter
**Tucson Electric Power
**Tucson Masonic Lodge #4   **Tucson Symphony Orchestra 
**Las Colinas Condominiums
---
Have a question or content you'd like for us to share?  Email us at:  newsletter@cakesforcauses.org
---