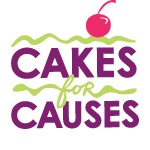 Cakes for Causes Newsletter
---
May 2016                                         www.cakesforcauses.org
---
WHAT HAPPENED LAST MONTH!
Our bakers were busy last month providing sweet treats to non-profits in the Tucson and Phoenix communities.  Some of the non-profits served and some of the sponsored teaching classes included:
Morning Blend; Gospel Rescue Mission Birthday Cupcake Program; Candlelighters Prom, Baking Basics Adult Level Baking Class, Taste of Chocolate, Pima Animal Care Center, Tucson Community Tennis Program, Operation Proud to Serve, Children's Clinic Services Tucson, Icing on the Cake Club Tucson; and Kid's Club.
---
CATCH US ON THE MORNING BLEND!
The first Monday of every month, we have the honor of being a guest on the Tucson Morning Blend show on KGUN 9 at 11:00 AM.  Catch us on the 2nd of May with our Jess Bemiss and non-profit guest, LeAnna Lucero, Child Life Specialist at Diamond Children's Medical Center.
---
IOTCC is for all levels of bakers, cakers and sugar artists, ages 13 and up!  We have some "Back to the Basics" classes along with some more intermediate classes.  IOTCC meets the third week of every month on Saturday afternoons from 2:00 PM - 4:00 PM!
Our next meeting will be Saturday, May 21, 2016, from 2:00 PM - 4:00 PM.

New members are always welcome!
---
CAKES FOR CAUSES KID'S CLUB!

It is great to get kids started young!  Classes are usually the last Sunday of every month.  We accept children from ages 3-12 years old.  There is a different activity every month.




The next Kid's Club meeting will be on the

22nd of May

from 1:30 PM - 3:00 PM. We will be learning how to make brownies and then a Cupcake Hamburger and Fries plate.  We will meet at the Las Colinas Condominiums, 1600 N. Wilmot Road, Tucson, AZ 85712.
---
RECIPE BOX
PEANUT BUTTER COOKIES CFC WAY

(Note:  A double batch makes 118 cookies using the Pampered Chef Small Scoop, Cookies are not small either!)
INGREDIENTS:
3/4 cup margarine or butter (or you can do half and half), room temperature
1/2 cup light brown sugar
0.9 cup (just a smidge under 1 cup) powdered sugar*
3/4 cup peanut butter (smooth or crunchy)
1 large egg
1 teaspoon pure vanilla extract
2 cups all purpose flour
1/2 teaspoon baking soda
1/4 teaspoon salt
 
*(For every 1 cup of granulated sugar substitute 1 ¾ cup powdered sugar)


DIRECTIONS:
Preheat oven to 350 degrees F (180 degrees C) and place rack in center of oven. Line two
baking sheets
with parchment paper. 
In the bowl of your electric mixer (or with a hand mixer), beat the butter and sugars until light and fluffy (about 2 - 3 minutes). Beat in the peanut butter. Add the egg and vanilla extract and beat to combine. In a separate bowl whisk together the flour, baking soda, and salt. Add to
the peanut
butter mixture and beat until incorporated.  (If the batter is too soft to form into balls, place in the refrigerator for about an hour or until firm.) 
Roll the batter into 1 inch (2.5 cm) balls. Transfer the cookies to the
prepared baking sheet
, placing about 2 inches (5 cm) apart. Then, using the tines of the fork that has been dipped in water, make a crisscross pattern.  
Bake the cookies for about 10 to 12 minutes, or until the cookies are lightly browned around the edges. Remove from oven and place on a wire rack to cool. Can be stored at room temperature, in an
airtight container
, for about a week. Freeze for longer storage. 
Makes about 40 cookies.
---
YOU'VE BEEN CAKED FOR KINDNESS!



Our 2016 First Quarter Phoenix recipient of our "You've Been Caked for Your Kindness" Award goes to Tammy Abernethy, Executive Director of Hope Women's Center!

Our baker, Miss Ginger, made these yummy cookies and cream cupcakes and went in for the "sneak attack" surprising Tammy!!

Ginger described the moment for us: "It was such an honor to present this to her! She was so surprised and it was an emotional moment

❤

. I am so happy it all worked out and I was able to CAKE her!! This is such a cool program! Thank you everyone!

Tammy's nomination: "I had heard such wonderful things about Tammy and how she goes above the call of duty for her organization. And then last year, 2015, I had the honor of meeting her and spending time with her as she made the journey down to Tucson to appear on the Tucson Morning Blend show to support Cakes for Causes. She is a wonderful lady and I would love for her to be "Caked for her Kindness" as she is indeed a deserving recipient!

Thank you Tammy for all that you do for our community!"


If you have someone you would like to nominate let us know at http://www.cakesforcauses.org/contact/youve-been-cakedfor-your-kindness/
---
VOLUNTEER SPOTLIGHT!

What's your name? Isela Howlett
What is your position with CfC and how long have you been volunteering? Certified Baker and self appointed CfC Cycling Team recruiter
What is your favorite vacation spot? Getting out where there isn't cell signal or wifi. Especially if the sky is clear and the stars are highly visible. Could be camping or finding a small observatory in the middle of nowhere.
What is your favorite CfC event so far? El Tour de Tucson, 2012. I remember seeing the little fun rider's faces when they got thier cookie at the finish and the many thanks we received from the main event riders. The 2012 race inspired me to ride for the CfC team in 2013, 2014, and 2015.
What would you say is your greatest accomplishment?  I haven't fully accomplished this yet, but I will be so excited when my PhD in Optical Sciences is complete. Between juggling school, educational outreach, and my CfC duties I have seen my time management skills improve over the last 4 years.
And finally, what are 3 words you would use to describe Cakes for Causes?  Fun, Encouraging, Uplifting
---
MEET ONE OF OUR NON-PROFITS!
Diamond Children's Medical Center
Banner Children's – Diamond Children's Medical Center
provides pediatric care for children, from newborns to teens. Services include emergency care, heart disorders, traumatic brain injury, autism and developmental disorders, cancer, diabetes and endocrinology, gastrointestinal and nutritional disorders, neurological problems, orthopedics, intensive care needs and more. It is the only pediatric medical facility in Arizona connected to an academic research facility — the
University of Arizona Steele Children's Research Center
— where physician-scientists conduct groundbreaking basic science and translational research to advance children's health.
---
ASK A BAKER!
Q: Is it okay to use cold eggs when a recipe calls for room temperature?A:
You should always follow the recipe's directions otherwise the recipe may not come out the same.  A recipe calls for room temperature eggs because they will emulsify properly.  If you don't want to leave the eggs out, you can put them in a warm bowl of water for 10-15 minutes.
Q: What are some tips for Gluten-Free Baking?A: 
Many people require a gluten-free diet, but that doesn't mean you can't enjoy baked goods!  Here are some Gluten-Free Baking tips:
If there is less than 2-4 TBLS of  wheat flour in a recipe, it is a straight swap with a nut or rice flour of your choice
1 cup of gluten flour is equivalent to 140 grams of gluten-free all purpose flour
The ratio for making an all purpose gluten-free flour is 40/60:  40% whole grains (brown rice, buckwheat, corn, mesquite flower, quinoa or sorghum flour) and 60% white flour/starch (white rice, arrowroot, cornstarch, potato flour or potato starch
Add 1/2 to 1 ts of guar gum or xanthan gum for every 140 grams of gluten-free all purpose flour when making cakes or breads
Add 1-2 tsp baking powder for every 140 grams of gluten-free all purpose flour to help the product rise
If dough seems dry, add an extra egg white
For a richer texture substitute butter milk for regular milk
To help with moisture when baking, consider swapping white sugar with brown sugar
(http://www.sheknows.com/food-and-recipes/articles/1071285/gluten-free-baking-tips)
---
THANK YOU!




AZ GIVES DAY (APRIL 5, 2016)


Thank you to everyone who donated to Cakes for Causes during Az Gives Day on April 5, 2016!  It was a great success.  We raised $1750, including offline donations!

Your generous donations will help us continue our mission of  "Healing, appreciating, and showing our community members that they are valued through our sugar art . "
HELP SUPPORT US!




Join us on May 18th from Open to Close at Texas Roadhouse (both Tucson Locations - Park Place Mall and Marana ) .  10% Donation Night, meaning 10% of your total food purchase will be donated back to Cakes for Causes!  You must present the flyer, which can be used at both locations.  To download and print the flyer please

click here

BAKERY CHARMS' CUPCAKE
---
A SPECIAL THANK YOU TO ALL OUR SPONSORS!
A very special thank you for the support from the following organizations:
**American Home Shows    **Disabled American Veterans Cactus Chapter
**East Valley Cake Decorating Supplies **Hilton Garden Inn-Tucson
**MidTown Bar and Grill    **Tucson Electric Power
**Tucson Masonic Lodge #4   **Tucson Symphony Orchestra **  
Las Colinas Condominiums
---
Have a question or content you'd like for us to share?  Email us at:  newsletter@cakesforcauses.org
---