Gearing Up

When it come to doing what you can to protect yourself while riding, there are four key elements to consider before mounting that bike for a joyful sprint. Skills; if you do what you can to better educate yourself with the skills required for riding, practice them regularly and continue to learn more, you're taking a big step forward. Machine; maintenance, maintenance, maintenance, always make sure your bike is mechanically ready for the ride. Mind & Body; being mentally prepared and as physically fit or in condition before heading out can have a big payoff. And finally, Riding Gear, which is part of this month's discussion.

While I have never been a fan of the phrase "dress for the crash", I certainly cannot deny that it is a logical, smart and safe thing to do. Motorcycle Gear should provide three important parts; Comfort, Protection and Visibility. Can you get some or even all those parts in other style of clothing, probably but the significant thing about motorcycle gear is that it's designed for riding. Seems simple enough, but sometime the simple things are easily overlooked.

Comfort in gear can cover various different aspects. Besides feeling good, it should also offer certain levels for different conditions. Vented jackets, pants or gloves help supply airflow during hot conditions as well as heavier gear or even electric/heated gear helps fight off the cold elements; rain gear should be able to keep you dry and so on. Other comfort things to consider is that motorcycle gear is created to accommodate the needs while riding with extend arm lengths for your reach to the bars, some jackets are even manufacture with a slight bend in the arm to give a better feel, the same goes for riding pants. Many glove companies construct their products with curved fingers so they have a natural feel while holding the grips. Often jackets and pants come with additional adjustments for not only a better fit but to help prevent the material from flapping in the wind. Comfort is crucial when checking out gear. The distraction of ill fitting gear, whether too tight or loose; too long or short, etc can definitely become an annoyance and take away from your ride.

Besides comfort, protection is just as important. While I recognize there are thousands of bikers out there that have ridden plenty of times in just jeans and t-shirts without issue, are you willing to take that risk. Heavy duty jeans you get from a department store may only afford you about 5-10 feet of sliding protection at a low speed, not too good. Your exposed skin offers zero protection when its ground against the pavement, definitely not good – in fact, very painful. Gear for riding comes in various materials from leather to fabrics like Cordura that help defend one's body from the infamous road rash. Additional protection can be made available from having armor or padding in spots such as your shoulders, elbows, knees, hips and back; all points where the bones are close to the skin. Also some of the levels of comfort could be considered protection; such as the dryness of rain gear, the ventilating capabilities of a jacket to prevent you from overheating or its warmth to fight the cold. If you're too hot, too cold, too wet, etc you'll probably be at the minimum miserable and thinking about how quick you can rectify it, problem with that is if you're concentrating on that you're not paying attention to your riding. That could be an open door for trouble.

When it comes to visibility, I know most riders lean towards the traditional black jacket, pants, etc. Listen I get the fact that black is what bikers where; it's cool looking, sliming, rebellious, sexy, tough, whatever but it is not one of the bright colors in the spectrum. If you are going to wear black consider gear that has reflective piping, it will help make you just a bit more visible. If you don't mind looking like you're a school crossing guard or construction working, maybe toss a reflective vest over the jacket, you can always take it off when not riding. Bottom line, bright colors are more visible to those around you and dong what you can to help them see you may be a very good thing. The number one response from a driver when they have an accident with a motorcycle is "I didn't see him." We've all heard this at one point during our riding career so why not pay attention to it and do something to hopefully prevent someone saying that about you!?

We could spend a lot of time just discussing gear; from helmets to jackets to boots to gloves, and goggles, etc; but the important thing is to consider the right gear for the ride. There are plenty of manufacturers out there that make a variety of choices for you to check out. Perhaps some of the best ways to find out what works before you buy is to read reviews (like the ones in AIM), ask other riders about what they like or dislike about the gear they have. Sometimes the best stuff for what you need may not be the most expensive gear to buy. Maybe you'll have to give up some fashion over function, maybe not. It's all just another step in the process of educating yourself better to not only enjoy the ride, but to get back home in piece so you can do it again.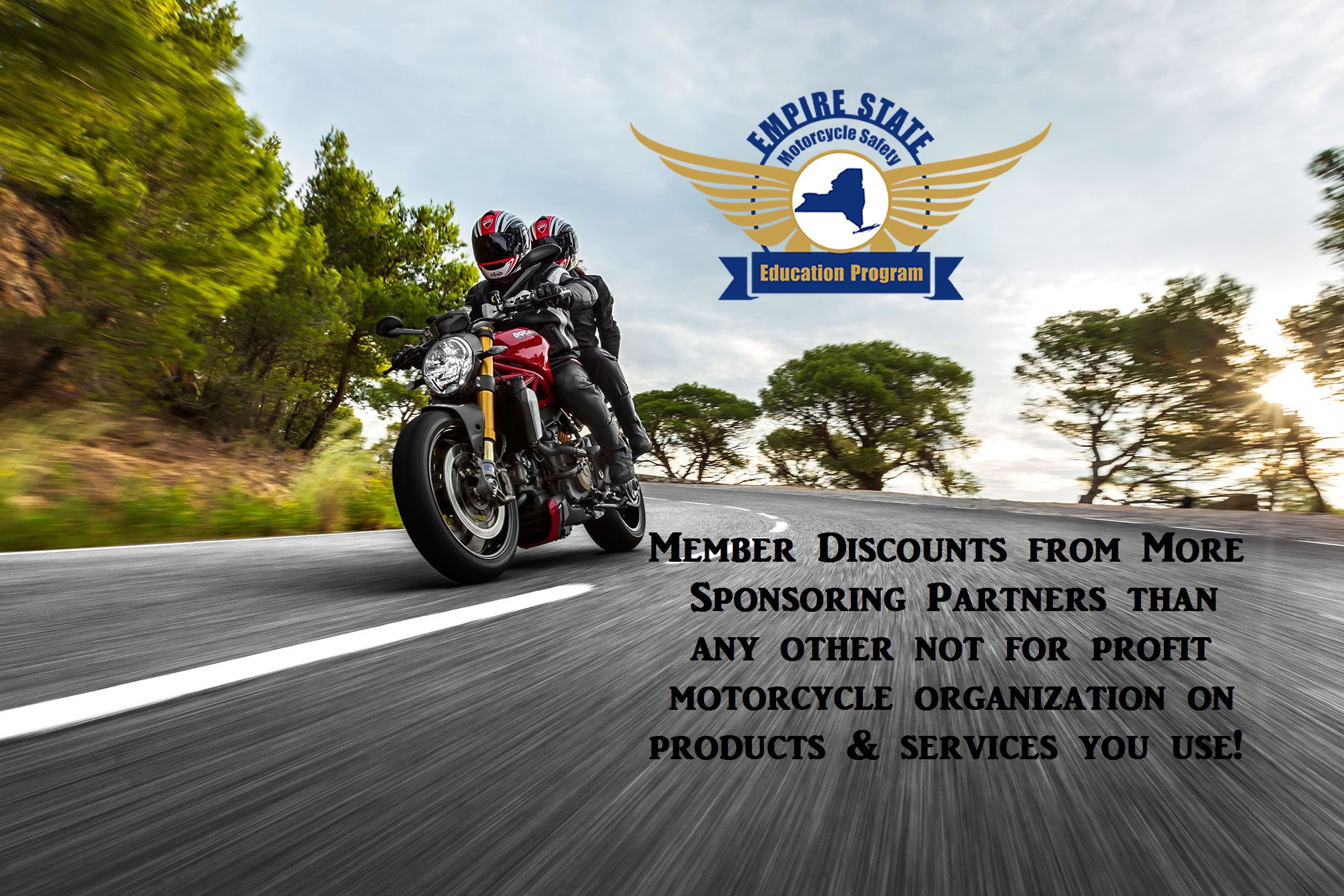 Become or Renew Your Membership Securely Online and you will not only be supporting Free Rider Education to the motorcycling community, but you'll enjoy our member benefits which include tons of available discounts and a free $4000 Accidental Life Insurance Policy.

 Together We Can Make Motorcycling Safer
---
---
FREE

Riding Safety Seminar
Harley-Davidson of NYC
Long Island City, Queens 
Saturday March 19th - 11am

Riding Season is just around the corner, come get some tips and information to start your journeys for 2016 on the safe track.

Click logo to sign up online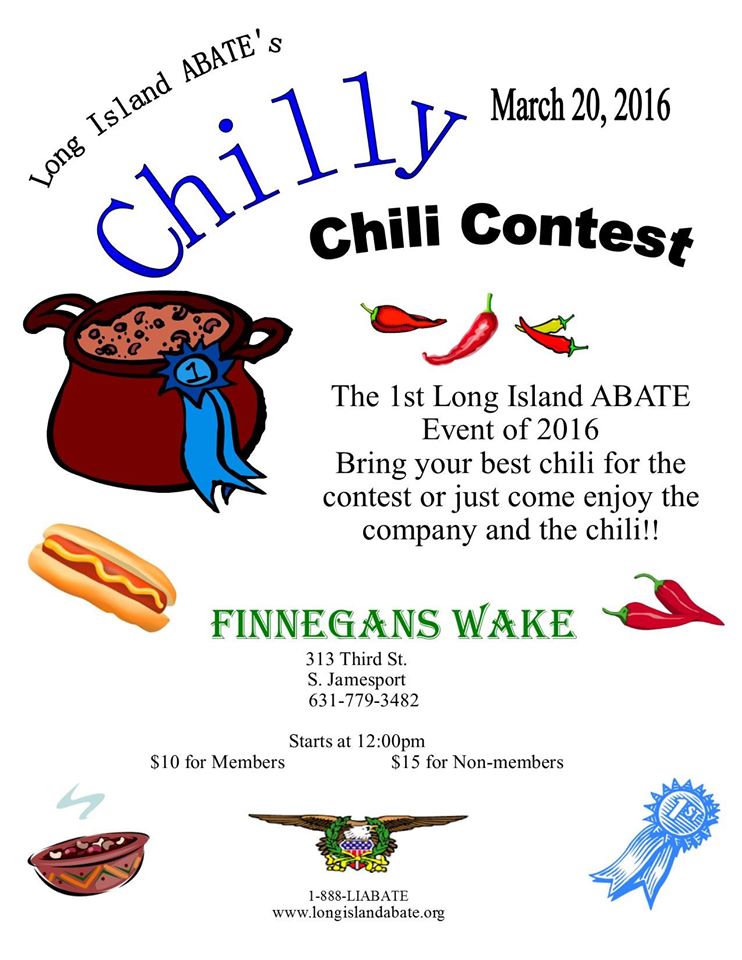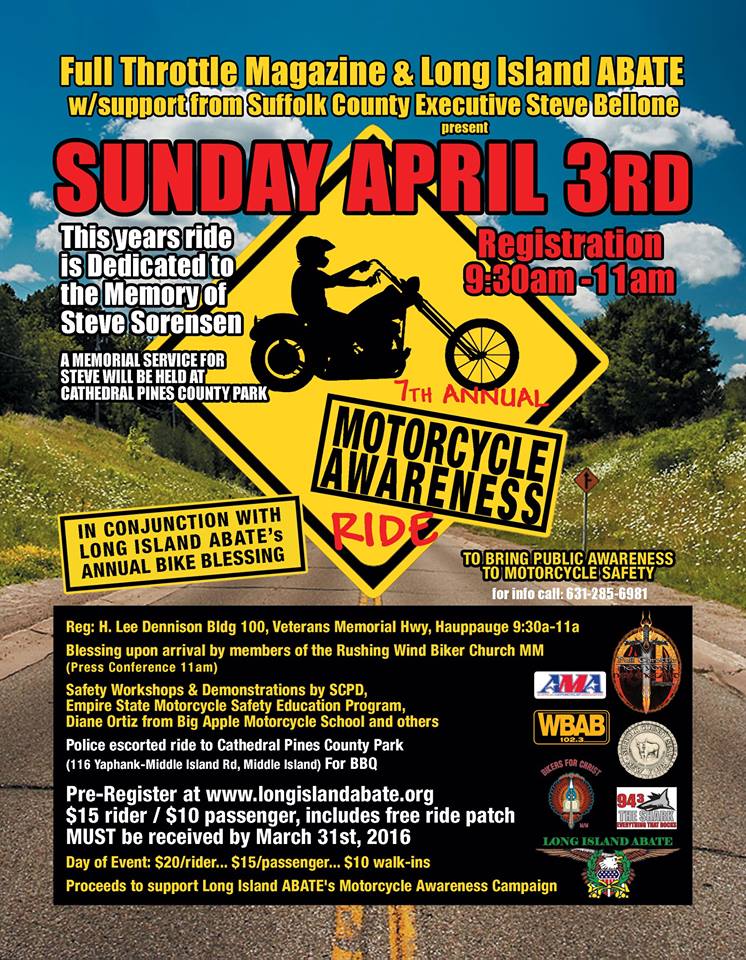 ---
Empire State Motorcycle Safety Education Program, Inc(ESMSEP) is a not for profit, 501(c)3 outreach education organization group of like minded motorcycle safety enthusiasts working towards the goal of promoting motorcycle awareness and the benefits of rider education through FREE informational seminars at libraries, adult continuing ed programs, dealerships, club/group meetings, rallies, etc. Our primary goal is to present the information to licensed motorcycle operators as to the importance of continuing rider education, but our information can also be extremely useful for newer riders as well. To date, there is no one in NYS that presently addresses what we do..

We are a member supported organization and have opened  for membership at the end March 2015. We have compiled a Member Benefit Program that includes a FREE $4000 life insurance policy plus discounted offers from our Sponsoring Partners. ESMSEP currently has 70+ Sponsoring Partners listed on our website that have joined our team with many of them offering a benefit offer for our membership that have pledge to support this new exciting venture. All of them are extremely supportive of our task and recognize the value of it for the motorcycling community plus the potential for future customers that appreciate their support of motorcycle safety. We have more sponsors than any other not for profit motorcycle organization in the country.
Share & Forward This Email To All Those That Ride!