Working the Curve for Our Benefit

One of the great pleasures of riding is either finding or rolling on some familiar stretch of curvy, twisty roads. Whether it's a group of tight technical turns, long sweepers or a combination of both; the sensation of systematically leaning side to side with a flowing motion is a feeling that may be hard to describe unless you've been there. Words like exhilarating and satisfying come to mind, yet one word usually doesn't that should – dangerous.  With a high percentage of single motorcycle crashes and fatalities occurring on curves, we need to always consider what may bring us joy can quickly turn otherwise if not addressed properly.

The most basic of rider course to advanced ones share one key piece of information; look through the turn to where you want to be. As much as this is always emphasized, it is a mental process that is hard to sometimes achieve. This is not a skill that can be taught, it is information one needs to develop to recognize the difference of how to address those paved twists of paradise.  Looking through the turn and not at it is the first step to conquering an unwanted risk. Basing your strategy using the SEE (Search Evaluate Execute) to distinguish the elements of the upcoming curve is vital. SEEing whether it is a constant, increasing or decreasing radius is important as well as your ability to look through the turn or not (such as a blind turn) to set yourself up for success.

As part of setting up, keep in mind that motorcyclists divide their lane into three portions now if you consider that there are three primary methods of addressing a turn; you can have a saddlebag load of options to safely and skillfully execute the rolling pavement. Proper lane set up along with speed adjustment  can make a turn far easier to focus on  for other points. If you enter a radius too slow you can always adjust your speed as needed, but entering too fast may cause unwelcomed complications.

Once you have your lane placement and speed adjusted for the curve ahead, don't stop SEEIng, there are other factors to consider. You may need to take into account for possible crowned roads, sloped turns, intersecting roads and other various surroundings. As much as you are processing information for fine-tuning, keep in mind that you're a moving object and circumstances can change quickly.

So we've realized that there is a lot to look and adjust for without even entering the curve or considering what type of approach may work best. Now the three primary methods noted before include an Outside-Inside- Outside strategy (outside meaning closest to the continuing arc of the turn), this is one that is taught in most basic classes. It is a route that makes the turn a little "Straighter." The there is the Delayed Apex path where you entry the curve a little further on the outside portion then lean sharper through the turn. This method may give you a further vision of view through the turn. Finally there are the steady "lane" placement approaches, meaning staying constantly in the outside or middle or inside portions of the lane through the turn. While each method can work, the ability to SEE what lies ahead for adjusting is key.

We also have to be aware of our skill level, the abilities of our motorcycle and other conditions either before the curve or during it. Things such as road conditions (wet, sand or gravel, etc.), weather, and direction of travel; riding into a sunset or sunrise can be blinding and hazardous in a turn,  these are all issues we have to think about. Furthermore , don't forget about that infamous oncoming traffic.

So now when you look at all the factors associated with rolling through those curves you can SEE that there is a definite need of constant adjustments and awareness to proficiently maneuver through them. Now is there a best way to safely ride those twisty elements? Yes, learn and practice them all. There are a lot of different venues to gain this knowledge and ability. Attending a riding course or multiple courses to learn how to competently tackle different methods to execute a curve will allow you the ability to adjust yourself and machine to proficiently flow through and stay ahead of the curve.
---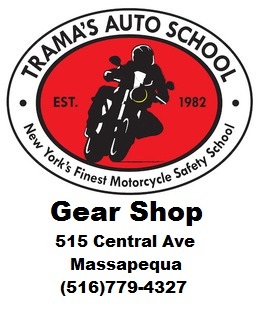 This will be our last Free scheduled seminar for 2015. We are working on our 2016 schedule which will include additional seminars and information. Motorcyclists Tune Up

Information for motorcyclists to refresh themselves of skills and awareness needed to have a safer riding season. This will be a non riding course (information only) that will review topics such as proper cornering, braking, general riding skills, group riding, street strategies, road awareness and more. These seminars have been receiving overwhelming fantastic feedback responses noting that the information on situational awareness is a great asset to help prevent possible conflicts on the road. 
---
Sponsoring Partners Spotlight
We plan to include a highlight of our Sponsoring Partners with our email updates as a reminder of the organizations/companies that support the Promotion of Motorcycle Awareness & the Benefits of Rider Education. We not only encourage motorcyclists to become a member to help us achieve our goals plus take advantage of all the discount offerings from our Sponsoring Partners, but ask that you support these companies and thank them for their sponsorship.
Sponsoring Partners Page
Become a Member Page
---
Honda of Riverhead is also a dealer for KTM, Victory, Can-Am and other powersports manufacturers. They have a complete line of Accessories, Parts & Gear plus a full service dept for you needs.

Click on Image For Website
---
If performance is one of your top priorities, then the folks at Action Cycle are who you should be talking to. They have a long history in motorcycle performance & racing plus they can not only build up your bike to what you want, they can provide an array of parts and accessories.

Click on Image for Website

---
Everyone likes to have their ride shine like new.

Wizards Products

has a complete line of cleaning, polishing and finish products that are beyond compare and top of the line.

Click on Image for Website

---