Brevard Music Center Celebrates Weill with a "Festival within a Festival"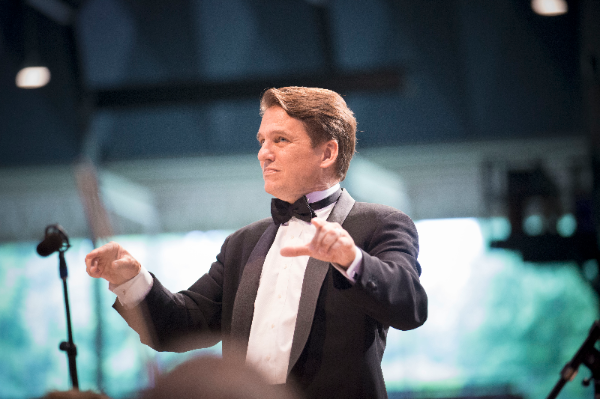 Conductor Keith Lockhart. Photo credit: Marco Borggreve
The
Brevard Music Center
 in North Carolina brings the music of Kurt Weill to audiences all summer long with its Kurt Weill "festival within a festival." The celebration begins on 25 June when Keith Lockhart leads the Brevard Sinfonia in the American premiere of
Much Ado about Love: A Suite of Dances from the Firebrand of Florence
, conceived and edited by Kim H. Kowalke and John Baxindine. This new fifteen-minute concert suite consists of a prelude, sarabande, gigue, waltz, and tarantella, all in Weill's original orchestration.
Other performance highlights include
The Seven Deadly Sins
and songs from the Broadway shows, with soloist Lisa Vroman and the Brevard Festival Orchestra, conducted by Lockhart, 12 July; "Weill & Schoenberg: From Berlin to Hollywood" 5 July, with William Sharp, pianist Shane Schag, and Brevard artist faculty includes
Five Songs from Huckleberry Finn
; "Change the World, It Needs It," A Weill/Blitzstein cabaret with Vroman, Sharp, and Schag, 6 July; an all-Weill chamber concert with Brevard artist faculty, 10 July; and
Kleine Dreigroschenmusik
, with the Brevard Chamber Orchestra conducted by Ken Lam, 4 August. Two fully staged performances of
Street Scene
 by the Janiec Opera Company, directed by Dean Anthony and conducted by Robert Moody, round out the summer's festivities on 27 and 29 July.
​
The Kurt Weill Festival builds on "Music Unwound: Kurt Weill in America," a series conceived and curated by Joseph Horowitz and funded by the National Endowment for the Humanities.​
​
16 June marks the 80th anniversary of the legendary premiere of Blitzstein's agitprop musical The Cradle Will Rock. Two upcoming events commemorate this milestone:
​

New Historical Marker to be Installed at Blitzstein's Birthplace
Thanks to the efforts of the Pennsylvania Historical & Museum Commission, in partnership with the National Museum of American Jewish History, Curtis Institute of Music (Blitzstein's alma mater), and a couple of dedicated Blitzstein fans, a new historical marker is to be installed at the site of Blitzstein's birthplace, 419 Pine Street, Philadelphia. The marker will be installed on 12 June, four days ahead of the 80th anniversary of the premiere of
The Cradle Will Rock.
The installation ceremony, which begins at 11:00 AM, will feature Blitzstein experts and scholars speaking on various topics including his musical legacy, work as an activist, and connections with Philadelphia. The ceremony is free and open to the public.
Read the complete story on the official
Marc Blitzstein website
. 
​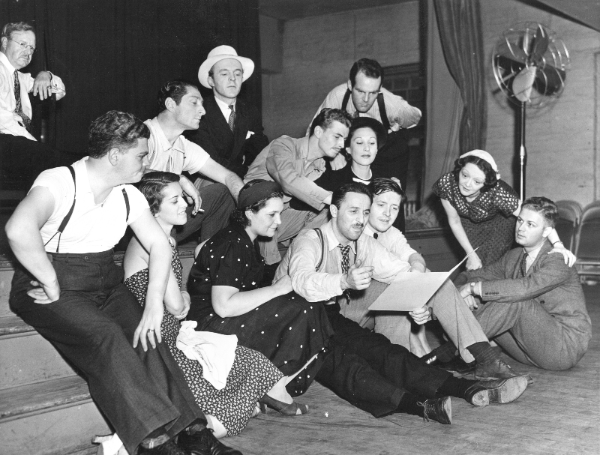 Marc Blitzstein with the cast of The Cradle Will Rock, 1937

​Opera Saratoga Gives New Life to The Cradle Will Rock
Since its premiere in 1937,
The Cradle Will Rock
has staked out a place in the repertory, but almost exclusively in the pared-down, piano-only version, reminiscent of that opening night. However, that is about to change: This July
Opera Saratoga
in upstate New York offers theatergoers a rare opportunity to hear
The Cradle Will Rock
as Blitzstein intended, in a fully staged production with his original orchestration. Lawrence Edelson directs this new production, which takes the stage for four performances 9–16 July, conducted by noted Blitzstein champion John Mauceri. The cast features three past prizewinners of the Lotte Lenya Competition: Ginger Costa-Jackson (2013 Lys Symonette Award) as Moll, Justin Hopkins (2012 2nd Prize) as Reverend Salvation, and Lisa Marie Rogali (2017 Special Award) in the ensemble.  This will be the first time the original orchestration has been heard since the New York City Opera production in 1960.
Opera Saratoga offers several ancillary events to enhance audience members' knowledge of Blitzstein's music. On 16 June, OS presents
Marc Blitzstein – A Life in Song
, curated and hosted by Hopkins. The program will include excerpts from Blitzstein's theatrical and operatic works as well as lesser-known songs. Another song evening,
Broadway in the 1930s
on 14 July, will feature songs by Blitzstein and Weill along with the usual suspects, Gershwin, Porter, and Rodgers and Hart.
Learn more on the
website
.
The Spring 2017 Kurt Weill Newsletter is Now Available!

The Spring 2017 Kurt Weill Newsletter is now available and should be arriving in subscribers' mailboxes soon. This issue offers a look back at the creation and original production of

Love Life

 and a look ahead to the German premiere next season, reviews of recent performances, festivals, and recordings, and a roundup of Weill news from around the world. To read the latest issue

click here

, or

email us

to subscribe.

Die Dreigroschenoper

The Royal Academy of Music

,

London
Walter Sutcliffe, director; Gareth Hancock, conductor
15

–

17 June

Johnny Johnson

Chicago Folks Operetta


George Cederquist, director; Anthony Barrese, conductor
24 June

– 

9 July

Symphony No. 2

Gürzenich-Orchester Köln

 


François-Xavier Roth, conductor

25 June

Symphony No. 2

BBC Philharmonic Orchestra

,

Salford
Martyn Brabbins, conductor
28 JuneSymphony No. 2

Musici Medici

, Berlin 
Jürgen Bruns, conductor


1

–

2 July

Street Scene

Royal Welsh College of Music and Drama

, Cardiff
Martin Constantine, director; Wyn Davies, conductor
3

–

5 July