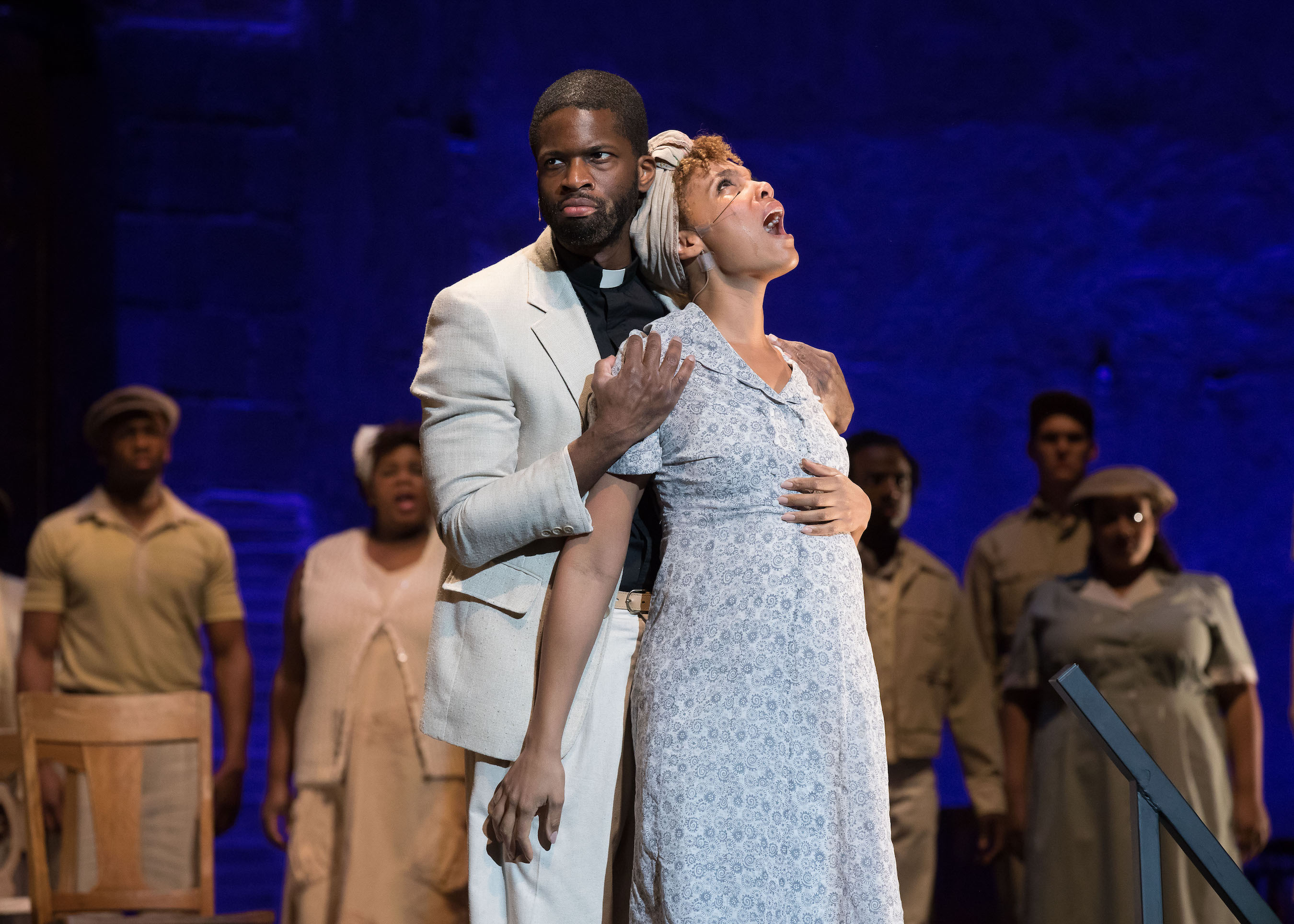 Justin Hopkins as Stephen Kumalo and Lauren Michelle as Irina in Lost in the Stars at Los Angeles Chamber Orchestra.
​Photo credit: Reed Hutchinson.
"Lift Every Voice" Festival at
​Los Angeles Chamber Orchestra Triumphs!
LACO, CAP UCLA, and SITI Company's
Lost in the Stars
elicits unanimous praise from critics and audiences alike:
"'Lost in the Stars' fit the mood of its time, and though rarely revived, it fits the mood of our own....Now, will anyone step up to pick up a project that offers an example of how to illuminate issues that sting like today's headlines, and for which so much went into for only two performances?" Mark Swed,
Los Angeles Times
"[T]he bones of the work — its story, subject and songs — stand the test of time…" Catherine Womack, 
Los Angeles Times
"Kurt Weill and Maxwell Anderson's 'Lost in the Stars,' based on Alan Paton's great anti-apartheid novel, 'Cry, the Beloved Country,' speaks to issues of racism in South Africa but travels across time and space, landing, like a gift, to audiences now." Jane Rosenberg,
International Review of Music
Past Lenya Competition winners Justin Hopkins and Lauren Michelle shine:
"Justin Hopkins [as Stephen Kumalo] was seemingly too young for a cleric whose authority comes from the wisdom of age. But it is hardly a disadvantage to hear a beautifully focused bass baritone equally effective in pop, opera and spoken. A commanding presence onstage, Hopkins put the crisis of faith at an age where it, in fact, matters most." Mark Swed,
Los Angeles Times
"As the heartbroken and pregnant lover of the condemned Absalom, [Lauren Michelle] poignantly portrayed the all too common victim of an indifferent society, making us feel the depth of her sorrow in the songs 'Trouble Man' and the gorgeous 'Stay Well.'"
Jane Rosenberg, 
International Review of Music
Judges for the 20th Annual Lotte Lenya Competition Announced!

Judges l to r: Judy Blazer, Ted Sperling, Rob Berman, Anne Bogart, Shuler Hensley.
The preliminary round of the 20th annual Lotte Lenya Competition is underway, and this year's competition is already breaking records. The KWF received over 260 audition videos from singers from fourteen countries on five continents, its widest reach ever.
To keep pace with this banner year, an all-star panel of judges will preside over semifinals and finals. Semifinalists will have the opportunity to audition for and be coached by stage, opera, and concert performer
Judy Blazer
and Tony Award-winning conductor, director, orchestrator, and Artistic Director of MasterVoices
Ted Sperling
. In April, renowned stage director
Anne Bogart
and Tony Award-winning actor and singer
Shuler Hensley
both join the finals judges' panel for the first time. Broadway music director, conductor, and orchestrator
Rob Berman
returns to judge the competition for the sixth time.
Finals take place 22 April 2017 at the Eastman School of Music, in Rochester, NY. Read the complete
press release
. This year's semifinalists will be announced in a few short weeks. Be sure to check back at
www.kwf.org/llc
for updates!
​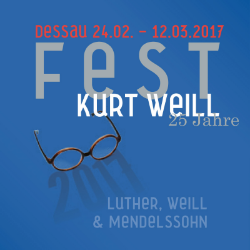 2017 Sponsorships & Grants
The Kurt Weill Foundation has awarded funding to 22 performing arts institutions in its 2017 sponsorship and grant cycle. The KWF Grant and Sponsorship Programs support performances of and projects relating to the music and legacies of Kurt Weill, Lotte Lenya, and Marc Blitzstein. This year's recipients represent a diverse range of ensembles and institutions offering a wide variety of stage and concert works by both Weill and Blitzstein.

Sponsorships

The Kurt Weill Foundation is proud to support two festivals through its Sponsorship program. 

Brevard Music Center

 has announced a Weill "Festival within a Festival" as part of its summer 2017 season. Programming will include a fully staged production of Street Scene, The Seven Deadly Sins in concert, a new suite of dances from The Firebrand of Florence, and additional chamber concerts, lectures, readings, and community events. Keith Lockhart, a longtime advocate of Weill's music, celebrates his tenth year with the Festival and will conduct two all-Weill concerts. Additional events and guest artists will be announced.
This month, the

Kurt Weill Fest Dessau

 

celebrates its 25th year in conjunction with the 500th anniversary of the Reformation, under the motto "Luther, Weill and Mendelssohn." This year's programming highlights the work of social transformation carried out by Martin Luther and 18th century philosopher Moses Mendelssohn, and embodied in Weill's music. The festival opens 24 February with
Die sieben Todsünden
featuring
 Angelika Kirchschlager as Anna I, and the MDR Sinfonieorchester conducted by Kristjan Järvi. Oper Halle's production of 
Aufstieg und Fall der Stadt Mahagonny
arrives in Dessau
 26 February. 
Festival favorites Ute Gfrerer, Ensemble Modern, and James Holmes return for the Gala Concert on 4 March. Järvi leads the MDR in a performance of
Die Verheißung
, featuring past Lenya competition winners, 5 March. Additional highlights include two new suites: selections from
Der Kuhhandel,
devised and conducted by James Holmes, and
Chansons des Quais/Songs of the Quays
 from
Marie Galante
, performed by Gfrerer, Ensemble Modern, and conducted by HK Gruber. The festival runs through 12 March.
In fulfillment of the KWF's mission to nurture the creation of new musical theater, a new sponsorship has been established in support of 
American Lyric Theater
's Composer Librettist Development Program, an incubator for new operas. This sponsorship complements the KWF's ongoing support of the Eugene O'Neill Theater Center's annual 

National Music Theatre Conference

, renewed this year for a fourth cycle. The Foundation also renewed its sponsorship of a Kurt Weill/Lotte Lenya Young Artist at the 

Glimmerglass Festival

, and initiated a new young artist sponsorship with the 

College Light Opera Company

.
Grant Recipients
Grants were awarded for performances of a variety of works from Weill's oeuvre, including 
Lost in the Stars
, 
Johnny Johnson
, 
Die sieben Todsünden, 
and Symphony No. 2. From the Blitzstein catalogue, Opera Saratoga received a grant for its upcoming fully staged production of 
The Cradle Will Rock
, featuring Blitzstein's rarely heard original orchestration.
Professional Performance
Cantata Singers, for a concert of Weill's vocal works
Chicago Folks Operetta, 
Johnny Johnson
Collectio Musicorum, 
Frauentanz
Los Angeles Chamber Orchestra, 
Lost in the Stars
Musiques Interdites, 
Die sieben Todsünden
Opera Saratoga, 
The Cradle Will Rock 
(Blitzstein)
Pittsburgh Symphony, Symphony No. 2
Santa Fe Chamber Music Festival, Violin Concerto
Toronto Symphony Orchestra, 
Die sieben TodsündenCollege/University Performance
Biola University, 
Street Scene
Bowling Green State University, 
Street Scene
DePauw University, 
Street Scene
Royal Academy of Music
, Die Dreigroschenoper
Sydney Conservatorium of Music, 
The Seven Deadly Sins
UCLA, Scholarly symposium on Weill, Joachim Prinz, and Martin Luther King, Jr., as part of the Los Angeles Chamber Orchestra "
Lift Every Voice"
festival

Research & Travel
Naomi Graber
​
This month offers back-to-back productions of

Street Scene

, at

DePauw University

in Greencastle, IN, 9–12 February, and

Biola University

, La Mirada, CA, 10–19 February. DePauw's production caps a year-long campus-wide festival, "Cultural Connections: Weill and Brecht." Read more about DePauw's activities on our 

Current News

 

page.

The US sees two performances of Symphony No. 2 this month: At the 

Fort Wayne Philharmonic

 11 February, Andrew Constantine conducting, and the 

Pittsburgh Symphony

 24 and 25 February, under conductor Lahav Shani. 

To see the complete list of upcoming performances, visit the

performance calendar

.

Upcoming Performances



Street Scene

DePauw Opera

, Greencastle, IN 
Joachim Schamberger, director; Orcenith Smith, conductor
9

–

12 February

Street Scene

Symphony No. 2




Berlin to Broadway

The York Theatre

, New York City 
Pamela Hunt, director
11

–

19 February

Symphony No. 2

Pittsburgh Symphony Orchestra

 


Lahav Shani, conductor
24

–

26 February

Die sieben Todsünden​

Kurt Weill Fest Dessau

,

Germany 
MDR Symphony Orchestra; Kristjan Järvi, conductor; Angelika Kirchschlager, Anna I
24 FebruaryAufstieg und Fall der Stadt Mahagonny

Kurt Weill Fest Dessau

,

 Germany

 


Oper Halle, Michael von zur Mühlen, director; Christopher Sprenger, conductor
28 February