NOVEMBER 2016
EMPLOYEE NEWSLETTER

OPEN ENROLLMENT
Open Enrollment Presentations for the 2017 benefit year will be held in various Springbrook locations on November 16, 17, & 18.
Click here

to see the full schedule. 

Please be aware that there is no need to sign up for a presentation—simply attend the one that is most convenient for you. During the presentation, the Relph Benefits team will be providing benefit-eligible employees with important information. 

This year, you will be using Dayforce to enroll or make changes to your benefits
. More detailed instructions to follow soon!
ENGAGEMENT SURVEY
On November 1, we sent an email containing an engagement survey. Human Resources will use the survey results to determine how employees feel about a variety of topics. Your answers will be anonymous, so please provide your honest opinion when answering.
Once you complete the survey, you will be eligible for one of five (5) $100 cash prizes! 
This survey must be completed by Friday, November 11th at 6:00PM.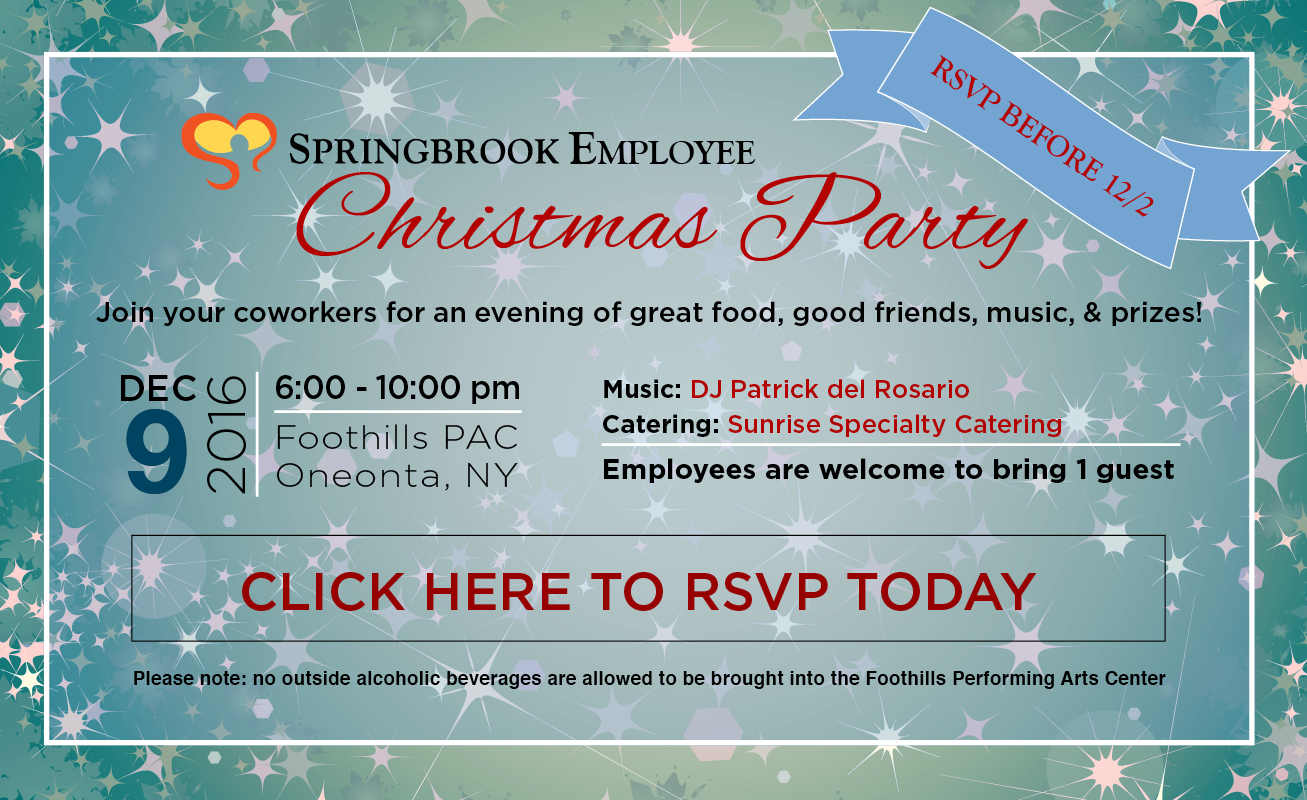 ​TRAINING AND STAFF DEVELOPMENT NOTES



​
IMPORTANT UPCOMING TRAINING DATES: Below, you will find the training dates available for the rest of November and early December. 
 
Before you register for a class: Please be sure to get approval from your manager prior to registering. Your supervisor will need to approve your request in 

Advance

 at least 2 days prior to your training session. If your manager does not approve your  request before the 2-day deadline, your name will not be on the class roster. 


Nov 14, 15, 17, & 18: Medication Administration, 9 - 3 p.m., Oneonta Campus Chapel (10 seats available*)
Nov 21-23: SCIP-R 

(INITIAL TRAINING FOR NEW STAFF), 9 - 4 p.m

.

, Oneonta Campus Chapel

 

(13 seats available*)

Nov 25: 

SCIP-R

 (Recertification), 9 - 1 p.m

.

, Oneonta Campus Chapel

 

(9 seats available*)

Dec 2: 

SCIP-R

 (Recertification), 9 - 1 p.m

.

, Oneonta Campus Chapel

 

(9 seats available*)

Dec 7, 8, 10, & 11: Medication Administration

, 9 - 3 p.m., Oneonta Campus Events Room (17 seats available*)
 *as of November 2, 2016 

– 

please check Advance for updates
---
NEO DEADLINE
The next available New Employee Orientation is November 28.
​
If you would like your new-hires to participate in the November 28 New Employee Orientation (NEO), they will need to accept an offer 
by November 18.
Please contact your HRBP once your new-hire has accepted an offer:
Justin Frost

 

– 

Main Campus and Facilities, 

607-286-7171, ext. 261

Mat Harby

 

– Community Homes, 607-336-6141, ext. 102

Meredith Muzik

 – Community Services, 607-353-7272, ext. 2307​​​​

​
​​
---

​ONEONTA CAMPUS BUILDING TEAM
The OC Building Team is searching for people who are interested in the changes happening at Oneonta Campus and have suggestions to make it a better campus for our participants and employees! We welcome any suggestions or concerns related to the Oneonta Campus.
*Quarterly meetings are open to all OC employees*
Please email any interest, questions, or suggestions that you would like added to the meeting agenda to: 
buildingteam@springbrookny.org
. 

SAVE THE DATE:
The next Oneonta Campus breakfast will be December 9th!

Next meeting date:
​TBA
​​
​
FRANKLIN SKI CLUB FUNDRAISER
The Franklin Central School Ski & Snowboard Club is hosting a pancake breakfast fundraiser on Saturday, November 12. Proceeds will benefit the club and help reduce the cost of equipment rental and lift tickets.  


Each ticket is good for a sit-down breakfast that includes pancakes (with or without chocolate chips!), sausage, coffee, and/or juice. There will also be a 50/50 drawing for prizes for all in attendance. 

Tickets can be purchased from Christy Jaromack until Wednesday, November 9, or at the door on the day of the event. If you would like to buy tickets in advance, please
email Christy
or contact her by phone at (607)286-7171, x304.
---
Welcome to the new Helping your Community section!
At Springbrook, we recognize that the skill and compassion of our employees extends beyond the workplace and into the communities we are proud to serve
and call home. We want to help you share your great work with the Springbrook community in this recurring section of Springbrook Connect! 
If you are a Springbrook employee and are involved in a community program or group that is hosting an event, 
please let us know
and you may just see it announced in the next Employee Newsletter.
​
CODE OF CONDUCT RECOGNITION AWARD 2016 WINNERS

The Justice Center for the Protection of People with Special Needs (Justice Center) announced the winners of the 1st annual Code of Conduct Recognition Award. This award honors staff who exemplify the ethical standards outlined in the

Code of Conduct

for Custodians of People with Special Needs, which 

must be signed annually by employees who assist people with special needs. The Code provides employees with a framework to help people "live self-directed, meaningful lives in their communities, free from abuse and neglect, and protected from harm."

 The Justice Center's Advisory Council received more than 60 nominations from family members, personal representatives, and providers from across New York State. Ultimately, four people were chosen and were presented with their awards at a ceremony in September. Below is the continuation of the list we shared in last month's newsletter: 


Michael Maloney – Unity House (OMH) Troy, NY – Mr. Maloney, an Assistant Service Director of Community Resources, is the first point-of-contact for those who come to Unity House for help with food, clothing, employment and homelessness prevention. He helped create a program using peer-to-peer mentoring to encourage adults to find and receive mental health services available to them. 
Susan Polmateer – Community Habilitation/Respite Worker, Saratoga Bridges (OPWDD) Ballston Spa, NY – Ms. Polmateer was nominated by a parent of a non-verbal child she was assisting. The parent described Ms. Polmateer's tireless and creative approaches to teaching the child daily life skills. In addition, she not only improved the quality of the child's life but that of the entire family. 
401(K) MANAGEMENT

You have probably noticed some information coming into your email concerning the change in 401(K) management companies.

Click here

to learn more about the 401(K) services you will be receiving through Fidelity.

Click here

for a guide to logging into their website to track your investments or make changes. 

SAFETY PROGRAMDo you have ideas on how to make Springbrook safer for employees? Well, now there ​is a place to send your safety-related tips, observations, and suggestions! Contribute
to the Springbrook Safety Program by

emailing us

your suggestions.

​PLEASE NOTE: This email address is intended for idea sharing only. 
​