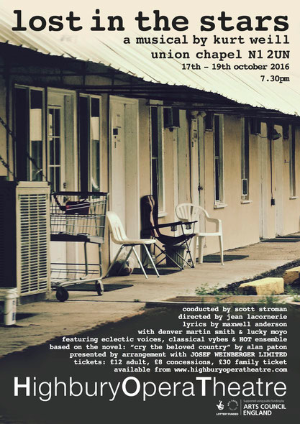 Lost in the Stars at Highbury Opera Theatre
This month, London sees its first fully staged performance of
Lost in the Stars
, presented by
Highbury Opera Theatre
, 17-19 October at Union Chapel in Islington. This production reunites director Jean Lacornerie and conductor Scott Stroman, co-creators of the French premiere productions of
One Touch of Venus
and
Lady in the Dark
. 
Virginia Opera
continues its run of
The Seven Deadly Sins
with Ute Gfrerer as Anna I and Adam Turner conducting, 1-16 October, with performances in Norfolk, Fairfax, and Richmond, VA. Other notable performances this month include
The Seven Deadly Sins
by the
BBC Scottish Symphony Orchestra
with Ilan Volkov conducting and Measha Brueggergosman as Anna I, 20 October. Ópera de Cámara del Teatro Colón performs
Mahagonny Songspiel
, directed by Marcelo Lombardero, at the
Festival International Cervantina
in Guanajuato, Mexico, 20 October.
Symphony Nova
performs Weill's rarely heard Symphony No. 1 in Boston on 21 October.
The National Theatre's highly acclaimed new adaptation of
The Threepenny Opera
closed 1 October, but National Theatre Live's cinema screenings continue throughout the month at movie theaters around the world. To find a showing at a theater near you, visit
NT Live's website.
To see the complete list of performances coming up this month, view the
performance calendar
.
​
Blitzstein Radio Documentary
Marc Blitzstein at the BBC, London, ca. 1943
Guy Livingston's four-part radio documentary on the life and works of Marc Blitzstein,
The Cradle That Rocked: Rediscovering Marc Blitzstein
, airs this month as part of his
American Highways
program. The series will air on Fridays on Concert Zender Radio, beginning October 14 at 18h00 Central European Time (12:00 noon EST), and be made available as podcasts via iTunes after airing. Broadcasts on the WFMT network in the U.S. will follow. 
The program will survey Blitzstein's life and work, with episodes on
The Cradle Will Rock
,
Regina
, his adaptation of
The Threepenny Opera
, and his unfinished opera
Sacco and Vanzetti
. Highlights include historical recordings of Blitzstein and his contemporaries --including Paul Robeson performing and Leonard Bernstein in conversation with Studs Terkel -- and interviews with such experts as Jamie Bernstein, Sarah Fishko, conductor John Mauceri, and composer William Bolcom. 
Here's the teaser from American Highways:
"This is the story of a great musician who embraced all the colorfulness of American life. Composer Marc Blitzstein has been largely forgotten, but in the 1930s he was famous for his political musical,
The Cradle Will Rock
. In the 1940s he was famous again for his
Airborne Symphony
, written in London during the war. And in the 1950s he made headlines once more, this time for his brilliantly funny and sarcastic adaptation of Kurt Weill's
Threepenny Opera
. And yet, he is virtually unknown today. Jewish, gay, and a stubborn political activist, he was on the margins of the arts world in his lifetime. Although championed by Leonard Bernstein, he had trouble getting his career off the ground, and many of his musicals failed after a few performances. And his death was so tragic that it haunted his legacy for decades. This radio feature aims to celebrate his life with humor, storytelling, and vintage audio, as a new generation discovers his music. Join pianist Guy Livingston for four feature-length episodes, as he recounts the astonishing musical adventures of an American original, Marc Blitzstein."
​
Deadline Reminder: Grant Applications Due 1 November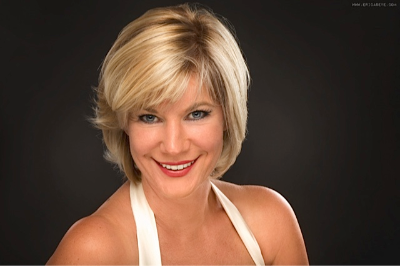 Ute Gfrerer sings Anna I in The Seven Deadly Sins ​with Virginia Opera
​KWF is now accepting applications for its 2017 Grant Program. The KWF Grant Program awards financial support worldwide to not-for-profit organizations for performances of musical works by Kurt Weill and Marc Blitzstein; to individuals and not-for-profit organizations for scholarly research pertaining to Kurt Weill, Lotte Lenya, and Marc Blitzstein; and to not-for-profit organizations for relevant educational or scholarly initiatives. Applications are now being accepted for performances and initiatives occurring between 1 January 2017 and 1 July 2018. Grant applications are due 1 November 2016.
KWF Grants are given in support of excellence in the presentation and study of Kurt Weill's and Marc Blitzstein's music. Examples of recent grant recipients abound on this month's performance calendar: Of the performances mentioned above, Highbury Opera Theatre, Virginia Opera, and Symphony Nova are recipients of Professional Performance grants from the Kurt Weill Foundation. College performance grants were given to the University of Nebraska Kearney and George Mason University for productions of
The Threepenny Opera
; the University of North Florida for
Street Scene.
The University of Arizona received a grant for its Music + Festival, which features several works including Symphony No. 2,
Kleine Dreigroschenmusik
, and String Quartet No. 1, Op. 8. A media grant was given for the Blitzstein radio series. Other funding categories include various scholarly and educational initiatives, Kurt Weill Mentors, Publication Assistance, Kurt Weill Dissertation Fellowships, and Research and Travel. 
Complete information about types of funding available and application requirements may be found
here
. 
20th Annual Lenya Competition Now Open

Brian Vu, 2016 First Prize Winner

Applications are now being accepted for the 20th annual Lotte Lenya Competition! Complete guidelines, eligibility, repertoire and application information is available on the newly redesigned Lenya Competition webpages:

www.kwf.org/llc

. The deadline to apply is 23 January 2017.

​

​Measha Brueggergosman sings The Seven Deadly Sins, ​
​20 October

Upcoming Performances



The Seven Deadly Sins

Virginia Opera

, Norfolk/Fairfax/Richmond
Keturah Stickann, director; Adam Turner, conductor; Ute Gfrerer, Anna I; Gabrielle Zucker, Anna II


2 and 4 Oct: Harrison Opera House, Norfolk
8 and 9 Oct: George Mason University Center for the Arts, Fairfax
14 and 16 Oct: Carpenter Theatre, Richmond
​​

Down in the Valley

Yale University, New Haven
Emma Clarkson, director; Max Norman, conductor
9 October

Lost in the Stars

Highbury Opera Theatre, London
Jean Lacornerie, director; Scott Stroman, conductor
17-19 October




The Threepenny OperaUniversity of Nebraska at Kearney
Jack Garrison, director
19-23 October

The Seven Deadly Sins

BBC Scottish Symphony Orchestra

, Glasgow
Ilan Volkov, conductor; Measha Brueggergosman, Anna I
20 OctoberMahagonny SongspielÓpera de Cámara del Teatro Colón, Guanajuato
Marcelo Lombardero, director; Martín Sotelo, conductor
20 OctoberSymphony No. 1

Symphony Nova

, Boston
Lawrence Isaacson, conductor
21 OctoberThe Threepenny OperaGeorge Mason University, Fairfax
Ken Elston, director; Dr. Dennis Layendecker, conductor
27-30 OctoberWeill Songs

Metropolitan Room

, New York
Adrienne Haan, vocals; Dan Levinson Sextet, encore performance
30 OctoberZaubernachtAnhaltisches Theater Dessau
Tomasz Kajdański, director; Boris Cepeda, conductor


31 October - 2 November.