2016 Grant Recipients Announced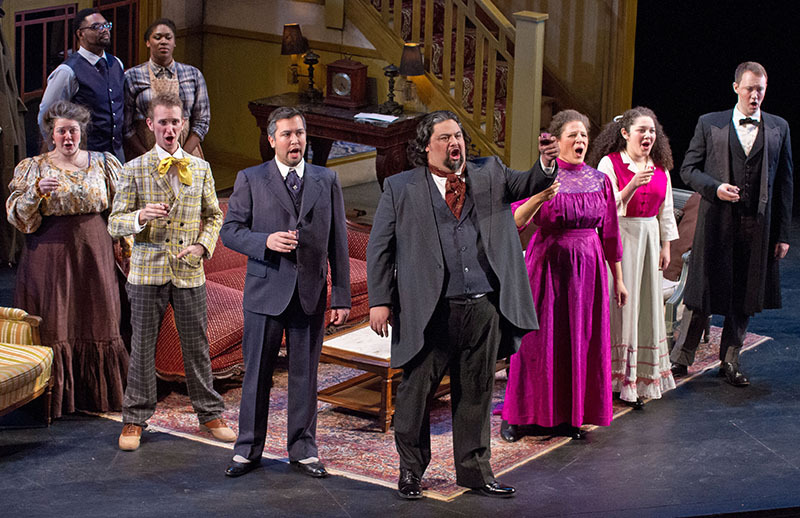 Marc Blitzstein's Regina performed by Bronx Opera, January 2016
The Kurt Weill Foundation has awarded funding to sixteen professional, college and university performing arts institutions in its 2016 grant cycle in support of performances of, and projects related to, the music and legacies of Kurt Weill, Lotte Lenya, and Marc Blitzstein. This year's grant recipients represent a diverse range of ensembles and institutions offering a wide variety of stage and concert works by both Weill and Blitzstein.
Weill's
Lost in the Stars
, String Quartet, op. 8 and both symphonies will be performed by grant recipients at the Professional level. His music maintains its prominence in academic settings, as the grants to seven colleges and universities demonstrate.
Five grants were awarded for performances of works by Marc Blitzstein, heralding a year of renewed interest in this often overlooked composer.
Regina
was staged by the Bronx Opera for two performances in January, and is scheduled for four performances by the Maryland Opera Studio at the University of Maryland, College Park in April. Other forthcoming projects include performances of
The Airborne Symphony
,
The Cradle Will Rock
, and a radio documentary focusing on his life and works. This marks the first year funding has been awarded for Blitzstein-related projects, which became eligible for funding under the KWF grant program in 2013.
Complete List of 2016 Grant Recipients
Professional Performance
Bronx Opera Company, Bronx, NY, Regina (Blitzstein)
Curious Flights, San Francisco, CA, Airborne Symphony (Blitzstein)
Highbury Opera Theatre, London, UK, Lost in the Stars
Music Mondays, New York, NY, String Quartet, op. 8 (performed by the Jasper Quartet)
Philadelphia Orchestra, Philadelphia, PA, Symphony No. 2
Symphony Nova, Boston, MA, Symphony No. 1
Virginia Opera, Norfolk, VA, The Seven Deadly Sins
College/University Performance
Boston Symphony Orchestra/Tanglewood Music Center, Lenox, MA, The Seven Deadly Sins
Calvin College, Grand Rapids, MI, The Cradle Will Rock (Blitzstein)
Illinois State University, Normal, IL, Street Scene
Pepperdine University, Santa Monica, CA, The Threepenny Opera
University of Alabama, Tuscaloosa, AL, Street Scene
University of Maryland, College Park, MD, Regina (Blitzstein)
University of North Florida, Jacksonville, FL, Street Scene
Media
ConcertZender, Netherlands, 4-part radio biography on life and work of Marc Blitzstein

Research & Travel 
Rebecca Schmid, research and travel grant for doctoral dissertation on Kurt Weill

​
Future opportunities to apply for funding
The Kurt Weill Foundation Grant Program awards financial support worldwide to not-for-profit organizations for performances of musical works by Kurt Weill and Marc Blitzstein, to individuals and not-for-profit organizations for scholarly research pertaining to Kurt Weill, Lotte Lenya, and Marc Blitzstein, and to not-for-profit organizations for relevant educational or scholarly initiatives.
The regular application deadline is November 1. Applications for support of major professional/festivals/exhibitions, etc., may be evaluated on a case-by-case basis without application deadline. Colleges and universities planning Kurt Weill or Marc Blitzstein related projects in the fall semester may apply for funding in our mid-year grant cycle, deadline June 1. More information about our grants, sponsorships and other funding opportunities can be found on our
website
.

​2016 Sponsorships Put the Spotlight on Weill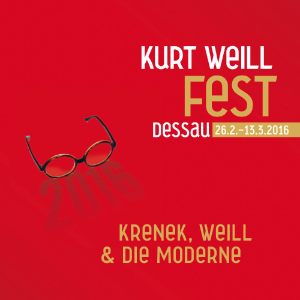 In addition to the grants awarded, the Kurt Weill Foundation is also proud to partner with two Weill festivals through our Sponsorship program. Sponsorships allow the KWF to cultivate relationships with professional organizations and educational institutions in connection with major performance projects and initiatives.
Kurt Weill Fest Dessau
Kurt Weill returns to his hometown when the Kurt Weill Festival in Dessau, Germany, kicks off on February 26. This year's festival "Krenek, Weill, and Die Moderne" includes more than 60 events featuring a wide array of Weill's German works alongside the music of his contemporary Ernst Krenek and other modernists who emerged during Germany's Weimar era. Program highlights include Weill's Symphony No. 1 on opening night; a new production of
Zaubernacht
, February 27 through March 13; and
Der Zar lässt sich photographieren,
February 28. The festival continues into March with performances by Ensemble Modern, conducted by Weill champion HK Gruber, of
Die Dreigroschenoper
in concert, March 4, and
Kleine Dreigroschenmusik
and
Mahagonny Songspiel
, March 5. Now in its 24th season, the annual Kurt Weill Fest continues to explore and illuminate Weill's wide-ranging works and influence. Complete information can be found on the festival
website
.
University of Minnesota: "Weill and Brecht: A 21st Century Celebration"
The University of Minnesota honors Weill with a semester-long interdisciplinary celebration of his music, presented in collaboration between several university departments and local arts organizations. Performances get underway with
Kleine Dreigroschenmusik
, February 5, performed by the University Wind Ensemble under the leadership of Jerry Luckhardt. The concert offers a preview of a fully staged production of
The Threepenny Opera
presented by the Department of Theater Arts and Dance, February 25 through March 6. The festival continues in April with performances of
Lady in the Dark
, presented by the University Opera Theater. Two Weill experts will be on hand as students prepare for the production. Prof. bruce mcclung, author of
Lady in the Dark: Biography of a Musical
, will present a paper to students, faculty and the general public. Conductor James Holmes will coach cast members and work with the conductor.​ Other events include a symposium with Weill expert Dr. Kim Kowalke and Brecht expert Elizabeth Diamond, February 3, and a "Brecht/Weill Smorgasbord" featuring performances by professional performing arts organizations from around the Twin Cities, March 21. Complete event listings and details may be found on the UMN School of Music
festival page
.
Lost in the Stars Arrives at Washington National Opera - Special Ticket Offer!

Eric Owens as Stephen Kumalo. 
​Photo credit: William M. Brown

The eagerly awaited revival of

Lost in the Stars

at Washington National Opera is just days away! Join us for nine performances February 12 through 20. Read the complete news story on our

website

.

​

Special Offer for the KWF e-News subscribers: 20% off tickets to Washington National Opera's Lost in the Stars!* 

Order online here

.
​*Offer available for performances of

Lost in the Stars

on 2/12, 2/16, 2/17, 2/18, and 2/19 at 7:30 p.m. and 2/20 at 1:30 p.m. only. Offer subject to availability. Not valid in combination with any other offer. Not valid on previously purchased tickets. Offer may be withdrawn at any time. Service fees may apply.

​

Upcoming Performances




Kleine Dreigroschenmusik

Violin Concerto







Regina (Blitzstein)
Anderson University, Indiana
David Coolidge, director; Fritz Robertson, music director
19-21 February
​
Street Scene
Illinois State University, Illinois
Robert Quinlan, director
26-28 February, 1-4 March