Dear Friend

,
As this month marks the first full year of the Janet Reno Endowment, we want to share with you just some of the highlights and special moments that made this year spectacular.​

We have had an incredibly successful year, and we are looking forward to even more interesting and enlightening events in the future. Of course, as we go forward we cannot forget to extend a huge amount of gratitude to our donors -- without them, none of this would have been possible! If you would like to become a donor, please click below.​

​Thank you, ​

​Shay Bilchik, CJJR Founder and Director
​
---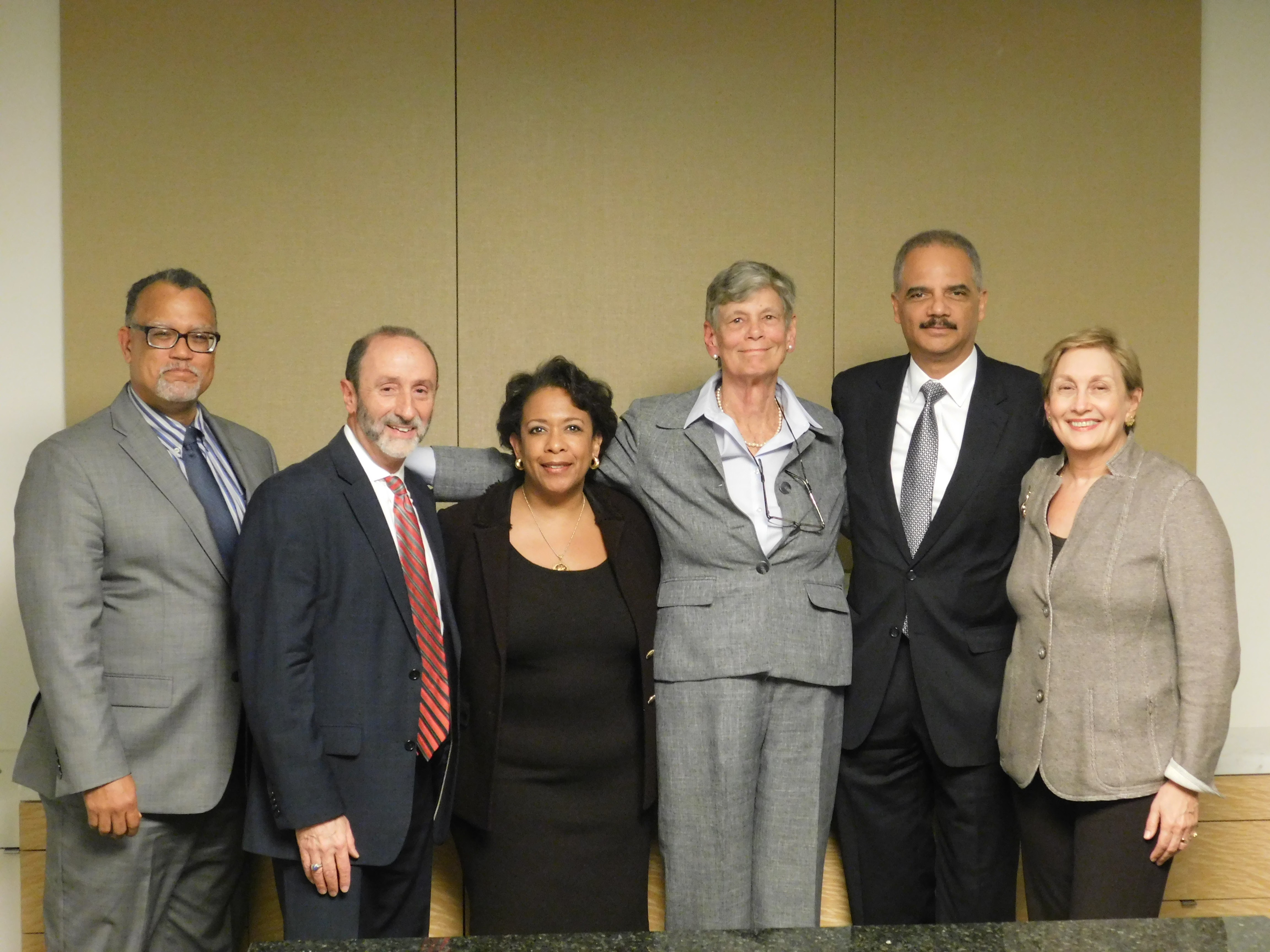 Washington, DC Tribute Event Speakers (from left to right): Dean Ed Montgomery, Shay Bilchik, Attorney General Loretta Lynch, Maggy Hurchalla, Attorney General Eric Holder, Jamie Gorelick
​Over the past year, we have held five events nationwide celebrating the creation of the Janet Reno Endowment. These events honored Janet Reno's legacy as a courageous advocate for justice and equality and helped to define efforts that the Endowment will support going forward, including recognizing exceptional woman leaders and providing resources to assist individuals and communities leading child and youth-serving system reforms. Passionate speakers like Loretta Lynch, Janet Napolitano, and Eric Holder spoke about the importance of juvenile justice reform and Janet Reno's dedication to serving children and families. At nearly each event, youth speakers gave first-hand accounts of how Janet Reno's work positively impacted the juvenile justice and child welfare systems. Her sister Maggy Hurchalla also spoke at several of these tribute events, demonstrating how Janet Reno's work not only
impacted the child, youth and family serving field
, but also her personal and family life for the better.
Women's Leadership Award


​
A key activity of of the Janet Reno Endowment Fund was establishing the Janet Reno Endowment Women's Leadership Award, which recognizes an individual who has demonstrated a commitment and ability to effect change in her community or organization to benefit youth, particularly youth at risk of entering the juvenile justice or child welfare systems. In April, we had the pleasure of presenting the inaugural Women's Leadership Award to Marian Wright Edelman, founder and president of the Children's Defense Fund. ​

Watch the presentation of the Inaugural Janet Reno Women's Leadership Award!
Certificate Program Scholarships


​
Over the past year, we have been able to establish a scholarship fund for the Center for Juvenile Justice Reform's Certificate Programs to assist participants with demonstrated financial need. These scholarships help to ensure that current and future leaders can continue to increase their knowledge, improve the operation of their organizations, and fulfill their commitment to systems improvement and reform nationwide.
Janet Reno Forum 



In the coming year, the Center for Juvenile Justice Reform plans to facilitate a Janet Reno forum, bringing leading experts, policymakers, practitioners, and advocates together to discuss the latest and most promising practices, research, and policy reform trends in the fields of juvenile justice, child welfare, and child and youth development. The forum will be preceded by a white paper by a leading expert addressing the content of the forum, and the paper will be presented at the forum to help frame the discussion. The next Women's Leadership Award will also be presented at this forum.  
JANET RENO ENDOWMENT: CELEBRATING ONE YEAR OF TRIBUTE